Here's what's up in the world of TV for Friday, May 20 and Saturday, May 21. All times are Eastern.
Top picks
Lady Dynamite (Netflix, 3:01 a.m., Friday): With almost all of weekend television closing up shop for the spring (see "finales" below), the viewing public cries out for a hero. A savior. Look! Over on Netflix, it's Lady Dynamite (a.k.a. The Bammer)! Maria Bamford's been a lot of things over the years. Knockoff superhero, public defender, Slime Princess—plus one of the best, most original stand-up comics anywhere. In her comedy (like 2013's revelatory Ask Me About My New God!), Bamford's quicksilver, multi-voiced persona maps out her life in hilarious, often harrowing detail. So this semi-autobiographical half-hour sitcom promises an even more revealing peek into The Bammer, even if, instead of acting out everyone in her life herself, she's brought in comedy-ringer pals like Patton Oswalt, Sarah Silverman, Ana Gasteyer, Lennon Parham, June Diane Raphael, Fred Melamed, Tig Notaro, Jenny Slate, and Adam Pally, among others. Mary Kay Place and Ed Begley Jr. take over as Bamford's parents, who will have to be on top of their games to be funnier than Bamford's impersonations of them. Emily L. Stephens pulled Bammer duty, so she'll be reviewing an episode every other day (starting on Friday) until Lady Dynamite says she can stop. Meanwhile, in his pre-air review, Joshua Alston calls the show "wonderfully weird," which is pretty much how we'd sum up Bamford, too.
New I Love Lucy Superstar Special (CBS, 8 p.m., Friday): CBS knows its demographic, that's for sure, though airing this 1955 Lucy two-parter (co-starring John Wayne) colorized is bound to rile some baby-boomer blood. Beware of angry snail mail, CBS.
Brad Williams: Daddy Issues (Showtime, 10 p.m., Friday): Stand-up comic Williams outlines his writing process as "Step 1: Be a dwarf. Step 2: Wait." That's a solid line, though the fact that Williams is the longtime opener for notorious joke thief Carlos Mencia is perhaps less promising.
G/O Media may get a commission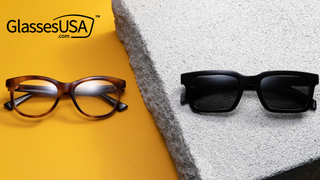 60% off frames
GlassesUSA.com Back to School Sales
All The Way (HBO, 8 p.m., Saturday): In this star-loaded adaptation of Robert Schenkkan's Tony Award-winning play, Bryan Cranston repeats his Tony-winning performance as Lyndon Johnson pondering the implications of passing the Civil Rights Act. Anthony Mackie trades wings for gravitas and somber suits as Martin Luther King Jr., pressing the president to do the right thing. Also look for the likes of Melissa Leo (Ladybird Johnson), Stephen Root (J. Edgar Hoover), Bradley Whitford (Hubert Humphrey), Aisha Hinds (Fannie Lou Hamer), Mo McRae (Stokely Carmichael), and Frank Langella as longtime conservative and civil rights villain U.S. Senator Richard Russell Jr. from Georgia. Director Jay Roach might be responsible for things like Meet The Parents/Fockers and Dinner For Schmucks, but he also directed Cranston in Trumbo and has done yeoman work on the HBO true-life front in Game Change and Recount. Dennis Perkins is consulting photographs of obscure senators, as his review will reportedly hinge solely on facial verisimilitude.
Dan Soder: Not Special (Comedy Central, 11 p.m., Saturday): But it's a new stand-up comedy special, isn't it? Dan? Help us out here, buddy.

Premieres and finales
Bunk'd (Disney, 8 p.m., Friday): In the first season finale of this spin-off of another Disney series, the crazy tween campers try to save their beloved summer camp. Have they considered a lavish production of Electro-City? Inappropriate? Sure, but consider it, Disney.
Masters Of Illusion (CW, 8 p.m., Friday): Host Dean Cain returns, riding herd over a studio's worth of magician types in this season premiere. And never forget:

Grimm (NBC, 9 p.m., Friday): It's a two-hour fifth-season finale! Les Chappell lives in the show's location, Portland, Oregon, so he's got all the coffee he needs to power through his review. Grimm's Portlanders, though, will have to content themselves with never sleeping ever, because their city is literally swarming with monsters. Tonight, the Black Claw, Bonaparte, Hadrian's Wall, and a whole bunch more scaly, horned, tailed, and otherwise creepy things converge on the greater Portland area.
Shark Tank (ABC, 9 p.m., Friday): "A heated exchange takes place in the season-seven finale when a Shark's temper is lost after an entrepreneur refuses an offer 'for personal reasons.'" That has a decidedly chilling, Godfather-esque ring to it, right?

The Originals (CW, 9 p.m., Friday): The third season of this series spawned by The Vampire Diaries beds down for a dirt nap, though it's been renewed for a fourth season, so don't worry. Freaking vampires—they just won't stay dead.
Banshee (Cinemax, 10 p.m., Friday): It's the big goodbye for one of the damnedest shows in television, as crook-turned-sheriff-turned-freelance pummeler Lucas Hood (who finally outed himself as an imposter last week) pursues the ultimate justice for Rebecca's killer. Considering all the insanely violent forces the sleepy town of Banshee has bubbling at any one time (rogue military types, Colombian drug cartels, Ukrainian gangsters, Nazis, Native American gangs, surly Amish, Satanists, serial killers, Satanist serial killers), it seems the only way Banshee can end is for the Earth to simply swallow it up Hellmouth-style. Our own Les Chappell—who's such a fan of Banshee mayhem that people look at him sideways—has a glass of good scotch (or bottle, whatever) at hand in preparation for the long goodbye.
Party Over Here (Fox, 11 p.m., Friday): The first season of this rambunctious sketch show from very funny ladies Alison Rich, Nicole Byer, and Jessica McKenna packs it up for the season, just in time for…
Saturday Night Live (NBC, 11:30 p.m., Saturday): …that other sketch show to also finish for the season. Wrapping up season 41, Lorne Michaels taps alum Fred Armisen to host. Dennis Perkins is currently accepting bets in his "Which deliberately off-putting Armisen character will make an appearance?" pool. Current odds: Fericito (30-1), Billy Smith (20-1), Nuni Schoener (8-1, would require Maya Rudolph, but she's got her new variety show to promote), Ian Rubbish (5-1), Stuart from "The Californians" (pick 'em—this is happening, people). Courtney Barnett's a lock as musical guest, though.
Regular coverage
Outlander (Starz, 9 p.m., Saturday)
Streaming pick
Buffy The Vampire Slayer's "Chosen" (Netflix, Amazon, Hulu): What with there being a Hellmouth reference and Eliza Dushku on hand for the inevitable catastrophic mayhem of the Banshee finale (plus some fanged finale action for The Originals), you really had to expect this similarly cataclysmic Buffy finale. You really had to.