Once upon a time, Mo'Nique and Lee Daniels were like family. They're still like a family, specifically the one they brought to life in Daniels' film Precious, where relationships are characterized by vicious abuse and attempted murder-by-falling-television. The escalating feud began with Mo'Nique's February 19 interview with The Hollywood Reporter, in which the actress said she was blocked from roles after winning the Academy Award for Best Supporting Actress for her work in Precious. This was revealed in a conversation with Daniels, who told Mo'Nique she had been "blackballed" for her refusal to round the Oscar campaign circuit, a comment Daniels allegedly made within the context of explaining why he offered her roles in his upcoming projects only to rescind them later.
While Mo'Nique's comments appeared to be more of a broad critique of Hollywood's treacherous politics than of Daniels himself, the director certainly didn't take it that way. Daniels released a pointed statement saying Mo'Nique "soured her relationship with the Hollywood community" and blocked her own progress with unreasonable demands. Naturally, the nature of said demands is a sticking point. Daniels' response echoes the rumors circulating in 2009 that Mo'Nique asked to be paid to appear at Oscar-season events. But Mo'Nique has pushed back, claiming she happily attended domestic events to promote her performance in Precious—despite being paid just $50,000 for the role—but wouldn't promote the film internationally and opted to spend long-awaited downtime with her family instead. Mo'Nique sharpened her barbs in a Good Morning America interview, saying her fractured relationship with Daniels is the result of her failure to thank him in her Oscar acceptance speech.
Daniels addressed the controversy in an interview with CNN's Don Lemon, telling Lemon Mo'Nique mischaracterized his comments to her, though it doesn't really sound like she did. "This is when reverse racism, I think, happens, you know?," said Daniels. "I said 'You have to thank the producers of the film. You have to thank the studio.' And I think she didn't understand that." There was no follow-up on Daniels' curious "reverse racism" comment, which is really too bad, but sometimes life gives you Lemon.
The most prominent role Mo'Nique says she was in the running for is Empire's Cookie Lyon, the character which, as played by Taraji P. Henson, is the linchpin of the show's unprecedented ratings success. In an interview with Inside Edition, Mo'Nique claimed she was the first choice to play Cookie, saying Daniels told her a screen test was "just a technicality" and that she "had the role." Empire co-creator Danny Strong then tweeted that Mo'Nique was never offered roles in Empire or Lee Daniels' The Butler, in which Mo'Nique said she was slated to play the female lead before being passed over for Oprah Winfrey. (Winfrey was also an executive producer on Precious.) In a radio interview, Strong admitted Mo'Nique was briefly discussed for the Empire role, but said he and Daniels decided early on she wasn't the right fit.
Mo'Nique claims she has several emails from Daniels to prove he offered her the role in Empire, but she hasn't released those emails, and continues to heap praise on and pledge support to Daniels despite their disagreements. Daniels has also continually complimented Mo'Nique to leaven the criticism that he either just made or is about to make. Meanwhile, Precious star Gabourey Sidibe really hates that Mommy and Daddy are fighting and tweeted her disappointment in a specific-yet-vague statement:

G/O Media may get a commission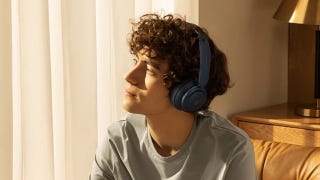 30% off
Soundcore Headphones and Earbuds
Sidibe wouldn't specify which party she believed was lying, but given that Sidibe currently has a recurring role in Empire while Mo'Nique's head shot has a recurring role in Daniels' trash can, it's safe to assume whose side she's on. Henson, for her part, has stayed above the fray with the minor exception of retweeting Strong when he said she was envisioned as Cookie from early on despite Mo'Nique's claims. It's worth noting that Mo'Nique is currently promoting her new independent film Blackbird, which is not to say that she engineered this whole thing to whip up publicity, but that's exactly what Cookie would do.