The Associated Press is reporting the death of Al Feldstein, whose tenure as the editor of Mad Magazine transformed it from a goofy comic book curiosity into arguably the most influential satirical voice of the 20th century. Feldstein died yesterday at the age of 88.
As the last survivor of the once-venerable EC Comics—which found itself mercilessly slashed by the moral watchdogs of the Comics Code—Mad was initially overseen by Harvey Kurtzman, who personally wrote the bulk of its spoofs of comic-book tropes. When Kurtzman left in 1955, clashing over creative control with publisher Bill Gaines, the latter brought in one of his most trusted colleagues. Al Feldstein had risen through the ranks at EC as a gifted writer, illustrator, and editor on titles like Tales From The Crypt and Weird Science who had a knack for pushing boundaries in smart, sophisticated way, as well as a zeal for fostering new talent. (Among his coups, Feldstein was the first to publish work by Harlan Ellison.) Feldstein quickly distinguished himself all over again at Mad.
Under his leadership, Mad—by now converted into a magazine format that specialized not only in parodying pop culture, but a broad range of social and political targets—grew into a comedy institution. Feldstein commissioned Mad's impish, nihilistic mascot Alfred E. Neuman, and he brought in the writers and artists that would become synonymous with Mad's success, including Don Martin, Mort Drucker, Dave Berg, Al Jaffee, and Antonio Prohias. Sales soon skyrocketed, hitting a peak circulation of 2,000,000 during the 1970s (when they were really socking it to that Spiro Agnew guy).
Thanks to Feldstein, several generations were subsequently weaned on a humor that was steeped in a cynical, skeptical self-awareness—not only about the artifice of movies and TV shows, but of the whole of American life—and an indiscriminate irreverence that treated everything equally as ripe for mockery. In a Mad world, everyone was a jerk and a clod; everything was a stupid question to which there was a snappy answer. And if you grew up in the '60s, '70s, and even into the mid-'80s, your sense of humor was defined by Mad—either directly, or through one of its many imitators and acolytes.
G/O Media may get a commission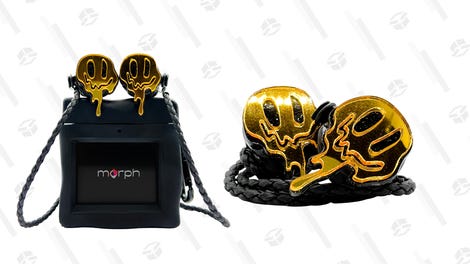 morph audio
Morph Earphones
Even now, long after Feldstein's retirement in 1984—and in an age where Mad has been reduced to publishing just six times a year—its legacy lives on in the many minds it corrupted, who then went on to write for just about everything you've ever found amusing, from Monty Python and Saturday Night Live to The Simpsons and The Daily Show. Not to mention The Onion, which means Mad is also indirectly responsible for you reading these words.
The A.V. Club spoke to Feldstein in 2007, tracing his career from his teenaged beginnings working under Will Eisner, through his time valiantly fighting comics censorship and pushing for daring new innovations. Halfway through, Feldstein offers this choice quote, which sums up the attitude he fostered in EC and Mad:
Nobody looked at the real problem, and I'm convinced it was this: America and Russia were arming themselves to the teeth with atomic bombs, and these young Baby Boomers had no control over the fact that they were facing instantaneous annihilation. They were forced to play duck-and-cover in school, in hopes that a desk would protect them from an atomic explosion.

It was all bullshit, and they knew it. They were questioning the entire adult establishment, and that was the root cause of juvenile delinquency. It was also the root cause of EC's success; kids were looking for ways to numb themselves to this horror that they felt. When Mad came about, it was the reaffirmation of those feelings in print. We were saying, "Kids, Madison Avenue is lying to you. Your parents are lying to you. The president is lying to you."
And those kids grew up to be us. Thanks, Al.