A couple of weeks ago, Kanye West logged onto Twitter and promised the world that his next record—then titled Waves—wouldn't just be the album of the year, but "the album of life." The Life Of Pablo, West's highly anticipated seventh studio album, falls short of that outsize pronouncement, but as a beautiful, messy, mixed-up collection of 18 songs, it's a brilliant document. It feels far different from any of the tightly constructed, singular works of West's past, and from a sonic standpoint, it sounds almost like a greatest-hits collection of nearly every sound and musical idea that he's cultivated up to this moment. If you have a favorite Kanye West record, you can find it in here somewhere.
It's hard to recall another album in the recent past that came together in such a public manner, and frankly, it was exhausting to watch West arrive here. Given the range of either overtly saccharine or plainly half-baked material that released ahead of time—"Four, Five Seconds," "All Day," and "FACTS" in particular—it was fair to wonder if West even had any idea of what he really wanted to say, or how he wanted to say it. Then came "Real Friends" and "No More Parties In L.A.," featuring Kendrick Lamar, and you could almost hear the collective sigh of relief breeze through the Twitter-sphere. The latter track in particular revealed that West had indeed been suffering from a bout of "writer's block." It seemed that at least by acknowledging as much, he freed himself up to get nuts again in the best possible way.
Even with all the varied elements from his past that show up on The Life Of Pablo, it's surprising how much this album feels of a piece with West's last release, 2013's Yeezus. From the sound of it, he enjoyed the time he spent in 2013 playing around with his carefully "reduced" array of grating, aggressive textures, and he employs them to beautiful effect once again here. Perhaps the greatest difference between that record and this one, however, is where Yeezus was all about rage and self-aggrandizement, Pablo is imbued with a softer emotional core. In the last few weeks, West took to calling this album a gospel record. While it is indeed is one of the more positive and uplifting records in his canon, the idea of "gospel" in music implies the process of exploring an external higher power. That is something that West isn't keen on doing here. The Pablo on The Life Of Pablo remains none other than Kanye West, and it really only works as a gospel record if, as a listener, you worship at his altar.
It's astounding how often the sound and feeling of the music clashes with the ideas that West lays out. The track that best represents that dueling sensibility is "FML" featuring The Weeknd. As a piece of music, it can best be described as dark, chilly, and sparse, but when you get to the heart of it, it's really a self-examination of how West feels about his wife and his children, and the lengths he would go to protect them, even if that means death: "I've been feeling all I've given / For my children / I will die for those I love." You could easily take the same set of ideas, same lyrics, and marry them with some major key symphonics to turn the whole thing into a ballad, but the words hit all that much harder for the gloom and doom that surrounds them.
G/O Media may get a commission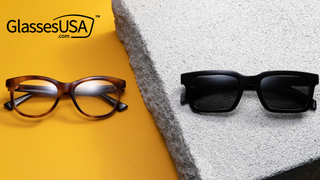 60% off frames
GlassesUSA.com Back to School Sales
Before things can get too heady and intense however, West also goes for the low-brow provocative stuff that's been his stock and trade since he enlisted Bernie Mac impersonator Deray Davis to appear on his first record, The College Dropout. "Highlights" is a prime example. It's a song where he wishes his penis came equipped with a GoPro camera before going on an extended bit about his wife Kim Kardashian's former amateur porn star paramour Ray J: "I bet me and Ray J would be friends / If we ain't love the same bitch / Yeah, he might have hit it first / Only problem is I'm rich." And that's not to mention the bonkers interlude "I Love Kanye," where he reveals a self-awareness of his persona that he hasn't let on to before—at least not on tape, anyway. This song concludes with West positing the thought, "What if Kanye made a song about Kanye / Called "I miss the old Kanye" / Man that would be so Kanye, that's all it was Kanye / We still love Kanye and I love you like / Kanye loves Kanye." Even two years ago, when he was yelling at Sway In The Morning about Ralph Lauren or picking beefs with Jimmy Kimmel over his infamous longform interview with Zane Lowe, such a line was inconceivable. Performing it in a Saturday Night Live sketch on the night of its premiere only added to the general surrealism. Perhaps getting what he's always wanted—a supportive family unit and a major financial backer for his fashion line—has changed West into a person more at ease with himself.
Given how long the gap was between his last release and this one, it's surprising how much this comes across like a record of the moment. At some point along the line, West abandoned whatever course he'd been going down in favor of a new direction, and it's hard to argue with that call. The version of "Wolves" here is not the one that he debuted a year ago on SNL's 40th anniversary bash. What used to be a gorgeous, rather on-the-nose pop song has been transformed instead into an over-the-top, brooding miniature rap opera. The same could be said for "Fade," which he first debuted at his Yeezy Season 2 fashion show last year. That one morphed from a plodding, repetitive instrumental number into an intricately layered legitimate banger featuring some superb scumbaggery from Ty Dolla $ign. That he would deign to allude to his brother-in-law Rob Kardashian's burgeoning relationship with Blac Chyna on "High Lights" drives home how quickly the project came together in the end. The song "Waves," one of the best on the entire album, actually held up Pablo's release by a full day, with Chance The Rapper apparently arguing with West to finish it up in the studio and tack it on at the last moment.
As usual, West gets the best out of his chosen collaborators. If on first glance the sheer number of features seems overstuffed, each one serves a larger purpose. Rihanna dazzles on the Nina Simone sampled track "Famous" (otherwise known as the song where West raps the line, "I feel like me and Taylor [Swift] might still have sex / I made that bitch famous"), as does Frank Ocean on the tail-end of "Wolves." Chance The Rapper, along with his collaborator Donnie Trumpet, bring their signature soul revivalism to the opener "Ultra Light Beams," while Max B and Andre 3000 provide the surprise factor by the mere fact that they showed up at all on "Silver Surfer Intermission" and "30 Hours," respectively. And then you have The Weeknd and Desiigner injecting a very welcome bit of craven despicability to the songs "FML" and "Father Stretch My Hands Pt. 1 & Pt. 2."
That last song might actually be the most revealing track of all on The Life Of Pablo. "Everybody gonna say something," West declares before immediately admitting, "I'd be worried if they said nothing." Anyone who follows his Twitter account or has seen even one of his many rants through the years in the media knows that he has always gone to great lengths to be heard. He's a provocateur, and the backlash that he weathers as a result of that pose might be the defining struggle of his creative life. In the end, it's the music, as messy, self-involved, but utterly brilliant and typically forward-thinking as it is, that remains his salvation.