Welcome to The A.V. Club's Transparent binge-watch. From Friday, December 11 through Sunday, December 13, A.V. Club contributor Shelby Fero will be watching and reviewing every episode of Transparent's second season. Though she's working straight through the season, she'll be taking some breaks, too, posting three reviews on Friday, four reviews on Saturday, and three reviews on Sunday. You can weigh in on this episode here, discuss the whole season on our binge-watching hub page, and track her Pfefferman-addled mindset on Twitter (@shelbyfero).
The Pfefferman history begins to shed light on the contemporary family. The threads of their lives tangled long before they ever showed up. Who knows when or where someone "starts"—and whether anyone can change in light of how much goes into shaping a consciousness.
"Oscillate" is an episode of reaction: Josh, desperate for control, swings back to douchebaggery now that his life of love and warmth has fallen away. He also has terrible burpee form. Ali, having tried her hand at commitment with Syd, longs for whatever she can't have. It's little things: Sarah says she has to wait for her cable guy—a very normal, okay commitment to make and keep—to which Ali responds with disgust and whining. Ali's pursual of Lesley only heightens in her unattainability–Lesley all but lives by the "Alright, alright, alright" principle set forth by the great Wooderson.
Maura can't find the words to apologize to Davina, but finds a new sense of self after being told "You're a great mother." It's a side of Maura that never surfaced as "Mort," and the muted joy on Tambor's face is a sight to behold. By the way, Jeffrey Tambor has to stop. My sinuses can't handle these stop-start bouts of crying every time he's onscreen! Maura never got to be a mom or wife, and it's apparent in her family—in the way they seek approval, in their need for more and more validation, the way Shelly glows in this new partnership.
Grandma Pfefferman isn't evil—she's trying to save her children, even if she doesn't understand one. But in Gittel's refusal to leave that we see the ramifications of judgement. Gittel doesn't want to leave the place she feels at home, despite any other imminent danger. If everyone would just be cool, there wouldn't be so many of these Sophie's (Gittel's?) choices to make.
G/O Media may get a commission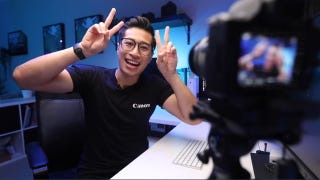 Up to 33% off
Canon Camera National Promotion
Webcam kits, lenses, & more
Since many of us adopted working from home, we've become accustomed to the crappy video quality output of our laptops' built-in webcams. Present yourself professionally with the help of a professional quality camera. Dress to impress now means set dressing and picture definition. Canon has made it easy to take your EOS camera and convert it to a webcam with the help of a variety of kits.
Grade: B-
Favorite Fake Book That I Wish Were Real: The Life-Changing Magic Of Tidying Up by BUZZ
Best Unnecessary Use Of A Metaphorical Baby: Ali's undergrad paintings
Most LA Moment: Josh screaming about getting "boxed in!" in a fit of road rage