The Tree Of Life (2011)
There's a new Terrence Malick movie in theaters this week. Not long ago, that news would have hit cinephiles like a ton of bricks. Malick, a reclusive giant of American cinema, used to put long stretches of time between each release, taking big breaks after completing projects (like the 20 years that separate Days Of Heaven from The Thin Red Line) and tinkering with active ones for a small eternity. As a result, each new film felt like a major event, as rare and special as a celestial anomaly.
Russell Crowe is pretty chill about not being in that "Gladiator" sequel
That changed, however, this decade, when the man famous for his deliberate, some would say glacial, working habits dramatically picked up the pace, literally doubling his output. Hard as it is to believe, Malick movies now arrive with the clockwork regularity of, well, your average filmmaker's. Last year, in fact, he actually had two in theaters: the mythic Hollywood odyssey Knight Of Cups and the IMAX documentary Voyage Of Time. (Who does the guy suddenly think he is, Woody Allen?) This improbable bounty has tempered some of the feverish excitement that used to surround anything bearing Malick's byline. These days, he walks among the mortals, just making movies, like the brand-new Song To Song, starring Michael Fassbender, Natalie Portman, Ryan Gosling, and a bunch of musicians.
The last time a Malick movie felt like a really big deal was six years ago, when the writer-director kicked off his current period of increased productivity with a wildly ambitious, eon-spanning epic about life, death, family, religion, and our place in the grand scheme of things. The Tree Of Life is a turning point in Malick's career. It's the moment when this living legend pivoted from American history to his own, while largely abandoning the limitations of three-act Hollywood storytelling and refining his regular tricks—the gliding Steadicam, the whispery voice-over narration, the splendiferous shots of nature—into a signature style, recognizable at a glance or even from a single frame. Everything Malick made before this movie now looks like it was building toward it, at least aesthetically speaking. Everything he's made since seems to echo it.
G/O Media may get a commission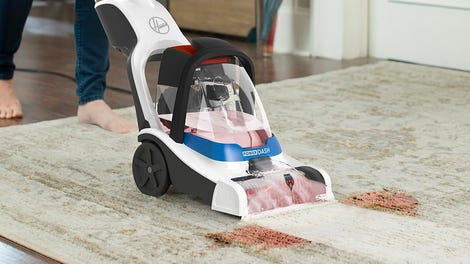 26% Off
Hoover PowerDash Pet Compact Carpet Cleaner
A mixture of cheers and boos greeted The Tree Of Life when it premiered at Cannes in May of 2011, to a packed house probably unprepared for the churning poetic maelstrom Malick summoned. It was the talk of an eclectic year for the festival; only Lars Von Trier's similarly cosmic and autobiographical Melancholia, which screened just two days later, inspired as much chatter—and a lot of that had to do with Von Trier's highly controversial press conference, in which the longtime Cannes guest got himself banned outright for unwisely (if cheekily) calling himself a Nazi and expressing sympathy for Hitler. Robert De Niro and his Cannes jury ended up handing the Palme D'Or to Tree (though not to the camera-shy Malick, who didn't attend the awards ceremony). "It was the most notable combination of ambition and accomplishment, and that's arguably what ought to win an award as weighty as the Palme D'Or," argued our own Mike D'Angelo, covering the fest from the ground.
The Tree Of Life went on to become the critical favorite of 2011, topping more American best-of lists (like ours) than any other movie that year. Since then, it's placed high in various polls and surveys (including, again, ours), emerging as one of the most acclaimed films of the new millennium. At the same time, it wouldn't quite be fair to call it universally beloved. For one, that would discount the waves of walkouts it inspired upon release, with so many bewildered Brad Pitt fans storming lobbies in search of refunds that theater owners began putting up disclaimers. Beyond that, there are plenty of movie buffs, including some within the critical community, who see The Tree Of Life not as the proper beginning of Malick's mature period, but as his first leap into the gaping canyon of self-parody. Isn't this where Malick's addiction to breathy sweet nothings really takes root? Can't his tendency to reduce actors to frolicking nymphs and pouting ciphers be traced back to here? If nothing else, the string of divisively received movies Malick has made in the years since—from To The Wonder to Knight Of Cups to Song To Song, the last of which got some familiarly withering reviews from SXSW last week—all spring from Tree's stylistic fountain.
Call me a lukewarm agnostic, but there's sense to both perspectives—to the rapturous praise of the true believers and to the reasonable doubt of the skeptics. Malick dares eyes to roll with his very first choice, beginning a dramatization of his suburban childhood with a Bible verse, before casting his parents as emblems of life's conflicting forces, nature and grace. By the end of the film, he'll have squared his existence against that of the entire universe. But doesn't it take humility as well as hubris to identify yourself as one tiny speck on a sprawling continuum?
Judged just on its cinematography, The Tree Of Life is an astonishing achievement. Emmanuel Lubezki, who's shot all of Malick's narrative films since 2005's The New World, swoops his camera through sun-dappled small-town idylls and glass-and-steel towers, capturing one casually magnificent image after another: three boys playing at dusk in the street, their upside-down shadows bobbing and stretching across the screen; an infant's tiny foot gently cradled in his mother's comparatively massive hands; a husband and wife on opposite sides of a glass window, the latter visible only in reflection. (Not for nothing is one of the film's posters just a collage of eye-catching shots from the movie.) Still, it's easy to understand why Malick's intoxicating image salad didn't play in Peoria: It surely remains one of the most borderline avant-garde productions ever projected onto AMC screens. Much more so even than his earlier movies, The Tree Of Life unfolds through movements instead of scenes, its five tireless editors pulling us forward, from shot to shot, from montage to montage, from the beginning of life everywhere to a symbolic beachfront afterlife.

And yet as Malick elides the rhythms of traditional narrative cinema, he still preserves a plain narrative structure, beginning with an aging married couple learning that their son has committed suicide, before jumping to one of his surviving adult siblings, eldest Jack (Sean Penn), as he gets the bad news. Who is this family? What could have driven its youngest member take his own life? The Tree Of Life plants those questions and then investigates them, rewinding back to Jack's childhood in Waco, Texas circa 1956, where the boy (Hunter McCracken) bristles against the harsh, sometimes petty discipline of his hardass father (Brad Pitt) and challenges the gentler spirit of his mother (Jessica Chastain). All of this is based, at least loosely, on Malick's own life; though an intensely private person (enough so that he almost never does interviews or even appears in public), the director has been open about Tree's autobiographical inspirations, including the death of a younger brother (also touched upon in Knight Of Cups). The film has the particular ache of memoir—the sense that its most vivid episodes have been yanked straight from painful memory.
But Malick isn't just drumming up his own past. He's also putting it in the context of a much bigger picture. The Tree Of Life takes an intimate family drama and splashes it onto a grand cosmic canvas, daring to envision what 2001: A Space Odyssey—another magnum opus from a revered, reclusive master director—might look like if its appeal were more emotional than cerebral. The film's centerpiece sequence is a dawn-of-time detour, and it's one of the most awe-inspiring moments in modern cinema: the birth and evolution of the universe, told using some of the same practical-effects strategies that 2001 deployed. The director would later recycle imagery from these scenes for two cuts of Voyage Of Time, but the ideal version is still this spectacular 20-minute creation opera.
For a filmmaker who got started behind the camera with an outlaw drama hugely dependent on its leads, Malick has quite the habit of fragmenting performance into abstraction; those actors who don't get cut out of his work completely might still object to how he chops up and rearranges their contributions—a complaint Penn actually made about Tree Of Life (and understandably, given that his scenes are among the vaguest in the movie, flattening him into a numb zombie). But a remarkable amount of great acting gets through Tree's time-jumping tapestry. In a breakout year that saw her appearing in no less than five movies, Jessica Chastain manages to bring some raw emotion to Malick's walking and talking conception of heavenly motherhood—a luminous Earth goddess who tells her children (in hushed voice-over, of course) to "Love everyone. Every leaf. Every ray of light." Pitt, in the meatier role, gives his oppressively stern father character glimmers of tenderness: For every five scenes of him cruelly laying down the law, there's a glance or a gesture that humanizes him. (Watch how Pitt's tough love routine falters whenever one of his boys comes in for a hug or disarms him with an unexpected retort.)

Those glimmers matter. So, too, does Malick's decision to first show Pitt's character at his most vulnerable, buckling under guilt and grief, before flashing back to the 1950s, when he was a tyrant in his own home. Much of the film unfolds from Jack's perspective, either adult or adolescent. But could we be seeing some of its events from a different POV, a more omnipotent one? The Tree Of Life suggests that loving everyone, as Chastain's character implores, is something a higher power can do because it sees all time at once—our good and our bad simultaneously. For Jack to love his father, for him to forgive him, he has to reach the point where he can see the man we're first introduced to, the one who regrets how tough he was on his kids during their formative years. The Tree Of Life turns out to be something as sadly rare as Malick movies themselves used to be: a religious film that takes questions of soul-searching, absolution, and forgiveness seriously.
So why hasn't Malick been able to match its majesty since? Why has his post-Tree work felt lesser somehow, like outtakes? Part of the reason, I'd wager, is that The Tree Of Life's techniques, reconfigured in the films that followed, are better suited to capturing the primal vantage of youth, when adults are giant figures (literally and figuratively) and the world is as big and magical as Malick's roving camera makes it look. (Grownup problems, like a faltering marriage or a midlife crisis, aren't so simply conveyed by way of actors spinning like dancers in the sunlight.) The Tree Of Life is also driven by much bigger and more volatile emotions than whatever Ben Affleck and Christian Bale are exhibiting as the Malick surrogates of their respective movies; Jack's rage toward his father, his pent-up frustration, his burgeoning lust—all of that feeling anchors Tree. Of course, it could also just be diminishing returns. How often can one see a hand glide through long grass or hear the poetic inner-monologue of some damaged soul before those tricks lose their luster?
To these eyes, the most powerful thing about The Tree Of Life is that it possesses the courage of its outrageously inflated convictions. This is a film that's willing to go out on a limb in search of an emotional and spiritual truth, to risk ridicule in pursuit of transcendence. Malick, reaching into his own past and onward to the great unknown, doesn't care if you find his movie pretentious or silly or boring or self-indulgent. He's gone all-in on its conflation of the personal and the universal. Maybe risk is what's missing from his newer work: Having won Cannes, mountains of praise, and the loyalty of a diehard fan base, Malick now seems content to trot out variations on Tree's celebrated approach. He's taken us to the outer edges of time and space and maybe to the center of his own soul. It's time now to take us someplace new.
Did it deserve to win? I think I'm with Mike on this one: A film of The Tree Of Life's monumental ambition is exactly the kind Cannes should celebrate, even if it's not perfect. That said, 2011 was a strong year for the fest, with plenty of viable alternatives for the jury: Bertrand Bonello's equally divisive, anachronistic brothel drama House Of Pleasures; Lynne Ramsay's equally nonlinear We Need To Talk About Kevin, about a mother sorting through her tangled memories after her son kills several classmates; Nuri Bilge Ceylan's confounding procedural Once Upon A Time In Anatolia, which uses its extended runtime more productively than the Turkish director's later Palme winner, Winter Sleep; and especially Nicolas Winding Refn's masterclass of genre cool, Drive. (Not a suitable alternative winner, by the way: future Best Picture champion The Artist.)
Up next: It's a tie at Cannes '61, as Luis Buñuel's anarchic Viridiana splits the top prize with a forgotten French drama, The Long Absence.