For the second year in a row, The A.V. Club looked at its year-end TV coverage and said, "Wait, there's a lot of weird stuff that happened between the margins that can't be summed up in simple 'best of' and 'worst of' lists." In celebration of everything that falls between the sublime and the ridiculous—you know, like Mrs. Coach from Friday Night Lights carrying a demon seed and being thrown into the loony bin on American Horror Story—we proudly present this edition of The TV Club Awards in all its hyper-specific glory.
Word repeated most without diminishing returns: Bob's Burgers' use of "anuses"
As a thousand trend pieces and family-values groups have noted, television is finally tapping vaginas for comedy. But the Bob's Burgers episode "Art Crawl" broke another barrier months before the première of 2 Broke Girls, diving deep into the anus for humor's sake. It's as much due to H. Jon Benjamin's outraged delivery as to the scarcity of hearing the word on television, but after 33 animal anuses, the punchline still hits the spot. So to speak.
Most definite accessory: The Cape
G/O Media may get a commission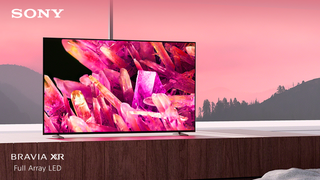 $400 off
Sony 55 Inch 4K Ultra HD TV X90K Series
For a show that only aired nine episodes before being unceremoniously canceled, The Cape certainly made an impact. Sure, part of that is due to Community's gentle teasing ("Six seasons and a movie!"), but Dan Harmon and company picked The Cape for a reason: It was completely ridiculous. Perhaps the most absurd part of The Cape was how many times per episode it mentioned its titular accessory. Everything relating to the damn show was about "the cape" (the item itself), The Cape (the main character who wore it), or #THECAPE (the show itself and everyone who watched it and loved saying the word as well). It wasn't a good show, and it often wasn't a fun show, but it was always entertaining to refer to.
Most annoying trend that could actually be great: Hiatuses for cult comedies
When Parks And Recreation was placed on hiatus for the fall of 2010, fans were upset. It was taken as the sign of impending cancellation for a show that was becoming great, they thought, but that's not what happened. What happened was Parks And Recreation's brilliant 16-episode third season, which aired with virtually no repeats from January to May 2011. "Virtually no repeats" is critical: Alternate viewing options have limited the rerun's use compared to the past. So it's in the networks' best interests to air more shows with fewer episodes. It's terrible for fans of Community and Cougar Town to have their shows off the schedule without warning—but if this becomes the new model, it might be better for cult comedies both new and old in terms of survival and quality.
Best show everyone assumes is porn: Spartacus: Gods Of The Arena
Many viewers saw the promos for Starz's sword-and-sandal epic and figured that all that glistens must be hardcore gladiator action. That's a pity, because Spartacus: Gods Of The Arena did the impossible: It made a prequel that not only didn't suck, but complemented the previous season's storyline, Blood And Sand, and laid solid groundwork for the upcoming Vengeance. All this while continuing its penchant for creating some of the most compelling, three-dimensional characters on television. Sure, all this loin-clothed action might make your heart beat… right before the show emotionally rips it from your chest.
Biggest geographical overkill: The ubiquitous use of Chicago in TV shows
Jesus, Chicago: We get it. Everyone else wants your Cubs to win the World Series, too. But that's no reason to whore yourself out to every show that will have you. The Good Wife, Shameless, The Chicago Code, Boss, Happy Endings, Mike And Molly, The League… Seriously, Windy City, share the wealth. See how sad Duluth is over there? How about giving Duluth a chance? Your Midwestern-cosmopolitan vibe has many charms, and you have given a great home to The A.V. Club. But honestly: Did you need to lend all those establishing shots to Whitney?
The Flowers In The Attic Award: HBO
Boardwalk Empire, Game Of Thrones, and Bored To Death all have one thing in common: They air on HBO. Make that two things: They air on HBO, and they had integral incest plotlines this year. Boardwalk Empire and Game Of Thrones could at least justify the plots from the perspective of the characters involved. But Bored To Death ended on the very weird note of Jonathan still dating his half-sister and being reassured, "We all have our thing." Of course, he hasn't shared the familial info with the girl he's currently sleeping with, but he'll probably get to that at some point. Ick.
Best unintentional alt-text: Tessa/George, Suburgatory
The A.V. Club continues to beat this drum in its reviews of Suburgatory, and it looks like creator Emily Kapnek has finally started to notice what others spotted early on: The father-daughter relationship on this show is, at times, downright unsettling. Look at that credit sequence! Look at the way they interact around each other at the holidays! Listen to Tessa talk about George's "cul de sac!" No one is suggesting that this show is actually about a couple role-playing as father and daughter. But those making the show need to step back and take a long, hard, shiver-filled look at the dynamic between Jane Levy and Jeremy Sisto.
Worst attempt at self-deprecation: Matt LeBlanc, Episodes
When Matt LeBlanc was announced as playing "himself" on the showbiz satire Episodes, it seemed obvious the Friends star would take a few pokes at his public image. And while "Matt LeBlanc," a divorced, womanizing screw-up, wasn't portrayed as perfect, his flaws on the show weren't exactly searing. In the third episode, it was revealed that LeBlanc had a massive penis that he didn't mind showing off to people. Hopefully LeBlanc's image can survive him laying his soul bare onscreen like that.
Most abused noun: "Bullying"
Someone at Glee must've left the soapbox out—after using it for a year of exploring bullying's grave reality, Kurt rose up once more to speak up against a new "bully": dodgeball. The definition of the term became more flexible thanks to Real Housewife Jill Zarin, whose tragic cyber-bullying episode involved a fusillade of "mean-tweeting" that nobody can corroborate. But Mario Lopez topped them all with the aggressive sycophantism of H8R, wherein he helped "victims" like Joe Francis and Kim Kardashian confront their tormentors: non-famous people who don't like them. We'd say where Lopez can shove the condescending smirk he wore throughout the series' short run, but The A.V. Club doesn't want to be accused of "bullying."
[pagebreak]
Best attempt at replicating human behavior by an artificial life form in a hosting role: Steve Jones, The X Factor
It ain't cheap to put on a reality spectacular like The X Factor, and producer Simon Cowell apparently cut costs by hiring Welsh android Steve Jones for a fraction of Ryan Seacrest's going rate. Jones can look worried or impressed or punch the air for enthusiasm as called for; he also knows when to blurt out pithy assessments such as "Great comments!" or "Very popular!" There are a few drawbacks to having a robot for a host (emotional tone-deafness comes immediately to mind), but Simon's probably just glad that Jones' creators forgot to install the Awkward Gay Joke chip.
Most metaphorical animal-gutting: Game Of Thrones
The nefarious Lannister children on Game Of Thrones are cunning, amoral folk, but Charles Dance's first appearance on the show as Lannister patriarch Tywin put them all to shame. Barely glancing at his eldest son, Jaime, as he takes apart a stag, Tywin delivers a fantastic monologue urging Jaime to step up and be a man, with the gutted deer an obvious, but potent, symbol of the Baratheon family they are seeking to depose. In one monologue, the source of all that Lannister magic is revealed.
Most practical animal-gutting: The Walking Dead
While Game Of Thrones' animal-gutting makes no sense on the surface (Why would a military leader be skinning a deer on the eve of battle?), The Walking Dead managed to go to an even grosser place—zombie-gutting—and have it make sense, since our heroes Rick and Daryl are on the lookout for a missing girl from their party, and those zombies sure like to chow down on humans. The scene is utterly gross, but doesn't feel exploitative—one of the better examples of The Walking Dead showing off its impressive special-effects team without taking the audience out of the moment.
Most successful season-pass evasion: Top Chef, season nine
The brilliance of the "season pass" option in DVRs lies in the peace of mind it provides: Never will you have to remember to record a show, because the DVR has it under control. It even asks if you want to record repeats, how many episodes it should store, when they should be deleted, etc. Top Chef has proven surprisingly adept at evading the season pass, though: Season eight, the "all-stars" one, appeared on some cable systems as Top Chef: All-Stars, which DVRs treated as a separate show from Top Chef. It continued with season nine, as DVRs everywhere skipped the première Top Chef: Texas—and any subsequent episodes until people figured it out. We're not sure whom to blame for this, but surely it is the greatest hardship the DVR age has yet experienced. Never forget.
Worst Tom Hanks: Colin Hanks, Dexter
Colin Hanks trades on many of the same genial, likable everyman qualities that make his father such a beloved performer. It's not the son's fault that he resembles his father so much, but in Dexter, Hanks' Hanksish-ness is occasionally impossible to ignore. The younger Hanks is at his best when his character, Travis Marshall, is a nice guy trying to tamp down his demons, but when Travis lets his Dark Passenger come out, the effect is more comical than terrifying. Picture Tom Hanks slapping an "I'm angry!" look on his face; now, imagine a baby version of Tom Hanks doing that. It's funny, distracting, and not scary in the slightest.
Best Upstairs, Downstairs knockoff: Downton Abbey
The most entertaining British costume soap opera in many a moon demonstrates that, sometimes, the best way to revive a beloved classic is to use it as a template for a brand-new show, created and performed by people who have clearly learned a lot from the best qualities of the original series they've taken as inspiration. Special congratulations belong to writer-creator Julian Fellowes, previously best known for scripting the film Gosford Park, a.k.a. "What If Upstairs, Downstairs was an episode of Masterpiece Mystery directed by Robert Altman?"
Worst Upstairs, Downstairs knockoff: Upstairs, Downstairs (2011)
Despite the onscreen participation of original series co-creators Jean Marsh and Eileen Atkins, this revival of this old chestnut, 40 years after it first appeared, demonstrates that, sometimes, the worst way to revive a beloved classic is to dig up its stinking remains, stick them on wheels, and announce that a resurrection has taken place. It's true that no show featuring Atkins as an eccentric grande dame with a pet monkey could be a total loss, but it's a shame that she's giving that performance in this thing when Downton Abbey is there to welcome her with open arms.
Widest marital range: Connie Britton
In the fifth season of Friday Night Lights, Connie Britton informed her pretend husband Kyle Chandler that she had a great job offer in Philadelphia, and that taking it would mean abandoning the place that had been their home for five years and the coaching position that had made him a local demigod. Chandler's Eric Taylor required a little time to wrap his head around this change, but he finally agreed that, after years of putting his career on the front burner, it was time to make some sacrifices for his wife. When Britton's American Horror Story character tried to make it clear to her dazed therapist husband that she would prefer not to live in a haunted house whose ghost population includes the murdered student he had an affair with and impregnated, he booked her a room in the local nuthouse. As such, Britton deserves notice for convincingly portraying one half of the best and worst marriages on TV in the space of 10 months.
Most shocking murder: "Big Blue Plate," The Young And The Restless
Daytime actors come and go; it's the sets that stick around forever. On The Young And The Restless, no backdrop has lasted longer than the Newman Ranch. Still dressing their estate in a fake opulence better suited for the 1980s than the 2010s, the Newmans are the richest family in daytime without the budget to redecorate—let alone part with the piece of Ming china affectionately known as the "Big Blue Plate." Troublemaker Diane Jenkins finally smashed it this spring, shortly before being offed herself. Her murder felt like divine retribution, as fans will always have a hole in their hearts where the Big Blue Plate used to be.
The Horse's Mouth (Or Another Part Of Its Anatomy) Award: Hugh Hefner, The Playboy Club
Not content with being given the kind of Man of Destiny treatment usually reserved for Jesus and wartime presidents, Hefner himself lent his creaking floorboard of a voice to The Playboy Club's pilot, modestly taking credit for having created the sexual revolution, feminism, and gay rights, all while hanging around the mansion swigging Dr Pepper in his jammies. If his life's work ever inspires another show, he can narrate that one and brag about how, of all the new shows that premièred in fall 2011, his was the one that broke the land-speed record for cancelation.
Most curious case of pet longevity: Sam the dog, Revenge
When young Emily Thorne (then Amanda Clarke—look, just watch the show, okay?) was 9, she received a dog for her birthday. Now, 17 years later, it sure seems as though said dog is alive and well and living with one of the show's many other cast members. If this were a weird Odyssey riff, where the dog was just waiting to see Emily one last time so it could die, okay. But no. It's pretty much just being a healthy, active dog, well past when most other dogs would cease to be.
Most inexplicably popular T-shirt in the Seattle area: A woman's Grand Canyon T-shirt, The Killing
It took a while for The Killing to show the true extent of its stupidity, but there have been few clearer moments for shattering the glass when it comes to a series' quality than detective Sarah Linden just happening to find a T-shirt belonging to the murdered Rosie Larsen in a weird bunker somewhere, only to find out a few days later that the exact same shirt belonged to some other girl involved in a totally different crime. The producers didn't even go to the trouble of making it a particularly cool shirt.
Strongest argument for a Muppet revival, television division: Jason Segel's Saturday Night Live monologue
Before Jim Henson's beloved creations made their triumphant return to the big screen, they visited the site of one of Henson's biggest disappointments: Studio 8H at 30 Rockefeller Plaza. Thirty-six years after the Henson's Land of Gorch characters failed to win over late-night viewers, The Muppets screenwriter and star Jason Segel used his Saturday Night Live debut to demonstrate that Kermit, Miss Piggy, et al. will always excel in a variety-show setting. The performance followed the rhythms of a classic Muppet Show sketch, as The Muppets swiftly hijacked the segment, believing they were hosting the show with Segel. If this (and the final act of The Muppets) doesn't secure a revived version of The Muppet Show by 2013, then the guardians of Henson's legacy at Disney ought to reconsider their strategy.
Best how-to guide for post-apocalyptic survival disguised as a TLC reality series: Extreme Couponing
TLC's chronicle of savvy shoppers flouting the laws of mathematics and the average grocery store's per-customer limits is many things: an inspiring story for trying economic times, for instance, as well as a fascinating peek into a little-known subculture. It's also the perfect, televisual instruction manual for weathering a global catastrophe, as the stockpile of canned goods and preservative-packed snacks created as a byproduct of extreme couponing resemble the type of fallout stash that would make a Civil Defense air-raid warden weep into his hardhat. When the bomb finally drops (or the 2012 prophecy, peak oil, or Steven Soderbergh's Contagion become a reality,) the stars of Extreme Couponing will be humanity's last hope.
Funniest pop-music history lesson: Free Agents
The U.S. adaptation of Free Agents was the first comedy casualty of the fall 2011 television schedule, but it managed to hang around long enough to put in one of the season's smartest pop-culture riffs. When Hank Azaria finds his co-worker-cum-fuck-buddy Kathryn Hahn soothing her romantic wounds with wine and ABBA's "Fernando," he attempts to lift her funk with a bit of record-geek trivia: The song isn't told from the perspective of two former lovers, but rather a pair of elderly men reminiscing about the Mexican-American War. And, for the first time in recorded history, knowing that fact leads to someone getting laid. 
Marcel Duchamp Memorial Medal For Most Unexpected Dadaist Gag in A Mundane Sitcom: Mandy's Garfield costume, Last Man Standing
Mandy's dad doesn't want her dressing sexily for Halloween. Naturally, he gets her a Garfield costume. Then, she wanders around for a while with just the head on, like some sort of weird, giant bobblehead. This sounds far more exciting than it actually was, trust us.
The Frasier Really Has Left The Building Award: The pilot of Boss
Kelsey Grammer does double duty in this series première, bringing his new character to life while he attempts to murder his old one but good. Grammer's snarling, F-bomb-laced performance seems designed to let America know once and for all that he's fucking not Frasier fucking Crane anymore, okay? At no point is that more vivid than when Grammer puts a man's ear in the garbage disposal. Frasier would never do that—unless it were the result of some zany upper-middle-class misunderstanding.
Biggest cheater: Watson
A team at IBM spent years building a computerized version of that insufferable dick who memorizes all the Trivial Pursuit cards so he can dominate on game night. IBM named its smug jerk computer Watson, and the Jeopardy! people invited it over to play their little game. Finally, humanity had an answer to the question, "Can a massive international corporation win a trivia contest using only a cutting-edge supercomputer with instant reflexes and 4 terabytes of stored knowledge?" Next up for IBM: a plastic-cup-stacking robot that will totally kick Minute To Win It's ass.
Least useful competition-show mentor: Simon de Pury, Work Of Art: The Next Great Artist
The gold standard for vocational competitive mentoring on television is Tim Gunn, who uses Actual Fashion Mentoring Experience™ to tell his budding designers where they're going right or wrong. How do you mentor artists interpreting a challenge like "create something inspired by a newspaper headline?" Vaguely, if you are Simon de Pury, whose throaty, pan-European accent and status as a famous art-auction guy fail to enhance advice like, "I am worried, but keep going. I'm sure it will be amazing!" Someday we hope to see Work Of Art: Behind The Dropcloth, which should include a full 90 minutes of conversations among the contestants about how hard it is to keep a straight face when de Pury embarks on his studio walkabouts, culminating in a de Pury impersonation contest.
Most annoying sound on basic cable: Dave Hester's Storage Wars catchphrase, "Yuuup!"
Storage Wars is A&E's unlikely juggernaut, racking up big ratings by suckering viewers into wondering what's in a bunch of old boxes. Its stars have become even unlikelier celebrities, none more so than resale-shop owner Dave Hester, whose trademark auction cry has spawned not only a full line of merchandise but also a trademark lawsuit between Hester and rapper Trey Songz. Profitable as it might be for Hester, that doesn't make "Yuuup!" any less annoying, particularly when he bellows it out ad nauseum each episode. It's like an aural mosquito bite; each itchy utterance makes the phrase all the more intolerable.
Worst reality show to inexplicably get a back-season order: The Republican presidential debates
If we wanted to watch a too-long, repetitive reality show where people only get eliminated every 10th or 11th episode, we'd be more enthusiastic about The Amazing Race.
---