It's tempting to put The Voice on blast for the paint-by-numbers way this season opens. The montage of the judges—I'm sorry, coaches—lauding the show is as shamelessly self-reflexive as any other reality monster. It hits all the requisite beats, from "This show changes peoples' lives" to teary contestants whispering that this is their only shot to flashes of the neon stage that probably have corporate sponsorship layered in to seep through our collective subconscious, Josie And The Pussycats style.
But once the obligatory lip service is paid, The Voice's fourth season takes off in a big, refreshing way. The opening group performance of "Come Together" highlights its celebrity coaches' talent and charisma. In turn, it immediately makes it clear why The Voice found success a full decade into an oversaturated market of singing competition shows: this panel is actually having fun. [Cut to: Nicki Minaj at the otherwise grim American Idol judges' table, seething through her eyelash extensions.]
This performance naturally looks a little different from previous seasons, since Shakira and Usher have replaced Christina Aguilera and Cee Lo Green. So while Adam Levine on the drums is an unexpected twist, attention inevitably goes to the "newbies." Usher helps Blake out with the guitar and his trademark falsetto while Shakira headbangs her way into a harmonica solo. NBC may have been blatant enough to replace a blonde Latina and a black R&B singer with a blonde Latina and a black R&B singer, but Shakira and Usher's slick performances in this collaboration quickly differentiate them from their more eccentric predecessors. They tear up the stage, backed by Little Drummer Boy Adam Levine, grinning from ear to ear in their matching leather.
In case I'm not being clear, the performance is just really fucking cool.
The coaches then settle in for the first round of blind auditions. Identical twins Kara and Rhian Morgan are first, which seems dangerously close to a gimmick until they simultaneously crush Alicia Keys' "Fallin.'" Usher and Blake immediately jump on their buttons. Shakira immediately endears herself to me when she tentatively holds up two fingers to Adam and mouths, "Two?" He nods back in a self-assured, "I'm a veteran, I got this" way that will soon become familiar, and then presses his own button. Shakira follows suit. But with their pick of coaches, the twins still go with Blake, because who can resist a smarmy giant who will say things to them like, "This is a dream come true for most… men"?
G/O Media may get a commission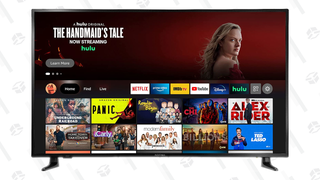 38% Off
Insignia 50" 4K UHD Smart TV
Next up is Jess Kellner, a "hairdresser and musician" who sings "Can't Help Falling in Love" and gets Shakira and Usher to turn around. Adam and Blake are thrilled to watch "the newbies" fight it out, and honestly, so was I. What easier way is there to figure out what kind of coaches they'll end up being? It will surprise no one that Usher chooses the "lean back and be effortlessly cool" approach; his wooing technique relies on charm even more than Blake's does. Shakira takes a more Adam approach, telling Jess she was pitchy, but that she's still "in love with the timbre of [her] voice." She's actually so enthusiastic that Adam and Blake have to prod Usher into fighting for Jess, at which point he smirks and says the following: "Do you want to last forever? Then rock with me."
Jess chooses Usher.
Then we have Mark Andrew's "Knockin' On Heaven's Door." He has a twangy falsetto that sounds like what would happen if Adam decided to join Matchbox 20. Adam does turn around, but Shakira eventually snags him because Mark's wife would apparently kill him if he ignored her attention. Fair enough!
Janetza Miranda is the first casualty of the night with a version of "Titanium" that's ultimately too pitchy to get a chair to turn around. It's heartbreaking, if only because the only thing more adorable than her is her family, bouncing off the walls while watching backstage. The second she gets back to them, her tiny father picks her up and carries her off over his shoulder, singing all the while. I mean, come on.
Somewhat surprisingly, there are two more contestants who get a full segment and not a single chair. Fifteen-year-old Leah Lewis was adopted from China but sings bluegrass, prompting Carson to ask, "Are people surprised when they see you singing that music?" Her "Blown Away" has the coaches hands' hovering above their buttons, but she never quite reaches the promise of the song's buildup; Adam actually throws himself back in his chair in frustration when she doesn't hit the climactic note. James Irwin tries and fails to transcend The Script's incredibly wordy song, "The Man Who Can't Be Moved." (The self-loathing part of me: "More like 'The Chairs That Can't Be Moved,' ammirite??" Shut up, self.)
Sixteen-year-old Danielle Bradbury is an aspiring country singer, and if you couldn't tell, please refer to her pitch-perfect costuming (cowboy boots, denim vest, single braid in her long blonde hair). She sings Taylor Swift's "Mean" to stick it to those bullies who teased her for her "crooked teeth," which seems a little hyperbolic, but she is 16, and the producers did ask for a tragic backstory, so it'll have to do. Luckily for her, she has a great, clear voice. Usher, Blake, and Adam duke it out for her, and even though Usher pulls out the Justin Bieber card ("He's just backstage, if you'd like to meet him"), she goes to Team Blake. As Usher says in his interview, "She knew what she wanted when she got up this morning and put her boots on."
But at least R&B singer Vedo is excited to sing for Usher, and performs Justin Bieber's "Boyfriend" to prove it. Usher takes the bait. From where I'm sitting, Vedo's variation is good enough to turn more chairs around, but maybe the other coaches just knew that someone who sings a soulful spin on Bieber is gunning for Usher in particular.
Christian Porter would like to not be "background music" all his life, please, and breaks out an acoustic cover of LMFAO's "Sexy And I Know It" that basically only has the words in common with the original. (Then again, having anything more in common with the original would probably be grounds for immediate expulsion.) (UPDATE: I'm now seeing rumblings that Christian's LMFAO take is actually from YouTuber only1noah, and the evidence is fairly damning. But who knows? Maybe he credited it in an interview that got cut, or maybe he just hoped no one would notice. Either way, here is Noah's.) The crowd loves it. More accurately, the crowd loves him, which makes sense seeing as he's a well-groomed guy with a guitar and jawline like Professional Handsome Guy Matt Bomer. After a brief tussle between Shakira and Usher, Christian goes with Blake.
Kris Thomas pushes the limits of the blind audition with his lovely, lilting falsetto, which sounds feminine. It's surprising when only Shakira turns around for his version of Whitney Houston's "Saving All My Love For You." It's then surprising, and more than a little irritating, when the guys turn around, see that he's a dude, and go out of their minds for not turning around. I get that singing that high as a guy is impressive, but his solid performance of a Whitney Houston song would be impressive even if he were a woman.
Finally, we have Judith Hill. Now, it's common practice to have the première's best audition at the end of the night, like with Avery Wilson's unbelievably (and sadly singular) performance of "Without You" last season. Every commercial break during this the episode teased not only Judith's audition, but her backstory of touring with Michael Jackson on his final tour. So by the time Judith steps out onto the stage, the expectations are sky high… which is maybe why she didn't quite blow me away as much as she did the judges. Christina Aguilera's bouncy "What a Girl Wants" will always be on my summer mixes, but even though Judith has a powerful voice, it's not a strong vocal showcase by any means. I leave her performance wondering if maybe there was a sound issue in the arena or on my end because the coaches go so crazy for her that Adam cuts them all off by saying, "I'm going to light myself on FIRE to make sure you're on my team. I'm going to have a PANIC ATTACK." It's all very clingy high school boyfriend, but it totally works. Team Adam it is.
There's an undeniable new energy to match this new judging panel, but overall, it's The Voice's intrinsic enthusiasm that elevates it above its peers. It's so refreshing to have judges that don't seem to be reading off a well-trod script. It's a bonus that they comprise a truly talented panel that happily sucks up to lesser-known, but not necessarily less talented, contestants. Now all they have to do is keep it up.
Stray observations:
I fully acknowledge that recently covering the aggressively plastic American Idol may have tipped me towards liking The Voice even more. To be fair, though, almost everyone who auditioned tonight was better than Idol's current Top 10.
The quick montage of rejected contestants is only remarkable for showing an acoustic version of Katy Perry's "E.T." that proves that it takes more than stripping a song down to a guitar to make an interesting cover.
I didn't go into the contestants' backstories much on purpose. I've long accepted that the Piano Chords of Tragedy are inevitable for reality shows now, and The Voice is sadly no exception. I will say, though, that the camera lingered on Vedo breaking down over his mother's inoperable cancer for way too long, and I was this close to docking the episode's grade for it.
The Adam/Blake bro-down (sorry) continues apace, but Adam wins this week for snarking on Blake's completely vague flattery/stealing my job: "So… Blake just basically said 'I have a wife and you're sisters, so we're alike.'"
Shakira gets me on her side by making fun of the other judges' tics, especially Blake's bendy E.T. pointer finger. (Show of hands: creepy, or extremely creepy?)
Carson, translated: "Maybe THIS person will turn Adam's chair! No? Okay, maybe THIS—never mind, okay. What about—no? Jesus Christ, Levine."
Also, NBC really for real made a commercial with Carson Daly pushing Revolution: "I LOVE this show, can't WAIT to see what happens!!" Nice try, NBC.
Adam: "As far as I'm concerned, I'm running for president right now." Usher: "Well, I'm looking for the first lady."