In the most depressing story about the handling of Kurt Cobain's legacy since the last one, a war is currently brewing over the guitar the late Nirvana frontman played during the 1993 taping of MTV Unplugged. The guitar in question, a 1959 Martin D-18E, was passed down from Courtney Love to daughter Frances Bean Cobain after Kurt's death. And it's since become the epicenter of a nastily public divorce between Frances and her estranged husband, Eeries singer Isaiah Silva, who claims Frances gave him the guitar as a wedding gift—something both Love and her daughter have denied—and now refuses to give it back. It's an ugly situation, though one that Love, with typical Loveian aplomb, has found a way to make even uglier by getting Sam Lufti involved.
Trawlers of celebrity muck may recognize Lufti as the leech that always seems to be lurking in its most turbulent waters, attaching itself to celebrities—primarily women—in the midst of deep personal crisis. Lufti first oozed his way into the fringes of the spotlight when he took despotic control of Britney Spears' life during the midst of her mid-'00s meltdown, eventually leading to restraining orders, lawsuits, and Spears' father wresting control from Lufti by means of lifetime conservatorship. Since then, he's insinuated himself, to varying degrees of success, into the lives of other troubled, vulnerable female celebrities like Amanda Bynes and Lindsay Lohan (prompting Lohan to get the FBI involved), before he finally landed the grande dame of perpetual fuck-ups, Courtney Love, and became her manager. And now Love has hired Lufti once again, hoping to put his harassment skills to good use in intimidating Silva and his family until the treasured guitar, valued at millions, is returned.
According to Page Six, Lufti's scheme—proudly, tellingly shared by Lufti himself—involves menacing phone calls and texts to Jessica Sullivan, Silva's ex-wife and the mother of their 7-year-old son, Arlo. Frances and Isaiah reportedly purchased a home for Sullivan so Arlo could be close to them, and now Lufti is using that home as a cudgel in his scare campaign—alternately promising Sullivan that she will be taken care of "until the day [she] dies" if she helps secure the guitar's return, and threatening to evict her and "make sure Arlo ends up in an orphanage" if she doesn't. He's also (again, shared by Lufti himself) called Sullivan a "whore," "sick bitch," and a "white trash con artist," something Lufti justifies by saying Sullivan "recently tried to provoke Frances into killing herself by taunting her about her father's suicide," just in case this story was too close to having someone to root for.
Lufti—whose Twitter bio reads "problem solving"—was also recently accused of attempting to mitigate this whole delicate situation by grabbing Silva, attempting to carry him to his car, stealing Silva's phone, and breaking a glass door, all of which prompted Silva to file a police report against him last month. Meanwhile, Love herself has weighed in to TMZ, wearily telling its cameras that her daughter never gave away the guitar to Silva, saying, "It's not his. It's a treasured heirloom of the family, so it's not his to take" and adding, "She never planned on doing that. We're very close … I'm very glad she's out of this dangerous and toxic relationship."
G/O Media may get a commission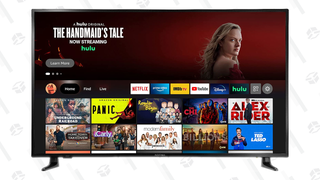 38% Off
Insignia 50" 4K UHD Smart TV
Love, of course, has had her own long, toxic relationship with her daughter, which a few years ago culminated in Frances filing a restraining order against her and calling on Twitter to "ban" her, after Love made some tweets alleging that Dave Grohl attempted to hit on Frances. But within the last year, the two seem to have reconciled, just in time for Love to send in her manager/enforcer to mediate her daughter's divorce with threats and violence. Ultimately, the fate of Cobain's guitar will be decided by the court, where all of this will surely be handled with the dignity befitting Cobain's memory, as per usual.

Also, in case this hasn't made you sufficiently uncomfortable, here's a photo of Isaiah Silva, whose resemblance to Cobain has been noted time and again. Good stuff. Thanks, guys.
In related news, Kurt Cobain has been dead for 22 years and got to miss all of this.