With the latest class of Rock And Roll Hall Of Fame inductees recently announced, the annual debate has been renewed over whether the Hall will eventually run out of worthy candidates. If so, will they finally get around to honoring some of the most glaring exiles, like Big Star, Tom Waits, and The Stooges? At the moment, each year's nominees are forwarded by a steering committee of just under a hundred music-industry veterans and rock journalists, then voted on by just under a thousand of the same. Insiders like critic Dave Marsh have indicated that not all those voters are as aware as they should be of the major artists in genres like punk and hip-hop, and though two inexplicably delayed candidates—Patti Smith and Grandmaster Flash—were granted induction this year, there are serious concerns among rock historians about whether the most influential and enduring acts of the last 25 years will get a fair hearing when their time comes. With that in mind, and with the Hall's mission of honoring those who had "a significant impact on the evolution, development, and perpetuation of rock and roll," The A.V. Club here considers the pros and cons of a handful of Hall-worthy acts, some of whom are eligible already.
[Note: If you want to register your own opinion about these or any other acts, we recommend the invaluable on-line resource futurerockhall.com, which keeps track of who's eligible when, and how everyday rock fans feel about their chances.]
IN
Madonna
Why she might make the Hall: Few lightweight pop stars have ever stayed in the public eye as long or as gracefully as Madonna. Brazen self-promotion and tabloid-worthy trysts aside, Madonna has cut a string of classic singles in a variety of styles, and she arguably inverted the commoditization of female sexuality, making it an opportunity for self-empowerment.
Why she might not: That commoditization still turns a lot of people off, striking some as sex without sensuality, as well as the dubious inspiration for a slew of talentless, tarted-up teen-poppers. Also, this is the rock 'n' roll hall of fame. Danceable pop fluff remains suspect.
Odds: 2-1. Danceable pop fluff with Madonna's level of critical credibility still gets a pass.
G/O Media may get a commission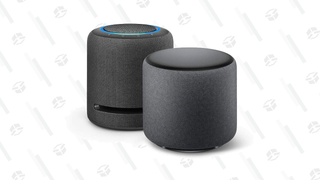 25% off - Prime Exclusive
Echo Studio + Echo Sub Bundle
John Mellencamp
Why he might make the Hall: In the synth-laden '80s, Mellencamp was a standard-bearer for classic American rock, carrying on the tradition of Creedence Clearwater Revival and (especially) Bruce Springsteen. If that isn't enough, he's been an outspoken, involved advocate of charitable causes like Farm Aid.
Why he might not: Mellencamp began his career under the cheesy nom-de-rock "Johnny Cougar." Also, the hits dried up a while ago.
Odds: 2-1. The safe money is on a Cougar-friendly Hall.
Beastie Boys
Why they might make the Hall: They were one of the first significant crossover hip-hop acts, bringing rap to suburbia and a punk sensibility to rap. Then they pursued their own flighty muse, creating a hip-hop sound infused with spirituality, pop-culture smarts, an inclusive spirit, and even a touch of the avant-garde—all while continuing to top the charts.
Why they might not: The Beastie Boys' whiteness still marks them as outré in some critical circles. Hall voters may fear a backlash if they vote in one of rap's most well-known appropriators before making room for the genre's more "authentic" acts.
Odds: 3-1. The respect that old-school rappers pay to the Beastie Boys should allay voters' qualms.
Pearl Jam
Why it might make the Hall: You can't talk about grunge without talking about Pearl Jam, and grunge is an easy genre for the stodgier voters to latch onto. Sure, it probably couldn't have happened without punk, but grunge definitely couldn't have happened without, say, The Allman Brothers. And guess who's already in the Hall?
Why it might not: Of course, you also can't talk about grunge without talking about Nirvana, a Hall sure-thing whose truncated career let it avoid Pearl Jam's slowly diminishing artistic and commercial returns.
Odds: 3-1. Pearl Jam never sold out. It sold a lot of records. It's out there rocking right now. It's in.
Public Enemy
Why it might make the Hall: When Public Enemy broke through in the '80s, it was such a demanding, innovative, politically charged, and loud act that even critics and listeners who dismissed the genre had to take notice. The classic albums still burn with the same intensity as the day they were pressed.
Why it might not: More than music kept Public Enemy in the spotlight. There was also all that controversy, including the alleged comments about Jews made by "Minister Of Information" Professor Griff, which still rankle some. Since the group's heyday, P.E.'s social consciousness has mostly settled in underground hip-hop. Flavor Flav's second career as a reality-show star hasn't exactly burnished the legend, either.
Odds: 5-1. It'll get in, but expect controversy.
Coldplay
Why it might make the Hall: Bandleader Chris Martin has friends in nearly every recording-industry clique, from socially conscious rockers to, improbably, the hip-hop community, which recognizes good hooks when it hears them. Coldplay-haters may grumble that the band will only make the Hall because it's safe and soft, but Martin clearly has an ear for what lasts. Only three albums into its career, Coldplay has already made two widely beloved LPs.
Why it might not: Unfortunately, those beloved albums are the first two. Coldplay's third album, X&Y, was kind of a bummer, and unless the next effort is a significant improvement, the band may not have the longevity that a Hall Of Fame candidate needs. Also, Coldplay's fortunes may be tied to Radiohead's. If the more critically acclaimed Britpop band of the '00s hasn't made it in by the time Coldplay is eligible (2023, by the way), don't expect much support.
Odds: 5-1. Surely Martin will write a few more modern-rock standards over the next decade or so.
The Replacements
Why they might make the Hall: Of all the '80s post-hardcore bands that made rock 'n' roll safe for DIY-ers—and thereby birthed the modern-rock revolution of the '90s—The Replacements were the most accessible to old-guard rockers. Bandleader Paul Westerberg wrote tight, hooky, rootsy songs with heartbreaking, literate lyrics, and his mates played them raw and righteous, recording albums that regularly get cited as among the best of their decade.
Why they might not: Westerberg's post-Replacements career has been spotty, and the band's influence hasn't been as enduring as true believers might've expected. Remember: Westerberg sang the praises of Alex Chilton, and even Chilton isn't in the Hall.
Odds: 6-1. If The Replacements' back catalog ever gets the long-overdue spiffing-up that's been promised for a decade, the band should become relevant again.
[pagebreak]
ON THE BUBBLE
Tupac Shakur
Why he might make the Hall: As the Hall enters the hip-hop era, its voters are going to have to grapple with what kind of rappers make the cut: those with a socially conscious message and/or Top 40 success, or those whose impact on the culture at large was undeniable but arguably pernicious. Given Shakur's prolificacy and almost iconic profile, he may wind up being the sole representative of the '90s gangsta-rap era.
Why he might not: Where are the hits? Those steeped in hip-hop know what Shakur's done, but the guys in the industry boardrooms don't walk around humming "Keep Ya Head Up."
Odds: 8-1. Put it this way: If Tupac doesn't get in, Eminem doesn't get in. And chance are, the Hall voters want to honor Eminem, because they can hum his songs.
The Smiths
Why they might make the Hall: In the wake of post-punk and new wave, The Smiths captivated the UK with a sound simultaneously romantic, classic, and stubbornly personal. Then they improbably crossed over to U.S. success, winning the hearts of high-school outcasts and—for some reason—young Latino men. Bands on both sides of the Atlantic still try to emulate Johnny Marr's modified rockabilly-guitar shimmer and Morrissey's self-absorbed moan.
Why they might not: It's possible that when the Hall voting pool finally changes over, it's going to convert from greybeards who never paid attention to the '80s college-rock scene to youngsters who were born too late to appreciate the significance of bands like The Cure and The Smiths.
Odds: 8-1. So long as Smiths-like bands keep emerging, the originals should stay on voters' radar.
Dave Matthews Band
Why it might make the Hall: The accessible pop end of the post-Dead jam-band phenomenon, Dave Matthews Band helped soundtrack the '90s with its musically expansive but still hummable songs.
Why it might not: Right now, DMB's future seems cloudy. Less cloudy: the backlash of listeners bored with the whole phenomenon.
Odd: 9-1. Matthews may have to wait until the generation who grew up losing their virginity to "Satellite" (in 6/8 time, no less!) gets old enough to rock the vote.
New Order
Why it might make the Hall: Emerging out of the ashes of post-punk's legendary Joy Division, New Order created a new kind of dance-pop, balancing electronics with jangly guitars and quirky lyrics. Image-wise, business-wise, and sound-wise, New Order revolutionized British indie-rock, and the band's songs keep getting revived for left-field cover versions and movie soundtracks.
Why it might not: See: The Smiths. Also, neither Depeche Mode nor Joy Division has gotten the call yet, which is a bad sign.
Odds: 10-1. New Order's conceptual anonymity may work against it, but its influence remains.
Pavement
Why it might make the Hall: The entire American indie-rock movement of the '90s meant a lot to the people who lived it, but it remains negligible both in terms of today's music, and the tastes of the Rock Hall's gatekeepers. The sole exception is Pavement, a band that sold a lot of albums, topped a lot of critics' lists, and broke up before becoming a joke. While Pixies played the biggest part in softening up the ground for Nirvana, Pavement stands on the other side of the Nirvana divide, having provided alt-rock fans a corner to retreat to once their favorite music briefly went mainstream.
Why it might not: Although it's hard to believe that Pavement-style slacker-rock won't someday make a comeback (à la the post-punk revival of the early '00s), until that happens, the band is in no better shape than perpetually absent Hall-eligible acts like Big Star and Jonathan Richman.
Odds: 12-1. Pixies will be the bellwether here. If one intercontinentally beloved cult act doesn't make it, the other doesn't stand a chance either.
Oasis
Why it might make the Hall: In Britain, Oasis loomed large over the cultural landscape in the 1990s, scoring hits that carried on the tradition of (same say aped, but whatever) classic '60s acts, and filling tabloids stories of offstage antics.
Why it might not: What country is the Hall in? Oh, yeah: America. Also, a clear-eyed assessment of Oasis' career reveals two classic albums and a lot of slacking. Is that enough?
Odds: Eh? Maybe. 13-1.
The Flaming Lips
Why they might make the Hall: They're among the most popular (and tireless) touring acts of the '00s, and during the course of their major-label contract, The Flaming Lips have made some of the most original, unusual, and inspiring rock 'n' roll that the quasi-mainstream has ever seen.
Why they might not: The Lips are still essentially a cult act, viewed as a goofy novelty by many serious critics and industry players. And since their masterpiece, The Soft Bulletin, the band's albums have been long in coming, and relatively disappointing.
Odds: 15-1. The Lips' huge following may have an impact on the voting by 2010, their first year of eligibility, but they'll need to record at least one more classic album—and probably sell a lot of copies—to win over the doubters.
[pagebreak]
OUT
Hüsker Dü
Why it might make the Hall: There's no doubt that Hüsker Dü deserves it, for having helped define American post-punk while making songs that stick in the heads of anyone for an ear for pop.
Why it might not: While other bands have benefited from shorter careers, Hüsker Dü's split came too soon. For all it accomplished, it could have gone on to do a lot more. Also, Replacements songs are a lot easier to sing when you're drunk.
Odds: 25-1. The bandmembers may have to watch Green Day get in and hear Billie Joe complain about their absence in his acceptance speech.
XTC
Why it might make the Hall: By bringing Beatles-esque pop hooks to post-punk, XTC briefly enjoyed the kind of critical cachet afforded to surefire Hall-certified geniuses like Elvis Costello. And the current Sunderland/Newcastle Britpop scene bears a heavy XTC stamp.
Why it might not: XTC also earned the respect of old-guarders like Todd Rundgren, who isn't in the Hall yet. Nor are The Cars, arguably America's answer to XTC. A lot of critics find this kind of jagged guitar-pop too clever by half.
Odds: 40-1. XTC, Echo And The Bunnymen, The Psychedelic Furs… we may need to build a different Hall Of Fame for the '80s greats bound to be overlooked by the one in Cleveland.
Yo La Tengo
Why it might make the Hall: Next to Pavement, Yo La Tengo is the American indie-rock band most-respected by mainstream rock critics. And unlike Pavement, YLT has kept plugging away, synthesizing varied pop idioms and experimental music into an ongoing diary of three people's cultural obsessions.
Why it might not: Yo La Tengo has never even come close to breaking through on any kind of chart, and few of the bands it claims as influences have gotten even a sniff of recognition from the Hall.
Odds: 50-1. It's going to take drastic changes in the band's fortunes and the Hall's voting body before Yo La Tengo gets the call.
De La Soul
Why it might make the Hall: 3 Feet High And Rising is a landmark hip-hop album, making the genre safe for sensitive college kids and fans of oddball pop confections. If the Hall decides that its rap wing needs to be populated by positivists, De La Soul should expect a plaque, mounted right next to the one for A Tribe Called Quest.
Why it might not: Does A Tribe Called Quest even have a shot? Even though De La Soul made a couple of great albums after 3 Feet High, like a lot of rappers, they have a steep downward arc for a career trajectory. Aside from music buffs who went to college in the early '90s, De La Soul's name doesn't come up much anymore.
Odds: 100-1. De La Soul tops hip-hop lists, but hip-hop is a problem that the Rock Hall hasn't even begun to try to solve.