Here's what's up in the world of TV for Friday, July 24 and Saturday, July 25. All times are Eastern.
Top pick
Jonathan Strange & Mr. Norrell (BBC America, 10 p.m., Saturday): With magic unleashed all over England, can Strange and Norrell keep things from spinning out of control in this season finale? Caitlin PenzeyMoog knows because she's read the book and all, but she's not tellin'. She will say that last week's episode was the best yet—she'll definitely say that. Also looking back over this ambitious adaptation of Susanna Clarke's novel is Genevieve Valentine, who adds her TV Review of the season as a whole.
Also noted
BoJack Horseman (Netflix, noon, Friday & Saturday): This animated series, nominally about Will Arnett's horse-headed has-been actor trying to make a comeback, continues to break Caroline Framke's brain with its mix of lunatic comedy and improbably moving drama. She can take it.
G/O Media may get a commission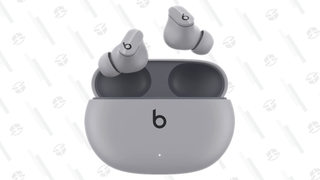 Catastrophe (Amazon, noon, Friday): Rob and Sharon prepare for their wedding, which should go fine, as long as their sitcom's name isn't some sort of blanket description of how things inevitably go for them. Molly Eichel is now whistling nonchalantly and averting her eyes. Huh, wonder what that's all about.
Power (Starz, 9 p.m., Saturday): The feds close in on Ghost, while Angela (also a fed, by the way) mulls over whether or not to believe Ghost's latest explanations for his criminal activity. Joshua Alston would advise Angela to resist Ghost's lies, but he's finding their game of wits pretty entertaining.
Aquarius (NBC, 9 p.m., Saturday): David Duchovny continues to not like the looks of that Charles Manson character. Gwen Ihnat sort of feels the same way about Aquarius, frankly.
Hannibal (NBC, 10 p.m., Saturday): After the shocking events of last week's episode (about eleven of them, by any conservative estimate), Hannibal's back in custody. Which means Will and Jack can just kick back and heal up, as there's no way Hannibal Lecter can get into any more mischief. Molly Eichel is looking forward to a nice, quiet hour of television, as the show introduces some chap named Francis Dolarhyde.
Elsewhere in TV Club
Comics Week and TV Club collide, as Laura M. Browning looks back at the strange, soap opera-esque take on the Man Of Steel that was Lois & Clark: The New Adventures Of Superman. Then, while he might never have played a superhero (then again, he might have—it's been a long career), Steve Guttenberg sits down with our own Will Harris for a Random Roles feature, looking back at everything from Mahoney to that time he played himself on perhaps the best Party Down episode ever. After that, your favorite comic geek AV Clubbers make their picks for the non-comics creators who should branch out and make a damned comic already in this week's AVQ&A.
What else is on
Defiance (Syfy, 8 p.m., Friday): The city of Defiance is under siege from those Votanis Collective jerks, as our intrepid heroes—alien and human—try to put their differences aside.
Big Hero 6 (Starz, 8 p.m., Friday): This animated adjunct to the Marvel cinematic universe is entertaining enough, but it's still disappointing that 30 Rock's Scott Adsit (voice of Stay-Puft marshmallow man-like robot Baymax) isn't hanging out with Chris Hemsworth on red carpets everywhere.
Killjoys (Syfy, 9 p.m., Friday): The sexy space bounty hunters try to outrun every other sexy space bounty hunter in pursuit of the legendary Big Joe, a legendary bounty hunter who's gone rogue. Perhaps due to excess sexiness.
Great Performances: Dudamel Conducts a John Williams Celebration With the L.A. Philharmonic (PBS, 9 p.m., Saturday): Finally, the sort of highbrow evening Homer Simpson and Sam Malone can get behind.
The Messengers (CW, 9 p.m., Friday): In the series finale, the angels fight the Four Horseman for the fate of humanity. Since humanity cancelled their show, here's hoping angels don't hold grudges.
Dark Matter (Syfy, 10 p.m., Friday): The amnesiac space travelers find a hidden room on the ship containing a woman who seems to know Three and a chipper robot who, presumably, also has amnesia.
Lost Boy (Lifetime, 8 p.m., Saturday): The overqualified Virginia Madsen stars in this Lifetime movie about a kidnapped boy who shows up eleven years later on his family's doorstep. Just guessin', but, being Lifetime and all, that kid's got some deep, dark secrets tucked in there.
Cedar Cove (Hallmark, 8 p.m., Saturday): Andie MacDowell's judge waffles over whether or not to move in with her hunky boyfriend as this cozy Hallmark drama wafts pleasantly along, redolent of herbal tea and lambswool sweaters.
Boston EMS (ABC, 9 p.m., Saturday) & Save My Life: Boston Trauma (ABC, 10 p.m., Saturday): Real-life Boston medics attempt to save despondent Red Sox fans all over the city in the premiere of these reality miniseries.
Mythbusters (Discovery, 9 p.m., Saturday): The guys test out various aviation myths, such as whether you can, in fact, have the whole can of Diet Coke.
Hell On Wheels (AMC, 9 p.m., Saturday): Cullen and Fong try to pull a Fitzcarraldo, transporting a locomotive over a dangerous mountain.
Lavalantula (Syfy, 9 p.m., Saturday): This week, the dartboard at Syfy yields up "tarantulas" and "lava" as Steve Guttenberg (alongside three of his Police Academy co-stars, for barely perceptible nostalgia reasons), a washed-up action star, is forced to fight off swarms of lava-breathing tarantulas (or "lavalantulas"). Let's all think of that really great episode of Party Down when we think of the Gute instead.
Race To Escape (Science Channel, 10 p.m., Saturday): Comic and podcast hero Jimmy Pardo hosts this smarty-pants game show about two groups of people competing to escape identically eccentric locked rooms whose doors can only be opened by solving the puzzles within. Sure, it's no Sex Box, but Pardo should make it entertaining nonetheless.
Atlantis (BBC America, 11:15, Saturday): After Jason is captures, Aeson attempts a rescue. Advice—bring swimmies.
The sports!
Pan American Games (ESPN2, 6 p.m., Friday & 4:30 p.m., Saturday)
CrossFit Games (ESPN, 7 p.m., Friday & 3 p.m., Saturday)
WNBA All-Star (ABC, 3:30 p.m., Saturday)
NASCAR XFINITY series: The Lilly Diabetes 250 (NBC, 3 p.m., Saturday)
International Champions Cup Soccer: Manchester United vs. Barcelona (Fox, 4 p.m., Saturday)
MLB: A's At Giants (Fox Sports 1, 4 p.m., Saturday)
MLB: Braves At Cardinals (Fox Sports 1, 7 p.m., Saturday)
Special Olympics: Opening Ceremony (ESPN, 9 p.m., Saturday)
World Championship Boxing: Kovalev-Mohammedi (HBO, 10 p.m., Saturday)
In case you missed it
Futurama: Resident Star Trek expert Zack Handlen has almost too much to say about the classic Star Trek episode of Futurama.