‪QUOTES OF THE WEEK‬
"Unfortunately, you can't set babies to 'vibrate'" —Chris Hardwick on people traveling with kids, Nerdist

"I went to college at the worst time, because it was like after AIDS, but before the Internet. It's no wonder we listened to grunge and tied shirts around our waists." —Seth Meyers, WTF With Marc Maron

"I'm really good at handicapping how old little boys are." —Scott Aukerman, Comedy Bang Bang

"That guy has some bad bedside manners, doesn't he? He's rude." —Bill from Consolidated Cardboard on Dr. House's fatal flaw, Best Show Gems
"What you put in your Top 25 doesn't matter to me. You are an authority only in your own personal weird basement full of moths. We can have a conversation about which movie is better than the other. But you're stipulating to, 'Well, it's still in my Top 100'… look, I don't care. No offense. I don't care. But if you're sitting here, via Skype, telling me that 30 Days Of Night [is better than The Exorcist]—look, I like Danny Huston a lot, but it just doesn't track for me, sir. It just doesn't track." —John Hodgman, Judge John Hodgman
NEW (TO US)
Dig Me Out
A podcast devoted to music of the '90s—the name comes from the seminal 1997 Sleater-Kinney album—Dig Me Out takes its subject matter very seriously. Its website has an earnest "mission statement" from co-host Tim Minneci that dismisses nostalgia (at the top is a quote from critic and Sound Opinions host Jim DeRogatis about nostalgia being "the bane of rock 'n' roll") and sets Dig Me Out's goal of discovery—finding music "from the heyday of college and alternative radio" that he and co-host Jason Dziak missed. They also review bands they liked but never achieved popularity or "oddball albums by otherwise successful artists." The weekly podcast started in January of this year, and the pair has reviewed 42 albums to date. Each week, Dziak and Minneci—who played together in a band for years—devote an episode to a single album, providing background on the group and context for the album's release, and discussing the record's merits. The whole experience is akin to listening to a couple of knowledgeable friends chatting about an album for 45 minutes or so.
That may or may not be a good thing. In the case of the sleepy discussion of Jawbreaker's 24 Hour Revenge Therapy, it's not. Minneci and Dziak admit at the top of the show neither is familiar with the seminal San Francisco punk band (Dziak says later "I didn't do any research on this band"), and that quickly becomes obvious as Minneci seemingly recites highlights from the band's Wikipedia page, spending an inordinate amount of time discussing Jawbreaker's very earliest days. Worse are the erroneous assertions made by the hosts, which will cause many face-palms among listeners familiar with the band: "This was the punk crossover album that was the precursor to emo" (nope); "[Jawbreaker's second album] Bivouac is considered the essence of their punkness—was when they're most polished as far as being a punk band" (not even close). And there are straight-up factual errors, like when they discuss bassist Chris Bauermeister releasing archived Jawbreaker material on his own label without the involvement of the other two members. (It was drummer Adam Pfahler, and the rest of the band was involved.) Minneci and Dziak are unimpressed by 24 Hour Revenge Therapy, so much so that they repeatedly express their bafflement that Jawbreaker went on to sign a $1 million deal with a major label—apparently without understanding that their deal was for three albums, not one, making the band's per-record budget unexceptional by major-label standards. These may seem like niggling details, but getting them right is the basis of credibility. The hosts' lack of enthusiasm for the album keeps the podcast's energy level sleep-inducingly low—and the entire album playing underneath them at all times is annoying—and when they veer into a similarly slow discussion about the merits of Deep Purple, no one could be blamed for checking out.
G/O Media may get a commission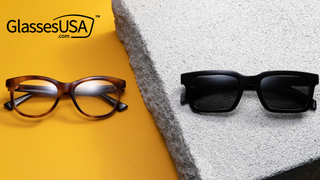 60% off frames
GlassesUSA.com Back to School Sales
On Cinema 
There are countless movie-review podcasts on the Internet, but very few that don't follow the same mediocre template. Tim Heidecker and Gregg Turkington turn that template on its head with a running joke in podcast form. Each episode of On Cinema is two or three minutes long and features Heidecker and "guest" Turkington giving the most mundane and well-known facts about cinema's greatest hits. Fun facts like Carlito's Way having the same star as Scarface or how Ghostbusters never earned an Oscar end up being entire episodes. There's not much else to the show. It's funny premise, but it doesn't make sense as a sustainable podcast idea. Listen to one episode, have a laugh, and move on.
---
OUTLIER
Diet Soap 
Host Douglas Lain is a writer, philosopher, and Marxist who talks about popular culture and politics through the lens of the surreal. Each episode usually features a guest and a specific topic as well as offbeat musical interludes and readings on topics like Marx's definition of ideology.  The kinds of topics discussed can range from string theory to the paternalistic capitalist message of Adam Sandler's reality-bending movie Click. The host is very well-versed in different philosophical teachings, and he is receptive to his guest's thoughts and beliefs regardless of how they fit in with his own. Episode #124, The Challenge Of Occupy Wall Street, features two Marxist guests who analyze the successes and failures of the movement in attempting to subvert the capitalist system. While everyone in the episode may have an extreme position on Occupy Wall Street, they are positions that go unheard elsewhere and are worth taking into consideration.
---
THE BEST
Best Show Gems: Bill From Consolidated Cardboard Can't Keep His Story Straight
When Bill from Consolidated Cardboard (Tom's "real" job) gets a little creative with his excuses for missing a company softball game, there are rumblings that this could become a high-concept snooze of a Gem. Make it through the first 10 minutes, however, and you'll be treated to The Best Show equivalent of Who's On First, with Bill's lies growing ever more outlandish until he's regaling Tom with tales of derring-do and bass-shredding in Iraq with The Go-Go's. And when the other shoe drops and Tom's own tendency to twist the truth is pointed out, Bill earns himself a place in one-time-character heaven.
The Bugle #170: It's Time To Ban Slap Bass
There are now 7 billion people in the world and hosts John Oliver and Andy Zaltzman blame it on everyone being too damn sexy. The more hilarious suggestions to solve this problem include banning slap bass and printing underwear with a picture of Muammar Gaddafi's corpse on the front. On the down side, the tired "Congressman's Penis" segment returns for what we can only hope is the final chapter. Still, with the induction of Manchester City soccer star Mario Balotelli into the Sports Hall Of Insane, The Bugle continues to be the leader in mocking the batshit crazy.
Hang Up And Listen: The Better To Be Luck Edition
Was Game 6 of the World Series the most exciting game ever? One would assume that such a pronouncement would be completely subjective, but one would be wrong about that. Like everything else in baseball, excitement can be quantified: The HUAL crew points to "the leverage index," a Fangraphs.com metric that measures the importance of certain situations, presumably so nerds can impress (or get pummeled by) dudes at their local sports bar. Other segments include a look at NFL-ready Stanford quarterback Andrew Luck, who's every bit as dreamy as the media wags suggest, and a conversation with director Jonathan Hock, whose moving ESPN documentary Unguarded deals with former basketball talent Chris Herren and his harrowing struggle with addiction. The "Afterball" segment also features some quality Stefan Fatsis kicker geekery, as he scoffs at the recent trend of NFL teams that are hiring left-footed punters to help punt returners get used to kicks with lefty spins and trajectories.
Judge John Hodgman #39: Slash-Friction
Is The Silence Of The Lambs a horror film? Some might say "duh," but on Bryan's list of the 100 greatest horror films ever made, he disqualifies it under the strange criteria that the main character (Clarice Starling) is not constantly threatened by "Buffalo Bill" and can walk away at any time. (How the audience feels is oddly irrelevant.) In this delightful episode, Judge Hodgman spends much of the time poking fun at the insane spreadsheet tabulations that go into making this list (categories include Impact, Pace, Originality, and "Subjective," all with 1 to 10 ratings) and the even crazier results the process yields, like 30 Days Of Night ranking higher than The Exorcist, the non-presence of proto-slasher movie Psycho, and the presence of Edgar Wright's comedy Shaun Of The Dead. In the end, Hodgman delivers a typically even-handed verdict, allowing Bryan to operate within his chosen parameters for the list while noting that such lists are pretty dumb.
Mike And Tom Eat Snacks #40: Pralines
Hosts Michael Ian Black and Tom Cavanagh must be shooting for a new height of interpersonal obnoxiousness on this week's Mike And Tom Eat Snacks, what with their debate on the Arab Spring as a fashion issue and an extended exchange in which they mutilate some Southern accents. Well, so much the better for MATES, especially considering there's also a detour into girl-group-style singing. As usual, the two manage to form some opinions about the foodstuff in question (pralines), but they also revel in the joy of not getting right to the point. And the fact that the snack was mailed by a listener once again makes the episode better, giving Black and Cavanagh the chance to riff on the sender's adorable choice of letter paper.
Never Not Funny #922: Pat Francis
Fun things happen when Pat Francis takes up the "third chair" on Never Not Funny. The trio consistently whips up a manic flurry of in-jokes and references—the opening minutes' bad ZZ Top hum-off and a new game called "Rickles tweets" are particularly inspired—that can't entirely be credited to Francis, but rarely reach this level with anyone else. Their version of Build-A-Title (which allows all words, not just movie titles) is the best evidence, as the three simultaneously play, deconstruct, and bicker over the game that recalls a hyper version of the charades scene from The Office's "Dinner Party." While Francis is still Francis, his smirking, purposely bad jokes are kept in check, though there's probably too much time spent on '80s rock from the Rock Solid co-host, and a riff on country artist Vince Gill does force the crew to school him on the NNF PC rules. Still, after an up-and-down month of guests, it's nice to have an old standby back. If nothing else, it creates anticipation for the upcoming nine-hour benefit show, Pardcast-A-Thon.
Pop Culture Happy Hour: Halloween TV, From Homer To Linus And Back
In this week's discussion of Halloween-themed entertainment good and bad, Glen Weldon seems determined to slaughter as many cows as possible, sacred and otherwise: He offhandedly dismisses Halloween Is Grinch Night (we're taking you to task on this week's Reasonable Discussions podcast, Glen), leads a group takedown of the acting level on Peanuts cartoons like It's The Great Pumpkin, Charlie Brown ("Let's remove the gauzy scrim of nostalgia from the show…"), then aims barbs at a 1977 Addams Family special and The Halloween That Almost Wasn't. Eventually, his co-hosts proclaim that he only dislikes It's The Great Pumpkin because he's an enemy of sincerity, the Great Pumpkin's metric of worthiness. But Trey Graham drops a bigger bomb when he admits he's only ever made it through a single Simpsons episode. A second segment on "If You Like This, You Might Also Like…" offers up a mixture of recommendations for fans of everything from Downton Abbey to Beirut the band to the Captain Underpants books to Ryan Gosling. The whole segment is thoroughly random, but it gives the hosts carte blanche to touch on a lot of things they enjoy and haven't discussed before.
Sklarbro Country #66: Sklarington Manor: Joe Lo Truglio, Jesse Thorn, Matt Berry, Rich Fulcher 
On the latest episode of Sklarbro Country, the Brothers Sklar introduce listeners to their British contemporaries at Sklarington Manor (Rich Fulcher and Matt Berry), foppish souls who are as mealy-mouthed as their American counterparts are quick-witted. The bit doesn't really work, but it also doesn't last long, leaving Jason and Randy Sklar plenty of time for killer quips. Joe Lo Truglio of The State fame stops by to discuss life as a comedy journeymen, fantasy football, and landing a role on one of Law & Order's many spin-offs, just like every other New York actor ever. As is often the case, the podcast ends with its strongest bit. With a head full of DayQuil, Jesse Thorn presents his most unusual fantasy league report to date—no small feat considering his last one was dedicated to doulas. In this report, the new father gives listeners everything they need to know to dominate their fantasy marsupial league; it's adorable and entertaining, not to mention edifying.
Sound Opinions: #309: Halloween Special 2011
The Halloween show is a popular annual tradition on Sound Opinions, and this year's episode shows why. Greg Kot and Jim DeRogatis once again pick a bunch of scary songs from a variety of genres, and while some of the selections stretch the definition of "scary"—see 10CC's soft-rock classic "I'm Not In Love"—many of these tracks hit the mark. The strongest picks include Scott Walker's unnerving "Jesse"—which is about Elvis Presley addressing his stillborn twin brother in the womb—and Nina Simone's "Pirate Jenny," a re-purposed number from Threepenny Opera turned into a furious revenge tale set in the Jim Crow South. Not only are these songs creepy, they're also great, and destined for numerous mix-tapes made by listeners.
Stuff You Missed In History Class: Blood Work: Part 1 
After meeting her at a book fair, the hosts interview Dr. Holly Tucker, author of Blood Work: A Tale Of Medicine And Murder In The Scientific Revolution, giving listeners the chance to hear about this fascinating niche of medical history from the point of view of an articulate, personable author to whom they might not have otherwise been exposed. Tucker's deadpan proclamation at the start that she decided she would "do a little bit more reading about blood" leads into her story about studying the history of blood transfusions in the 17th century and the absolute horrors that existed before that. History imagined for centuries that taking blood out was the key to balancing humors, and the idea of "putting blood back in" took a long time to become positive. Thankfully, blood was eventually judged to be relatively independent from less glamorous humors like phlegm, bile, and "black bile." By sticking to stories of individuals, Tucker makes medical procedures seem accessible, making her as easy to follow as her hosts and making this an especially creepy and delightful episode.
Stuff You Missed In History Class: The Gunpowder Plot: Part 1
The alternate name of The Gunpowder Plot might be a little more familiar to casual students of history and fans of the graphic novel and movie V For Vendetta: Guy Fawkes Day. Deblina Chakraborty and Sarah Dowdey set the scene properly for Americans who have not had the story completely drilled into them by their "mainstream" history teachers: Catholics and Protestants were at each other's throats and hopes were high that Elizabeth's brutal hatred of Catholics would be relieved by the new Scottish King James. He "didn't want there to be more Catholics in England," but hopes were high that there would be Catholic sympathies. But King James began to dig in his heels against too much Catholic toleration, and plots and conspiracies began to stir up rather quickly on how to humble this new, only-slightly-less-humble-than-Elizabeth monarch. It would appear Fawkes was only the muscle in the terrorism known as the Gunpowder Plot, led by Robert Catesby; their plan to explode the House of Lords will be described in further detail next episode, which should be well worth it.
[pagebreak]
Superego: Episode 3:9
After a "best of"-type episode where some of the season's best sketches were interspersed with PBS-style requests for donations, the Superego crew makes a triumphant return with all new material. Speaking of triumphant returns, the episode opens with the second appearance of the characters Cylon Jim and Cylon Phil. Part of the reason this sketch works so well is because the listener doesn't have to be familiar with Battlestar Galactica to follow along. Also, kudos to the improvisers for being able to toss around ridiculous terms of endearment like "shit pickles" without completely breaking character. The Buffum's Fragrance Counter sketch features a particularly inspired bit of casting where podcast regular Paul F. Tompkins plays a delightfully bitchy perfume saleswoman. Once again, the podcast makes excellent use of generic '90s pop music, this time in the Leffingwell Grocers sketch. The use of Sophie B. Hawkins and Melissa Etheridge creates the perfect sterile supermarket environment, further amplifying the abject insanity of each announcement on the store's intercom. All in all, Jeremy Carter, Matt Gourley, and the rest of the Superego crew deliver another meticulously orchestrated episode.
This American Life #449: Middle School
This week, the producers of This American Life set out to do a show on middle school, responding to an adorably overwrought letter of request from a recent graduate. These theme-first episodes have proven to be somewhat of a risk in the past, but this one is well worth it: The hour delivers surprising breadth that poignantly hits on both the best and worst of those years, noting that often, they're one and the same. Act One explores what goes on developmentally with kids in middle school that makes it so painful, and Act Two grabs the baton and offers up middle-school dances as evidence. The sixth-graders interviewed before and during these events stammer nervously, not knowing what to expect; the seventh-graders have shed that uncertainty and bleat about where the cool kids dance. The other standout of the show is Act Five, a direct punch to the gut via Sarah Koenig, who interviews a kid who has recently moved to a new school and really hates it.
Walking The Room #75: Witch Nose And The Pig Room 
Where can't an episode go when it starts with Greg Behrendt joking about lancing his daughter's blisters and drinking the pus? Soon enough, the line "I admit, my wife has a Fu Manchu" rolls around, and it's hard not to wonder if Behrendt and co-host Dave Anthony are on some mutual dare to alienate their families. Either way, this week's episode is all about maximizing potential: A simple argument over feet and toenail trimming leads to jokes about how Anthony would be portrayed in a foot-fetish magazine. Similarly, Anthony brings in a passive-aggressive note his upstairs neighbors left him, and his response offers a nasty, funny window into the vindictive side of his personality.
WTF With Marc Maron #222: Steve Almond
When author Steve Almond rails against capitalism, tabloid culture, or the monetization of everything, he cuts a cantankerous, vaguely reactionary figure that falls halfway between the "fuck the man" posturing of undergraduate rebels and the "get off my lawn" crankiness of their ornery grandfathers. Almond is on much surer, less shrill footing discussing the difficulties of publishing books in a culture that devalues literacy, the role literature plays in an alienating world, and especially the role music plays in our lives. Almond and Maron are particularly eloquent discussing how music serves as a time machine that reconnects us with our past. Like the best WTF episodes, this is less an interview than an animated conversation between two complementary men with a whole lot on their minds.
WTF With Marc Maron #223: Seth Meyers, Scott Adsit, Jodi Lennon, Julian McCullough, Gabe Liedman, Rachel Feinstein
The problem with live episodes of WTF is that they're booked like a traditional stand-up show: a couple of known names at the top of the bill, a semi-known name to ease the audience into the show, and then a few up-and-comers filling out the middle. As such, getting to the headliner can sometimes feel like a slog—which thankfully isn't the case with this latest dispatch from WTF's July visit to New York. It's not a stacked deck, per se, but the middle of the lineup is full of amiable newcomers, all of whom have good stories (Gabe Liedman once stayed at a Jewish summer camp and inadvertently outed a camper; Rachel Feinstein recounts a terrifying/hilarious encounter with a Star Wars-obsessed fan on Valentine's Day) or a playful relationship with the host. (Julian McCullough gives Maron shit for liking Soundgarden; Jodi Lennon remembers the night Maron caught the feral cats that would one day populate the Cat Ranch.) 30 Rock's Scott Adsit and Saturday Night Live's Seth Meyers are expected delights, their final portion of the episode forming something of a geek-out session for improv nerds who may feel underserved by WTF's typically stand-up-centric nature.
---
THE REST
The Adam Carolla Show
On this week's Ace Show, the guests are an afterthought, and the episodes are all full of filler. In order of descending interest: Alec Baldwin's top-billed appearance is actually an impromptu call that briefly speculates on the future of 30 Rock. The bulk of the episode is news (Casey Anthony) and listener calls (meeting women post-divorce and Vegemite). Mick Fleetwood spends more time talking about cars than his musical career or his new YouTube musician-on-musician interview show, Off The Record. In Halloween Stories With Ray, Ace and his pal wax nostalgic about the simpler days when you had to find parties without GPS, and nobody minded if you showed up in blackface. Ace tries to pass regular Larry Miller off as a guest in an episode that's extra long to accommodate Carolla's numerous grievances with Halloween, techno, Steve Miller's "Abracadabra," and mandatory sexual-harassment training, in addition to Ace's insights on Herman Cain and the Kardashian divorce. Live from Adam's car, Deaf Frat Guy and his fake-fraternity-dude shtick leave you wishing Ace would pull over and pick up a real college kid; the episode further confirms that Ace is no Howard Stern, and his best wack-pack guests are just wack.
The Best Show On WFMU
Fallout from the Wally Wackiman "Feltdown" continues with the introduction of Skeevy, the part-insult comic and part-observational puppet created by AP Mike.  Other potential puppets call in to match wits with Skeevy, who hopefully becomes a mainstay on the show. May the search for a new "official" Best Show puppet be more successful than the failed attempt at finding a new protégé for Tom Scharpling.
Comedy Bang Bang #129: Comedy Fang Fang: Brett Gelman, Jon Daly, Allan Mcleod, Neil Campbell
This Halloween episode starts slowly and never picks up over the course of its 74 minutes as Scott Aukerman broadcasts under the direction of spooky overlords Beuford and Messmore le Barron, with guests Ghost Boy and UCB's Neil Campbell. Aside from a few funny moments, the whole episode drags. To wit: The rap battle lasts nearly seven minutes.
Culture Gabfest: The Erudition Is Sick Edition
In this mostly solid episode, the Gabfesters zip again from low culture to high culture, offering a mixed assessment of Beavis And Butt-Head's return to MTV (which all agree is inessential, but disagree on whether or not it's funny) before reminiscing about the time when literary theory was a big deal on college campuses, a phenomenon that's dissected in Jeffrey Eugenides' new novel The Marriage Plot. The feistiest segment brings on the fast-talking music critic Jody Rosen to pick apart the assertion that indie rock—as represented by the likes of Wilco and Feist—has become adult contemporary. The gist of Rosen's counterargument: So what?
Doug Loves Movies: Elizabeth Laime, Psychic Andy, and Matt Belknap
This week's guests—hosts of the Earwolf Challenge-winning Totally Laime podcast Elizabeth Laime and her husband, who goes by Psychic Andy—are both familiar with and eager to play the Leonard Maltin Game, which makes for a more efficient-than-usual episode; unfortunately, like so many in-studio DLMs, there's an airless quality to the proceedings that makes both the introductory conversation and the game seem to drag on forever. Neither Laime nor her husband is a particularly tough competitor, and Doug Benson seems only as engaged as he absolutely needs to be. It's nice that Benson strives to give airtime to other, lesser-known podcasts on his show, but that doesn't always make for a compelling DLM.
Firewall & Iceberg #101: Hell On Wheels, Bones, Charlie Sheen And More
Hitfix critics Dan Fienberg and Alan Sepinwall were the first in line to pummel the pilot of AMC's old-West railroad drama Hell On Wheels, but now they've digested five episodes and have better things to say about it. Following a look at PBS' star-studded, play-like spy movie Page Eight, they swing to the other side of the spectrum and ponder the moral, logistic, artistic, and synergistic implications of FX picking up a Charlie Sheen vehicle. Other topics include a reality-TV roundup (Survivor, various American Idol knockoffs) and the hosts' nauseated response to the breaking news of American Horror Story's renewal.
How Was Your Week #34: "Satchel": Sarah Silverman, Mike Albo
Julie Klausner half-heartedly talks about Halloween and Chaz Bono's departure from Dancing With The Stars before bringing on her special guests. When the show finally gets to Mike Albo, he offers an interesting story about working for the New York Times, but Klausner unfortunately cuts the interview short. Happily, shorting Albo gives Sarah Silverman time to talk about her father, the struggles of being an actor, and balancing creativity with career ambition. Had Klausner cut the first 24 minutes down to five or 10 and stopped talking over her guests, the episode might be stronger.
The Mental Illness Happy Hour #32: Alycia Schlesinger
Although Alycia Schlesinger and Mental Illness host Paul Gilmartin met each other in a support group, they genuinely sound like they're discovering new things about each other during this week's episode. Of course, extreme openness and mutual encouragement are standard on this podcast, so it's really not a knock to call this an ordinarily therapeutic installment.
The Moth: Annie Duke: A House Divided
Moth stories usually surprise with the broad appeal they bring to very personal tales, but Annie Duke's entry feels exclusive to the teller and the vastly different relationships she had with her mother and father. Duke still reveals quite a bit about failure, acceptance, family, and card games, even if her delivery doesn't quite match the addictive charm The Moth usually has.
Nerdist: #137: Veronica Belmont
Recorded at the California Academy of Sciences, this audio-plagued episode with guest Veronica Belmont, answers the question "What if we podcasted from a public restroom?" Belmont isn't a recognizable name but makes a compelling guest, not just for her love of computers and gaming, but also for her revelation of still-packaged Cabbage Patch Kids resting quietly in her parent's basement from when her mom worked for Coleco.
RadioLab: Sleepless In South Sudan 
Science writer Carl Zimmer recounts the unlikely story of how he ended up camped out in the middle of nowhere in Africa with holey mosquito netting, which led to him fearing he contracted a terrible disease. It's a bit more The Moth than RadioLab, but Zimmer is a good storyteller, and portions of his tale are legitimately heartbreaking.
Stuff You Should Know: How The Autobahn Worked 
Hitler did not create the Autobahn, it turns out, and thusly the German Autobahn does not really have a dramatic history. The topic is so dull that hosts Josh Clark and Chuck Bryant forget to say what the Autobahn is for the first seven minutes, instead making very tangential observations about Kraftwerk and The Big Lebowski. By delving into rules of travel, the mystique of the German roads evaporates, and concepts like "stopping distance" and "get over for a faster driver" become remarkably tedious. At one point Bryant sighs and asks, "Should we talk about some of these fines?" They don't. Guest John Hodgman dominates the second half of the episode, but the topic is both lame and cut rather short, and even Hodgman's wit can't resuscitate the first half.
Stuff You Should Know: Berenice 
For Halloween, the hosts drop the pretense of doing research and simply read a work of Edgar Allen Poe called Berenice, set to spooky music. It's fun for longtime fans of the show, but clearly there's not much to be gleaned, knowledge-wise. They frequently stop to comment wryly on the piece, and their tone is generally sarcastic, but while it's not an academic exercise, it's not terribly compelling, either. John Hodgman stops by at the end yet again to promote his book and discuss the failure of his zeppelin the "HZ Hubris." He becomes the highlight of the episode, but does not improve on the surprise of his previous appearance.
Uhh Yeah Dude: #295 
It's a fraught week for Seth Romatelli and Jonathan Larroquette, despite the fact that they're honoring National Peanut Butter Lovers' Month. When bad, weird things happen—like motorcyclists dying in a crash while on an autism-benefit ride, or Matthew Perry acquiring so much real estate despite a track record of canceled shows—they bring a slightly dark edge to an otherwise typically intriguing mix of Uhh Yeah Dude topics.
Who Charted?: #48 Emotional Baggage
The podcast starts off a bit slow when guest and resident L.A. alt-comedy stoner Doug Benson discusses the country-music charts, but it's expected that things will pick up once the podcast enters Benson's area of expertise, movies. However, all momentum is ruined when host Howard Kremer makes a creepy rape joke about Jodie Foster's infamous pool-table scene in The Accused. What's even more disappointing is that co-host Kulap Vilaysack actually laughs at what's a low moment for this usually delightful podcast.