Whipped into an anti-business fervor by all their most dangerously egalitarian heroes, like Batman, families contributed $69.1 million toward The Lego Movie cause this weekend, making it the No. 1 movie in a world where rankings will soon not matter, because no one's allowed to be special. More than just laying the chunky, colorful building blocks of the coming socialist revolution, The Lego Movie's first-place finish made it one of the most successful debuts for an "original" animated movie—as in not a sequel or prequel, or anything else that forms the backbone of the U.S. film economy. Of course, that will all superficially change with the next Lego Movie, which now seems like a guarantee. But by the time of its release we will surely have kicked over our corporations like so many shoddily constructed space stations, and be bartering for our tickets with prized 2 x 4 bricks (red or green preferred).
Fortunately, some audiences still thrilled to old-fashioned, thoroughly American stories, such as a quest for European paintings, as retold by one of Hollywood's foremost liberals. And so George Clooney's The Monuments Men succeeded in its mission to get your mom into the theaters, to the tune of $22.7 million and a second-place finish. Though the reviews and audience scores have been middling, the film's primarily older female-skewing demographics suggests it will probably stick around for a while, as word spreads around the nation's offices that George Clooney looks very handsome and that the man from Downton Abbey is in it. (No, the other one. The king—or whatever he is.)
Elsewhere, the mission to find "the next Twilight" endured its approximately 36th month of failure with the flop of perhaps its most blatant pretender yet, Vampire Academy—a film that may as well have been called Sexy Teen Vampires Are Misunderstood Just Like You, but still couldn't attract anywhere close to that same audience. Its dismally seventh-place, $4.1 million opening could well herald the end of studios chasing "the next Twilight," at least until next month's Divergent.
In limited release, Claude Lanzmann's concentration camp memoir The Last Of The Unjust pulled in $14,500 in its eight theaters, while Ben Wheatley's far more intoxicating historical head-trip A Field In England made $5,000 across its 10 theaters. But as we live in a new Lego world order where every tiny block matters, these movies were also No. 1.
G/O Media may get a commission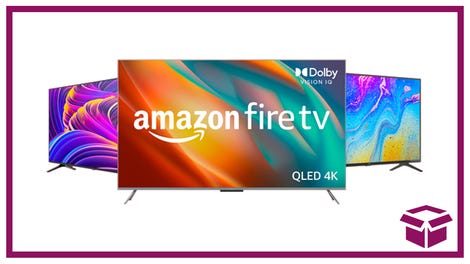 Ooh. stunning.
New Amazon Fire TVs
For more detailed numbers, visit Box Office Mojo.