Here's what's up in the world of TV for Thursday, November 3. All times are Eastern.
TOP PICK
Burn Notice (USA, 10 p.m.): There was a time when Burn Notice was one of the cooler shows on TV, something that viewers in the know would watch and talk about and get invested in. But the show—though not bad by any means—has had trouble with the fact that its central storyline really only afforded about a season or two of plot. And though the missions of the week are occasionally diverting and the show has tried to evolve away from that central story, it's often seemed to be casting about for something, anything else that it can come up with to keep the car rolling. Scott Von Doviak's been checking out the show for a while now, and he'll be around for tonight's midseason premiere of season five. Will this be when the show gets its verve back? Here's hoping! For Scott's sake, at least.
---
REGULAR COVERAGE
The Big Bang Theory (CBS, 8 p.m.): Allow us to present The Bernadette Principle: The quality of a Big Bang Theory episode will be directly proportionate to just how much Bernadette it features. More Bernadette? Probably a pretty good episode. Less Bernadette? Often pretty poor. Since tonight's episode mentions Bernadette directly in the plot summary, we're hoping for something pretty good. Oliver Sava lets you know how it goes.
Community (NBC, 8 p.m.): We always enjoy when this show pays off its own past, and it sounds like it'll do just that tonight, as John Goodman's character learns about Troy's aptitude for fixing things, established way back in season one. Will a battle over Troy's soul ensue? We can only hope! Meanwhile, Pierce's dad shows up, and if the press photos are any indication, he's wearing a hairpiece he shaved off a Ken doll, which delights Todd VanDerWerff's slowly suffocating heart.
The Vampire Diaries (The CW, 8 p.m.): It looks like we're going to get some serious looks at the back-story of Rebekah, which should make the flashback-happy Carrie Raisler a happy TV reviewer. Or, hell, we'll admit she'd be happy anyway because she's writing about this show, and there's never a shortage of things to talk about. Also, tonight, Damon apparently tries something reckless, which could run anywhere from running a car into a tree to mass-slaughtering kittens.
G/O Media may get a commission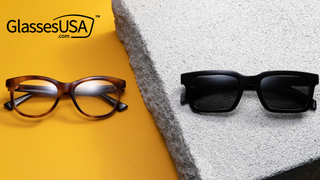 60% off frames
GlassesUSA.com Back to School Sales
The X Factor (Fox, 8 p.m.): It's finally time for America to vote somebody out, and on this show, you could vote using Twitter, which just strikes us as a terrible idea. Trending right now are #ThatsWhatHoesDo and #GrandTheftAutoMemories. Entrusting the future of this country's singing competitions to such a monstrosity is something that just will not stand! Emily Yoshida, who's secretly rooting for all-kid group InTENsity, just shrugs when we start ranting about this.
Parks And Recreation (NBC, 8:30 p.m.): The series continues its string of vaguely topical episodes, as a doomsday preacher gets the entire town of Pawnee worked up about the end of the world and has the characters contemplating what they would do if it all fell apart tomorrow. Our predictions? Ron and Andy would be just fine, and Jerry would become some sort of king of the wasteland. What? You know he's got a contingency plan for that situation. Steve Heisler, however, does not.
The Office (NBC, 9 p.m.): We'd almost wonder if NBC wasn't doing one of those themed nights where some disaster forces all of the shows in its lineup to crossover, since Parks is called "End Of The World," and this episode is called "Doomsday." But Community's called "Advanced Gay," and Whitney's called "Two Broke-Up Guys," so it appears that if the world ends, it will only be ending in the Greg Daniels universe, which is, sadly enough, also the universe Myles McNutt occupies. Farewell, Myles.
Person Of Interest (CBS, 9 p.m.): Those of you who say we never drop shows when we probably should, stand corrected! Because this is the last night we're ever covering this show week-to-week, unless it randomly has a Fringe-style renaissance somewhere in its second season. (It seems unlikely CBS would let the show get too mythology heavy, so we're betting this doesn't happen.) Zack Handlen pours one out for the show that could have been, then breathes a sigh of relief at having his Thursdays back.
The Secret Circle (The CW, 9 p.m.): Cassie's grandmother has disappeared, so the circle members have to search for her. Katherine Miller can't be the only one hoping that where this all ends up is that Cassie's grandmother is also Gran from Dawson's Creek, and this is just the beginning of The CW launching an expanded "CW universe," which includes the realities of every single show to ever have aired on The WB or UPN as well.
Whitney (NBC, 9:30 p.m.): Whitney Cummings, who's randomly become the most successful person in television, names this episode after her other new show, which suggests she's just going to keep naming episodes after other television shows. Our suggestions for maximum comedy potential: "Homeboys From Outer Space." "Shasta McNasty." "The Secret Diary Of Desmond Pfeiffer." Actually, those are all UPN shows. Damn you, Secret Circle! Erik Adams was trying to forget UPN ever existed!
Beavis And Butt-Head (MTV, 10 p.m.): Tonight, the two dim-witted teenagers unwittingly end up working tech support. Actually, given the experience we have with tech support a lot of the time, we're going to suggest that this is not as uncommon as MTV may portray it as. In the other story, Beavis and Butt-Head get dating tips from old movies, which is another one of those scenarios that can only end well. Kenny Herzog anxiously awaits all comedic mishaps.
It's Always Sunny In Philadelphia (FX, 10 p.m.): This episode is entitled "The ANTI-Social Network," which is a joke we will sort of half-heartedly pay off down in the "What Else Is On" section, if you'd like to be looking out for that. In the meantime, Emily Yoshida will try to overcome the immense hangover sustained while playing her own home version of Chardee MacDennis in order to write up this one. Wish her luck.
Prime Suspect (NBC, 10 p.m.): If a man dies in an empty hotel room and nobody is there to see it, does he truly die? Or is the fact that he is there, experiencing his own death, enough to count as someone "seeing" him die? While we doubt there will be any philosophical quandaries explored in tonight's Prime Suspect, it does seem pretty likely that the detectives will try to figure out who killed the dead guy in the hotel room. Too bad. Hayden Childs could use a little weird mysticism.
The League (FX, 10:30 p.m.): In tonight's episode, Taco sets up an offline social network called My Face which, given the title of the Sunny episode right before this, continues a night of networks having episodes with suspiciously similar premises right after each other. Fortunately, Margaret Eby's concerns that the show is getting away from its fantasy football roots appear to be soon allayed, as tonight's episode also involves the characters seeking "line-up Nirvana." Whatever that means.
---
TV CLUB CLASSIC
Star Trek: The Next Generation (11 a.m.): Late in a show's run, there's often opportunity for a series to do an episode about background characters, about people who are involved in the show's universe but haven't always gotten stuff to do. This week, Zack Handlen looks at TNG's basic take on this episode type when he follows the crew into the "Lower Decks" for an episode that's one of the last really good episodes of the show.
Seinfeld (1 p.m.): The post-Larry David era of Seinfeld, which is renowned for a few episodes but mostly seen as a time when the show lost a bit of its spark (and seems to be the only era that's ever shown on TBS anymore), is finally up in David Sims' week-by-week coverage of the show. How did the series come back after killing George's fiancée in the season seven finale? We won't tell you here, but we can tell you to expect a lot of forced joviality and wackiness.
---
WHAT ELSE IS ON
Marathon Boy (HBO, 8 p.m.): A new series of HBO documentaries dive into the world of modern India all month long. Screener-permitting, Meredith Blake will take a look at this one tonight, which features a 4-year-old boy rescued from Indian slums by a judo trainer and then trained to become a marathon champion. All of this sounds like the plot of an unlikely novel, sure, but it really happened.
Bones (Fox, 9 p.m.): We stopped watching this back in season five or so, but at some point, it seems as though Booth and Brennan slept together, and now she's pregnant with his baby, which means that there will be lots and lots of wacky pregnancy jokes about the pregnant lady barging in full-steam ahead. Erik Adams, who loves pregnancy jokes and Deschanels, can't wait.
Project Accessory (Lifetime, 9 p.m.): Last week, it seemed like you folks might want to have a place to talk about this train wreck every week, which is why we're giving you an Open Thread for the second episode of a show that's all about making, well, accessories. We won't be watching, but we'll count on you to let us know what happened.
Stan Lee's Superhumans (History, 10 p.m.): We'll be perfectly honest. We're only posting about this warmed-over Ripley's Believe It Or Not show because we're hoping to lure that Stan Lee gimmick poster into the comments section for this show to talk about it a little bit. Excelsior, true believers!
The Social Network (Starz, 9 p.m.): See, and now we could pay off the joke we set up back there, except we didn't really set anything up, per se, so instead, we'll just act like we did and hope you laugh. Also, this movie is awesome, boasting a fleet of great performances, terrific direction by David Fincher, a witty screenplay by Aaron Sorkin, and an Oscar-winning score by… Trent Reznor, of all people.
April In Paris (TCM, 10 p.m.): TCM spends its night saluting films starring Doris Day, which sounds like as good a way for your mother-in-law to spend an early November evening as any, doesn't it? This bit of fluff co-stars Ray Bolger and involves a chorus girl accidentally sent to Paris by the State Department, which would be turned into a scandal aimed at tearing down the president in our current day and age.
MLS Soccer Playoffs: Houston vs. Philadelphia (ESPN2, 8:30 p.m.): We're usually able to bullshit our way through this section, even though baseball is the only sport we care about, but we can honestly say we know nothing about professional soccer. So this could be the greatest game of all time, and we probably wouldn't be able to tell you that.
---
IN CASE YOU MISSED IT
Survivor (Classic) (Wednesday): It's rare to find a TV show that legitimately changed everything. Regardless of all of the shows that sprung up in its wake (many of which were pretty bad), Survivor was definitely one of those, and you should check out Meredith Blake's review of the first episode of the first season to remember just how foreign all of the grammar of reality TV was to us in the summer of 2000.