For The xx's existence, co-leads Romy Madley Croft and Oliver Sim have shared the spotlight, no matter how smoky and dim that spotlight has been. The band's third member, Jamie Smith, occupied the background, offering the textures, beats, and occasional steel drums as a canvas. But both live and on record, it's the chemistry of Madley Croft and Sim that plays to the audience, their dueling melodies crafting what has been described as hipster makeout music, sensual songs for fragile hearts.
But in 2015, everything changed. Smith, who'd already shown himself to be a formidable solo artist as Jamie xx with singles and a remix album of Gil Scott Heron, released one of the best-reviewed albums of the year. He played the festival circuit and built a fanbase that wasn't contingent on his prior meal ticket. Sure, Madley Croft and Sim showed up to guest on In Colour, but he was a star now, too. And with a third xx album on the way, the new collection would have to reflect that.
So, it's no coincidence that on the first two singles from I See You, "On Hold" and "Say Something Loving," vocal samples play a central role. On the former, which is already showing legs on alternative radio, Smith's triggering of a chopped Hall And Oates line provides the song's hook. The sample of Alessi Brothers' "Do You Feel It?" on the latter is the cut's signature attribute, adding a brush of psychedelia to Madley Croft and Sim's duet. These songs are mostly outliers on the record (aside from the tropical bouncer "Lips"), but on an album of just 10 songs in less than 40 minutes, it's enough to push Smith to the forefront.
The result is the most eclectic, multidimensional, and ambitious album of The xx's young career. Peppered in are—gasp—legit changes of pace and some of the most upbeat music that they've ever released. Opener "Dangerous," with its booming, HudMo-esque horn section and a skittering beat, sets up the drastic contrast with the band's past, particularly 2012's Coexist, which was largely minimal and spare. This continues through to the penultimate, mid-tempo "I Dare You," displaying a band more direct and propulsive than ever. These are moves from a trio ready to conquer the masses, now armed with songs that can equally fill large spaces and grip short attention spans.
G/O Media may get a commission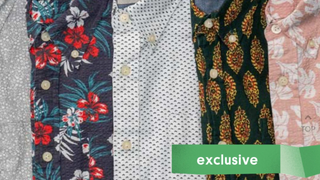 Grab three styles!
JACHS NY Summer Pack
"I've been a romantic for so long," Madley Croft confesses on "I Dare You," before adding, "All I've ever heard are love songs." It's as close to a raison d'etre as anything she's ever sung, and it resonates across I See You. Even as the band fully realizes their potential, the bulk of the collection is still starry-eyed and full of longing, leaving their identity fully intact. They've even put their faces on the album cover, though obscured by shadows. It's all indicative of a band no longer content to sound best in the backseat. I See You opens up the car door and steps out into the world.
---
Purchase I See You here, which helps support The A.V. Club.