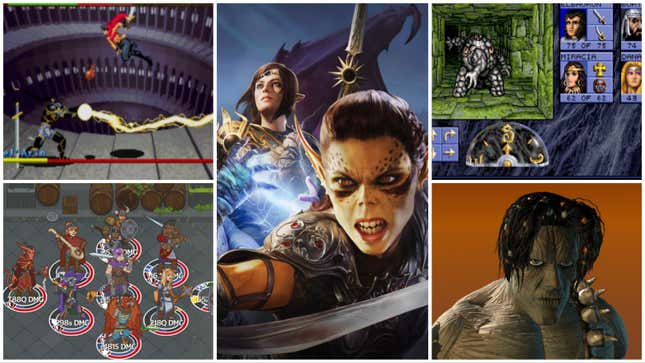 Baldur's Gate III is dominating the gaming world at the moment, with Larian's long-in-the-works sequel to the classic Dungeons & Dragons adventure eliciting high praise, tales of adventures, and also a whole lot of, well… What we can only refer to as "bear horniness."
But while BG3 is a massive game, you are probably going to finish it eventually. (Unless you're playing on Tactical; those mind flayers don't mess around when you've got the difficulty cranked.) Which demands the question: What do you do if you still have a hankering for more D&D based gaming fun, but don't have a DM or a crew to roll with?
Lucky for you, hypothetical reader, few brands have interacted with the world of video gaming more aggressively than D&D. In fact, there are so many games based on Wizards Of The Coast's beloved rule-sets—dating all the way back to the days of Advanced Dungeons & Dragons in the 1980s—that it can be a bit overwhelming to know where to start. But don't worry, weary adventurer: We're here to be your personal Volo's Guide, pointing you in the direction of the best D&D games, throughout history, to help you scratch that post-Baldur's Gate III itch.