Paul Westerberg 101
The Replacements began the way many American rock 'n' roll bands do: as a bunch of misfit shitheads playing lousy covers and drunken noise in some Midwest basement. What makes The Replacements special is that the band never lost that ramshackle, flop-sweat spirit, no matter how slick or acclaimed it became. It also happens to boast one of the greatest songwriters of his generation in Paul Westerberg. Over the course of his 34-year career—with The Replacements, as a solo artist, and under the name Grandpaboy—Westerberg has created a body of work that devours and disgorges the best of what rock songcraft has and can accomplish, all while downplaying his own prodigious gifts of melody, tenderness, toughness, wit, and a rare, poetic wordplay that feels as effortless as stumbling off a stage. With the recent reunion of The Replacements after a 22-year absence from live performance, the timelessness and relevance of Westerberg's words and tunes has been made even more striking.
Westerberg joined The Replacements in 1979, when the Minneapolis band was little more than a half-assed outfit called Dogbreath comprising drummer Chris Mars, guitarist Bob Stinson, and bassist Tommy Stinson—Bob's half-brother who was all of 12 years old at the time. None of them were virtuosos. In fact, they could barely play. But if ever there were a perfect example of how songs don't require technical ability or knowledge of theory to make them resonate, it's The Replacements' gutsy, intuitive debut, Sorry Ma, Forgot To Take Out The Trash. The 1981 album was recorded before the fledgling group had much real stage experience, and that sloppiness is evident—gloriously so. Mars pounds, Tommy bashes, and Bob spasms. "Punk—or something like it" is how Mars described the early Replacements sound, and that's as apt as it gets.
But it's Westerberg's songs—and his voice—that crystallize Sorry Ma into something far more promising and dimensional than the average bar band. Like the rest of the group (young Tommy included), Westerberg was frequently sloshed to the gills, but he turned that desperation and self-deprecation into rough-hewn gems. Drawing from the punk rage of The Clash and The Damned, Westerberg nonetheless leaned heavily on the hooks and swagger of British Invasion bands like The Rolling Stones and Small Faces; the classic power-pop of The Raspberries and Big Star; and the American radio anthems of Aerosmith and Tom Petty. Westerberg undercut these elements with a blistering rage and a ragged delivery that never felt truly punk, as much as The Replacements were lumped into that scene by default.
Westerberg did try to follow the punk wave a bit more reverently—ironically in songs like "Kids Don't Follow"—on Sorry Ma's follow-up, the 1982 EP Stink. More self-consciously hardcore than anything the band made before or after, it retains plenty of bored-and-drunk fun, angst-ridden energy, and enough underlying cleverness and bathos to catapult itself above most orthodox punk bands of the era. Westerberg and crew pulled an about-face with their sophomore full-length, 1983's Hootenanny; while disjointed and uneven, the album's experiments with ringing pop, surf-like new-wave, and tongue-in-cheek traditionalism broke most of the ground that Westerberg would go on to cultivate, both with The Replacements and solo. In fact, the Hootenanny track "Within Your Reach" should be considered Westerberg's first true solo song, on which he played all the instruments—an omen of the interpersonal difficulties the band would suffer, and Westerberg's own retreat into semi-reclusiveness following The Replacements' gradual dissolution in the late '80s and early '90s.
Up through and including 1984's Let It Be, The Replacements' output was released by the small Minneapolis label Twin/Tone. After Let It Be, there was no way the group was going to stay indie; a staggering leap forward for both the band as musicians and Westerberg as a songwriter, it's an ambitious work of eclecticism that never feels forced, even as it stretches to encompass goofy punk, jazzy balladry, more lush instrumentation, a guest appearance from R.E.M.'s Peter Buck on the jaunty single "I Will Dare," and even a cover of Kiss' "Black Diamond" that refuses to acknowledge the existence of irony. In typical Westerberg fashion, he made every attempt to sabotage the efforts of major labels to court the band, even going so far as to play nothing but slovenly cover songs in front of interested record executives. Early on, Westerberg had deemed The Replacements "power trash," but by Let It Be, it was clear that the album's cheeky nod to The Beatles album of the same name not so secretly harbored Westerberg's sincere desire to fulfill his potential as a songsmith. Still, he couldn't help but take himself down a peg before anyone else had the chance to.
Intermediate Work
As with far too many indie bands throughout history, The Replacements signing to a major label immediately resulted in a shift in sound, especially an overall smoother sheen. That said, the group's major-label debut, 1985's Tim, is anything but a sellout. The production may be cleaner than that of Let It Be, but all the loose threads and lovable shagginess that make The Replacements' songs live and breathe are still evident. It's an essential album in Westerberg's catalog, too, containing some of the songs he remains best known for, among them the epic "Left Of The Dial" and "Bastards Of Young," a fist-pumping sing-along that's laced with bitter, sad-sack, pseudo triumph. With the launch to a higher bracket of notoriety and money, though, came an exacerbation of the problems that had once seemed like lighthearted Replacements fun: booze, drugs, erratic behavior, and self-destructive urges. It's as though Westerberg built his songs so sturdily in order to weather the gleeful nihilism his band would immediately throw at them. That perverse interplay made for some of The Replacements' most gripping work—but it also peaked with Tim, after which that dynamic became too volatile to last.
Due to his escalating substance abuse, Bob Stinson left The Replacements after Tim, leading to the curious case of Pleased To Meet Me. Pared down to a trio, the X-factor of Bob's lead guitar was replaced with Westerberg's more seamlessly integrated, and conventionally tasteful, licks and solos. Pleased To Meet Me made up for that missing dimension with a slew of guest musicians and some truly inspired songwriting by Westerberg; in particular, "Alex Chilton" paid homage to his Big Star-fronting hero by tapping into the soul, but not aping the sound, of Big Star's vintage power-pop. Chilton himself even came out of the woodwork to contribute guitar to "Can't Hardly Wait." But The Replacements' slide toward being Westerberg plus some other guys continued, for better and worse. That Pleased To Meet Me succeeds so consistently is a miracle, but also a case of momentum, as fading as it was.
[pagebreak]
Two more Replacements albums appeared before the group broke up in 1991: Don't Tell A Soul in 1989 and All Shook Down in 1990. Don't Tell A Soul was Westerberg's last earnest attempt to keep The Replacements as a band in the true sense of the word—that is, a gathering of people all contributing vital pieces of the patchwork. Guitarist Slim Dunlop was recruited as a full-time replacement for the irreplaceable Stinson, although he did an admirable job in his own right. Don't Tell A Soul is one of the most underrated albums in Westerberg's oeuvre. It's an edgy yet atmospheric disc that feels muted and exhausted, which lends a weary poignancy to tracks like "Talent Show" and "We'll Inherit The Earth." That weariness completely overtakes Westerberg on The Replacements' watery and lackluster swan song, All Shook Down—which was partly the result of the album's origin as a possible Westerberg solo album. Just as alternative rock was blowing up—Nirvana was citing The Replacements as an influence, and Minneapolis contemporaries such as Bob Mould and Dave Pirner were on top of the world with Sugar and Soul Asylum, respectively—Westerberg was putting The Replacements to bed and groping toward a spotty career as a solo artist.
Advanced Studies
It took Westerberg three years to release his first official solo album, 1993's 14 Songs, after his first unofficial solo album, All Shook Down. The difference is not that marked. Although 14 Songs boasts guest appearances by everyone from Joan Jett to Small Faces' keyboardist Ian McLagan, it feels like a blunted echo of The Replacements' raucous, riotous rock. Gone were all traces of the snotty contrarian who coined the term "power trash." In his place stood a wizened vet whose rough edges had mostly been scoured off—and whose guitar-savant foil, Bob Stinson, died tragically in 1995, forever closing that particular chapter of Westerberg's past. Flashes of brilliance notwithstanding, that softball trajectory continued through 1996's Eventually and 1999's Suicaine Gratifaction. Just as the younger Westerberg had reacted with a jerk of the knee to encroaching fame, so did he seem uncomfortable fitting into the skin of a respected, elder singer-songwriter.
That disconnect—paired with Westerberg's deep streak of self-deprecation—led to his assumption of the name Grandpaboy. Under that pseudonym, he began recording songs in his basement, interspersing them with albums released under his own name. The split between lo-fi and hi-fi became less wide in 2002, when he released two full-lengths— Stereo under the name Paul Westerberg and Mono under the name Grandpaboy—at the same time, and even packaged together. It's a pat way to make the distinction, but it also gave Westerberg, back on an independent label, the opportunity to scrape his canvas clean and begin building his career back from scratch. That he was doing so mostly from his basement studio—after having begun The Replacements in exactly such a setting—was more than symbolic. The immediacy, vitality, and punch of Stereo and Mono are intoxicating, in a more benign way than how the recovered alcoholic once harnessed booze and chaos in the service of classic songcraft.
Miscellany
Westerberg's career is rich with stellar work, but it also had its fair share of odds and ends—some of them as infuriating as they are rewarding. Most notable among them is the legendary Replacements bootleg The Shit Hits The Fans. Recorded in a church in Oklahoma City in 1984 and released on cassette a year later, it's a document of The Replacements in full, shambolic bloom, mixing classics from Let It Be with half-assed snippets of Thin Lizzy and Bad Company covers. As a snapshot of The Replacements at the peak of the band's ragged power, it's indispensable; strictly as a live recording, well, the title pretty much says it all.
On the other end of the spectrum are the miscellanea of Westerberg's solo career. His major soundtrack work, Singles from 1992 and Open Season from 2006, show Westerberg in work-for-hire mode, and sounding constrained because of it. Conversely, his more recent, digitally released work, such as 2008's 49:00, is in strong need of an editor, with sporadic bursts of greatness buried in a stream-of-consciousness song-flow. But the most noteworthy Westerberg release of late is Songs For Slim, an EP issued under the name The Replacements in 2013. Although the brief collection of studio-recorded covers isn't particularly well thought-out or executed, it got Westerberg and Tommy Stinson back in the booth together again, all while raising money for Dunlop's medical expenses. With the group's current reunion doing so well, in remains to be seen if any new Replacements material is forthcoming. But even if Westerberg returns to his solo career, a refresher course on Replacements-era power trash surely won't hurt.
The Essentials
1. The Replacements, Let It Be
From the jangling euphoria of "I Will Dare" to the brooding churn of "Answering Machine," Let It Be has a little bit—okay, a lot—of everything that makes Westerberg's work so indelible. It's balanced precisely between beer-soaked abandon and impeccable construction, and that charismatic, off-kilter chemistry is irresistible. While the '80s thrashed and synthed and gyrated around them, The Replacements simply let rock be.
2. The Replacements, Tim
Like Nirvana's Nevermind six years later, Tim defied the stereotype of the major-label-debut dip. It's slicker than Let It Be, but that's just the surface; below it, the album is a boozed-and-bruised masterpiece of ringing, cathartic heartache that reaches bashfully yet righteously toward the populist majesty of the stadium anthem.
3. The Replacements, Sorry Ma, Forgot To Take Out The Trash
Not quite punk, not quite power-pop, not quite hard rock, Sorry Ma, Forgot To Take Out The Trash nonetheless avoids sounding confused or compromised. That such a confidently sauntering album—albeit one that whizzes by at top velocity—came out of such an untested band (and songwriter) makes it less surprising that Westerberg went on to hit the heights he did.
G/O Media may get a commission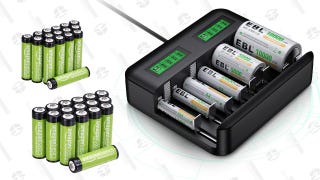 4. The Replacements, Pleased To Meet Me
Pleased To Meet Me isn't perfect. But even its occasional misstep—not to mention its overall rigidity—can't hamper its handful of Westerberg high points. In addition to "Alex Chilton," the inclusion of "Valentine" and "Can't Hardly Wait," not to mention the haunted ballad "Skyway," is enough to elevate the disc to "essential" status.
5. Paul Westerberg, Stereo/Grandpaboy, Mono
Shaking the last vestige of major-label, big-studio sheen from his shabby flannel, Westerberg sprinted back into the sunlight with Stereo and Mono. From acoustic intimacy to corroded rock, the tandem releases mark nothing less than a full-blown Westerberg renaissance. And his voice is only better for the wear.