"Sometimes a persona it can—it just becomes a trap, you know?"

Breaking the format of a 30-year old show isn't easy. For one thing, your show has to run 30 years, which is pretty tough. But more importantly for a show like The Simpsons that rests on, as Homer once said of his marriage, "a solid foundation of routine," the form resists change. When change is done well, you get the solid sports documentary parody "22 For 30." When it's done very well, you get the sublime "22 Short Films About Springfield." (No word on whether the number 22 has to be involved for this to work.) When it's done indifferently, the Simpsons become serfs for no discernible reason. And when it seems like someone in the writers room had a decades-coming creative breakdown, you get Moe's talking bar rag, or the Simpsons' existence being a tattoo on Lena Dunham, or Kang and Kodos are real and I swore I'd never think about that episode ever again.
"Woo-Hoo Dunnit?" falls somewhere between "solid" and "sublime," but the fact that it's even in the conversation is a damned delight. Like "22 For 30," the episode breaks up the usual storytelling style when a documentary lens is turned on the family. Smartly conceived, tightly plotted, exceptionally acted by all, and, most importantly, true to the characters even as they're thrown outside their comfort zone, it's one of those late-run Simpsons episode that nurtures something like hope. It's terrific.

Dispensing with the opening credits (always a good sign) turns out to be essential, as the investigation of sensationalistic true crime show Dateline: Springfield needs space to play the genre's signature manipulative twists and turns for both spot-on parody and surprisingly effective comic drama. Lisa's secret college fund (hidden in under-sink kitchen cleanser, where Marge and Lisa know the house's males will never look) is missing, and the show's smooth-voiced narrator zeroes in on every possible suspect for maximum manufactured suspense. Talking head interviews, surveillance footage, and some humorously inept reenactments all combine to skewer the formulaic, faux-serious real crime blueprint, all without losing sight of the fact that poor Lisa is out $670.42. Or, as the narrator explains, "Her dream of going to college for three weeks, without a food plan."

G/O Media may get a commission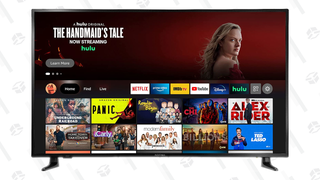 38% Off
Insignia 50" 4K UHD Smart TV
The narrator (an unrecognizable but outstanding Liev Schreiber) keeps dropping in tight little lines like that, as when he describes, in passing, Dateline: Springfield's method of "conscienceless reenactment." The episode starts out by focusing on the unnamed narrator (license plate NAR8R) meticulously prepping for his hard day of sonorously jumping to wrong conclusions and teasing leads he knows won't pan out just in time for the commercial break. (Mr. Burns is interviewed and dismissed in record time, shoveling cash into his fireplace to prove how little he'd bother.) And throughout, the smug guy's indeed conscienceless pursuit of televised justice flows along on Schreiber's smooth but sneaky tones, raising and dismissing subjects in turn less because of anything like evidence, and more to pump up the canned suspense and family squabbles.

As for the family, sure, Bart's the obvious suspect. "It's always Bart!," Lisa squeals in outrage after the investigation runs dry. And, sure, Bart's been trying to corner the latest Springfield Elementary craze by having the bullies manufacture a batch of fad-feeding slime with Lisa's temporarily borrowed cash. (Cue actually funny and well-judged Breaking Bad interlude.) And, yes, Homer was recently cut off at Moe's for a bar tab that's suspiciously close to the amount stolen. Lisa wants that sweet new sax offered by King Toots' proprietor guest star Will Forte (scatting an extended version of Dave Brubeck's "Blue Rondo Á La Turk"), which also prices out at around the $600 range. Plus, Nelson showed up at school with what eager witness Milhouse calls a "salon-quality haircut," Helen Lovejoy broke the confessional seal by sharing details of Marge's past gambling addiction, Mel is sure that Mr. Teeny stole the money like Krusty's monkey sidekick steals all the best bits, and on and on. Each drop-in is economical and clever—I especially love Marge's exonerating voiceover about her gambling, "I admit I couldn't resist the temptation—then I did!"

As the mystery deepened, I realized I was truly invested in the solution. Not just because of the clever structure, but because how the episode (credited to Brian Kelley) never allows the hunt for the money to warp anyone's character with winking outrageousness or out-of-character callousness for the sake of the joke. The idea that Lisa and Marge have a secret stash stays front-and-center, as Lisa's loss a big enough deal to make everyone's dismay and suspicion feel genuine. And Marge's increasing anger at the film crew's cynical methods keeps focus on the satirical element of the experiment ("When we come back, Lisa did it," teases the narrator near the end, to which the protesting Lisa can only fume with a muttered, "Jerk.") So when the mystery is finally revealed (after Dateline has been kicked out by Homer), the solution throws everything that's come before into a new light, all without abandoning the humanity of the piece.

Marge did it. That could be a terrible betrayal of Marge Simpsons the character, except that, the way it's presented, her betrayal—as temporary as she intended it to be—emerges as something more than the Simpsons' bad behavior shenanigans of the week. Seeding in an obsession with coasters not ruining her "expensive" new kitchen table ("Table value: $28," reads a Dateline chyron mercilessly) earlier in the story, the idea that Marge would "borrow" Lisa's college fund as startup money for a line of snap-on coasters comes out like a genuine, human failing. It's not wiped away either—I was actually craving the tag to see if the show would cop out on the revelation, but while it's clear that Marge's intention was always to replace Lisa's money, it's not clear if her eureka moment will recoup its purloined expenses. Julie Kavner is sometimes conspicuously light in later-day shows, but Marge's plea for Homer's understanding is, in Kavner's plaintive desperation, touchingly relatable.

Does Lisa get the shaft here? Yes, if perhaps temporarily. But Marge's behavior is so shocking because she's allowed to make a bad, selfish choice that she deeply regrets—something her husband does, conservatively, three times an episode—but doesn't take back. When Homer, moved by his wife's pleading explanation ("Life to you is an adventure . . . For once, I was gambling on myself."), lies to the kids to protect her, it's a complicated decision, and, for Homer, even a noble one. Parenting is hard, aging out of your dreams is hard. The narrator opens the episode by describing the Simpsons household as one of "Love, laughter, and crushing economic anxiety," and, if the Simpson family's actual monetary woes are more dictated by plot than grinding, daily need at this point, Marge's decision smacks of the sort of ill-advised but sometimes necessary rebellion of a too-good-to-be-true parent who decides to, yeah, gamble on herself with a hare-brained scheme, for once. (Snap-on coasters—where are we all landing on this?)
All of this is not to ignore how many laughs are packed into "Woo-Hoo Dunnit?" The incompetent Wiggum is center stage throughout, naturally, but the episode finds fresh touches in his ineptitude. Without drawing attention, there's a "lost child" poster for Ralph on a bulletin board behind him at one point. Noting that Santa's Little Helper didn't bark during the crime, Wiggum self-importantly states, "Somebody knew exactly where to rub him—the tummy." Later, a reenactment of Homer's late-night kitchen caper—he made a messy spaghetti, then spent hours with his pets licking the walls—sees Dateline perching a dog mask on a cat, for some reason. Lisa's stern "Bup-bup-bup-bup-bup" to Marge, unsuccessfully attempting to head off the embarrassing but exonerating fact that Lisa was with her secret hopscotch tutor is great, as is Lisa's defeated post-revelation voice-over, "I was hangin' on by a thread." Marge is described in narration as "a suburban mom with Olive Oyl good looks." Even Lou, Frink, and Disco Stu get some funny moments around the periphery. (I'm a sucker for the joke chyron about Frink being a veteran of reality show "America's Got Hoyvin," so sue me.)

The Simpsons is The Simpsons. Some things must—and should—not change. But inventively monkeying around with the show's storytelling form while staying grounded in the show's and the characters' reality is something refreshing, and sort of special.
Stray observations
Investigating Lisa as suspect, the show impatiently fast-forwards through surveillance footage of Lisa's extended test drive of her coveted new sax at King Toots'.
With Marge's deed at its center, this episode could have gone very badly off the rails, but a little moment at the end underscores how firmly hands were on the moral and comedic tiller. Grampa hears a ding and exclaims, "The cat's done!," which a lesser episode might have left there. Without making a big deal of it, Bart enters the scene, wordlessly stroking the very much not-cooked Snowball. It's the small touches.
Lou, on Milhouse's snitching: "I've never seen such a cooperative witness." Milhouse: "I brought extra batteries for your recorder!"
Willie, running down all the passing fads he's seen sweep the school's halls, concludes his list with "the short stories of John Cheever."
Homer, relishing the film crew's departure, crows that the family came off better at the end of a documentary than the beginning. "Nobody's done that since Andre the Giant!"
Homer finally cows the narrator by threatening not to tune in, as one of the few people who still regularly watches network TV—including the commercials.
A simple headlock does the same to the show's editor, who's threat of retaliation from the American Cinema Editors is rebutted by Homer's devastating, "It's just an honorary society!"