When it comes to awarding costumes, the Academy tends to prefer fantasy to reality and the past to the present. Last year the nominees were either dystopian (Mad Max: Fury Road), historical (Carol, The Danish Girl, The Revenant), or Disney (Cinderella). Elitism has always seemed to rule the category, going back to the days when Edith Head was dominating it with her sumptuous gowns. In fact, Fury Road's eventual win came almost as a surprise given that the victorious designs don't usually feature that much dust—though one can't exactly claim that Jenny Beavan's costumes, so integral to George Miller's futuristic world, are rooted in everyday life. (At least not yet.)

This leaves little room for a film like American Honey to get acknowledged, and Alex Bovaird's work almost certainly won't be when nods are handed out January 24. The garments in Andrea Arnold's epic road movie about a group of teenagers on a "mag crew" are bargain-bin scraps, or what many might think of as sartorial detritus. It's the clothing of disarray, but it's cobbled together in such a way that gets to the heart of Arnold's film, suggesting the goals and hopes and dreams of this community of young people, who attempt to sucker unsuspecting homeowners and truck drivers into buying magazine subscriptions while fighting for their own lives.
Some might make the argument that Bovaird doesn't deserve a nomination because she didn't build the costumes from scratch. But then you would also have to discredit Patricia Field's nod for The Devil Wears Prada. Field got on the phone with Chanel and went through Donna Karan's archives to dress Anne Hathaway and Meryl Streep; Bovaird searched Oklahoma. Speaking with The A.V. Club, Bovaird describes her process for American Honey as "like a treasure hunt." She did research online—the Instagram hashtag for "magcrew" proved fruitful—and then went to the same places her characters might: thrift shops, emporiums like Citi Trends, and big-box stores like Walmart. The protagonist, Star (Sasha Lane), has pieces from Muskogee, the city from which she is supposed to hail. The costumes aren't intricate or immaculate—in fact she distressed them—but they are authentic. Bovaird considered just how much the characters would be able to pack, how this largely white group appropriates black culture, and how clothing speaks to class.
Riley Keough's Krystal, the leader of the group, isn't wealthy by normal Hollywood standards, but she has more cash than her employees, and she lords it over them with her outfits. When she first appears on screen, she's dressed in impossibly small jean shorts and a cleavage-baring mesh crop-top in a bright, gaudy red. Huge hoops dangle from her ears. Later she wears an aggressive, Confederate flag bikini, the tag still hanging off it—an indication that she presumably bought it new. There's no pool in sight, and it's nighttime out, so she's likely not going sunbathing. The racist symbol is a conscious affront to Star, the mixed-race heroine she's dressing down. It's unaddressed, but nasty. What Krystal thinks is glamorous others might call trashy, which lends some irony to the moment when she later announces to the group, "I want y'all to dress like dirty white trash." They're in oil territory, and Krystal's theory is that her peddlers should dress like urchins to elicit sympathy from the newly monied. She doles out tiny dresses to the women from garbage bags. Star gets a green terry cloth number, and Krystal tells her not to wear underwear.
For Shia LaBeouf's Jake, Bovaird also emphasizes how the character uses clothing to strive. Jake's rattail is the most meme-worthy aspect of his appearance—especially since it points to LaBeouf's level of commitment to the role—but what's striking is the way that fashion choice interacts with his pseudo-businessman look. (Anyway, makeup and hair are awarded in a separate Oscar category—another place where American Honey will almost certainly come up short.) Jake sets himself apart from the rest of the mag crew by donning button-downs and suspenders. He jokes that the effect conjures Donald Trump, but again, like Krystal, that's all perception. He's more like a Williamsburg Garbage Pail Kid, somehow both cool and disgusting at once. Bovaird says she pictured him as a kind of Artful Dodger. You understand why Star is intrigued, because you can't help but stare at him yourself. And, for what it's worth, LaBeouf apparently insisted he take his clothes with him each night so he could treat them the way Jake might.
G/O Media may get a commission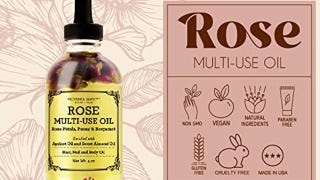 Provence Beauty Rose Multi-Use Oil
And then there's Star. For the most part, her wardrobe is not as well defined as Jake's or Krystal's, but at times she shows her style beyond short-shorts and tank tops. And in one of the movie's most pivotal scenes, she pops: When she runs away from Jake to hop in a convertible with a bunch of fun-loving cowboys, she's wearing a rag of a muddy yellow shirt that reads "Midnight Rambler" and features a faded eagle on its front. It's a coy bit of Americana that clashes brilliantly with her visible magenta bra, setting Star apart from the men, all clad in pale shirts and white hats. They match the bright sky; she's neon against the pastoral landscape. It's no wonder it's what she wears on the movie's poster.
Because Arnold hired an array of untrained actors to play the majority of the mag crew, it can be hard to tell what came from Bovaird and what came from the collections of the people Arnold put on screen. But though she was inspired by the cast, Bovaird dressed them all herself. "I more or less dressed them in their style, but a little bit more pushed, a little bit more colorful, a little bit more texture and stuff that they might not necessarily pick out but that they would be comfortable wearing," she says. "Because a lot of them weren't real actors you couldn't really make them wear something that they didn't want to wear." Bovaird's work is deliberate, even if it feels organic. So while the Academy will likely honor Jackie's pristine recreation of that bloody pink Chanel suit, or Fantastic Beasts And Where To Find Them's 1920s wizarding coats that seem fresh off a Burberry rack, they'd be better off paying tribute to the bold, iconic, messy garb of American Honey.