An actor (who admits to being an actor) on MTV's faux-reality series about watching pretty paint dry, The Hills, was beaten up by Spencer Pratt (of modern-day prop comedy fame) for a very special upcoming episode entitled "Make War In This Club." Because accepting payment for playing Spencer Pratt's punching bag on TV isn't embarrassing enough, the actor is now suing MTV for not telling him where his mark was, or something.
From E!:
A source tells E! News exclusively that Stephanie Pratt's ex-boyfriend Cameron Huston is planning to sue MTV, claiming the network provoked an argument that resulted in Pratt's brother, Spencer, punching Huston in the face Saturday night at the Dime, a Los Angeles bar.

Meanwhile, MTV tells E!: "The Hills cameras were filming at a bar in Los Angeles when a dispute between Spencer and Cameron occurred. MTV does not condone or encourage violence. It is a series which follows the daily lives of these characters, and we cannot always foresee the situations that take place when filming. We are not aware of any lawsuit regarding this matter."

According to a Hills source, Pratt and Huston, a 23-year-old aspiring actor, were filming when producers told Huston to send a text message to Pratt's fiancée/wife-in-Mexico Heidi Montag telling her Pratt was hitting on a bartender.

"They told him Spencer was in on it, and that it was just a joke," says our source. "They told him to send Spencer fruity girly drinks at the bar, and that it was all just for the show."
Zing, Hills producers! Having someone send a fruity drinks to a pile of Silly Putty in the vague shape of a human is so much better than having someone ask that pile of Silly Putty, "So what's up with Heidi?" for the 400th time. Nice to see The Hills scripts improving.
Pratt, however, was not in on the ruse.

"Supposedly Spencer had no idea, and he got really pissed off," the source says. "He punched Cameron two to three times, and he had a ring on, so [Huston] got cut pretty bad."
G/O Media may get a commission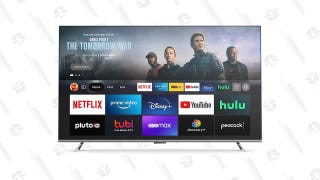 Save 46%
Fire TV 55" Omni Series 4K UHD Smart TV
Look, Cameron. While I applaud any and all lawsuits against MTV, if you're suing The Hills for letting things get too real, you'll definitely lose. Everyone knows that the producers tent each nightmare club , or Pinkberry, or Mexico with shiny plastic sheeting and vacuum all the reality out before they start shooting.
You're in clear violation of the rules of The Hills, and everyone knows those rules: 1. Do not talk about the producers of The Hills. 2. Do not talk about the producers of The Hills.  3. If the producers of The Hills tell you you're going to "fight" or "marry" Spencer Pratt, you will "fight" or "marry" Spencer Pratt. 4. Trust in the scare quotes, they're your only friend.