The first three episodes of Burning Love are available for viewing here. New episodes post Mondays and Thursdays.
There is a lot of dumb entertainment in the world, and thankfully for those of us who consume a large amount of it, there's a crack team of comedians with the uncanny ability to poke fun at all of it. It's an Avengers-style group of people, culled loosely from The State, the Upright Citizens Brigade Theater, and shows like Childrens Hospital and NTSF:SD:SUV::. And when they're not straight-up satirizing some delicious realm of pop culture, they're helping to create art that indirectly comments on the Hollywood system itself, like Party Down. These are smart, well-read, tenacious comedians and comedic performers like Rob Corddry, Adam Scott, Malin Akerman, David Wain, Ken Marino, Paul Scheer, June Diane Raphael, Martin Starr, Kristen Bell… it's a big list that keeps on growing.
Burning Love, the latest in a string of nearly flawless parodies from this loosely knit cabal, is just as essential as its predecessors—a web series on Yahoo! that might as well be an Adult Swim series. Created by Ken Marino and produced by much of the team behind Childrens Hospital and its upcoming Newsreaders spinoff (along with Ben Stiller), it's a blatant send-up of The Bachelor. Marino plays Mark, a fireman just looking for love, which doesn't seem so weird at first. But then Michael Ian Black walks in as the perfectly smarmy host. "In the real world, most men would be vilified for dating 20 women at once," he says. "But honeychild, this ain't the real world."
Cue Mark standing in front of a mansion as multiple women drive up in limos and introduce themselves, capturing almost every stereotype imaginable with roughly 7,000 seasons of The Bachelor serving as inspiration. Mandy (Bell) is the super religious one. Titi (Noureen Dewulf) is a trust-fund girl who flaunts her stuff. Haley (Natasha Leggero) literally doesn't ever wear pants. Julie (Raphael) keeps forgetting what she wants to say. Willow (Akerman) is homeless. Ken Jeong wears a dress. There's a giant panda. All the while, Mark lets himself take in the weirdness of his surroundings. When one woman talks about how she's "addicted" to sports, he wonders if she has a gambling problem, and offers her real help. "I'm just trying not to be cute," she offers. He replies: "Don't."
The characterizations of the women are very clear from the beginning, and Marino's ability to play the straight man without coming off as oblivious only heightens how ridiculous the scenarios can be. After his suitors all show up, each one tries to talk to him in private, coming up during other one-on-one conversations and asking to borrow Mark for a few minutes. At first he lets himself get pulled around, but eventually he uses these opportunities to gracefully exit boring conversations, making it clear that he's going to have his own opinion about whom he likes—even though on the actual show the guy in his position couldn't get away with being that obvious. Then Ken Jeong tries to shove a carrot down Mark's throat, and his obliviousness kicks in.
G/O Media may get a commission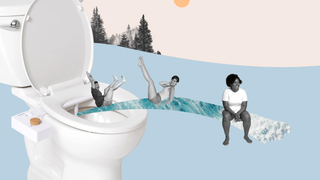 17% off
Tushy 3.0 Warm Water Spa Bidet Attachment
In the first three episodes of the show, Burning Love proves it won't be short on material to satirize. Rather than giving out roses, Mark gifts hoses to the women, and every time he says, "Will you accept my hose?" it induces fits of giggles. He takes trips off the set too, once to visit his therapist Damien (Scott) who is completely unlicensed and has Mark work out his issues by cleaning the office. In the third episode, he goes on a one-on-one date with Haley, whom Mark has decided is a free spirit that he can tame. She rides the mechanical bull for an uncomfortably long time (it gets majorly sprayed down afterwards) and winds up making out with its operator (Ryan Hansen), but Mark has a narrative in his head, and every time Haley deviates, it just forces Mark to slightly change the narrative so as not to disrupt the delicate reality-show balance. Also, there's a moment where he and Michael Ian Black sit in silence and stare at each other, not knowing what to say next.
This is meticulous satire, and everyone involved has clearly not only done their homework by watching way too much trashy TV, but also packed as many funny moments into eight minutes as humanly possible. This is no small accomplishment.
I am legitimately excited about Burning Love, particularly the fact that it's a bellwether for what comedians these days are doing: Turning guilty pleasure television into a heightened form of comedy that's not quite a sitcom and not quite a sketch show. Also, and this is pretty simple: It just looks like they're having a ton of fun doing it. The more comedic talents these shows cram in, the more I'm realizing that these folks genuinely enjoy spending time with one another, and it's reflected in the accessibility of what they create.