In Morris From America, the Sundance film to be released later this month, Craig Robinson plays a sensitive, albeit frustrated, dad whose son is having trouble adjusting to life in their adopted German home. The performance gave Sam Esmail the sense that Robinson had it in him to join Mr. Robot as Ray. Only, as audiences learned in last week's episode, Ray is no sympathetic widower out to help Elliot (Rami Malek) conquer his (many) demons. One of the season's first big twists came when Elliot discovered that Ray is actually the proprietor behind a malevolent black-market website, which counts abducted underage women, drugs, and weapons among its wares. The last we saw of Ray, he was ordering his men to attack Elliot as punishment for looking where he wasn't supposed to. So, yeah, Ray's certainly not the supportive father of Morris.
The A.V. Club got a chance to talk with Robinson, who insisted that Ray really is a "nice guy." As you might expect, given that we're talking about Mr. Robot, the actor was hesitant to give too much away.
The A.V. Club: How were you approached to get involved with Mr. Robot?
Craig Robinson: My agent said that there was some interest there. So he set up a phone call with Sam [Esmail] and myself and then he sent me the episodes. I said, "Well, let me watch it before I talk to the director." Because I hadn't seen it. I was aware of it because I had worked with Christian Slater last year [on Hot Tub Time Machine 2]. I was like, "Man, they're saying great things about this show." He's like, "Yeah, yeah, yeah, yeah, yeah." He's all nice and stuff.
Anyway, fast forward to my agent talking to me about it, I was like, "Okay, let me see it." I watched it all in two days. It was like a book you couldn't put down. I was like, "Okay, what do you want me to do here?" It turns out Sam had seen some scenes from this new movie I'm in called Morris From America.
So he said, in the conversation we had, [that] my character's jovial, people respect him in the neighborhood. I said, "Okay, okay." And then he said something about making a turn. He said, "I saw your scenes in Morris From America and you can make the turn I'm looking for." I said, "All right, let's go forward."

G/O Media may get a commission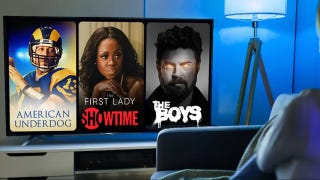 UNDER $1
99¢ Prime Video Channels
AVC: Were you suspicious about the "jovial" comment, given the nature of the show? How dark did your mind go once you heard that he was going to make a turn?
CR: I mean, I didn't get suspicious. I was hearing him out. I can be a nice, jovial guy. That's what I am! And then he was very close to the vest. He wouldn't tell me more about my character. So I didn't know what to think. I think my manager was worried. He was like, "We've got to see these scripts." My agent was like, "I think he's got to do it." Inner turmoil in the Robinson camp. The manager thing—[he] wanted to see the material. But, then again, Esmail's a guy you trust. Hey, as long as I'm not in a bikini or something.
AVC: In the most recent episode, we learn that Ray has this black-market website that is doing horrible things. At what point did you learn this?
CR: Early on in the season. Because I got the script once we started shooting. So I got to see what was going on. I was like, "Dang, Sam."
AVC: In these first couple of episodes, we're not really sure what's going on and Ray starts out as this very sympathetic character. There's real pathos for him as he's talking about his dead wife. Did the fact that the revelation is going to come up affect how you played those early scenes?
CR: Well, here's the thing: Ray is a nice guy. He likes getting the money, obviously, but he prefers not to be involved in what's going on. So he's a good dude, and he kind of can't believe that he's carrying on this way. It's always a lot of—um, I don't know if "overcompensating" is the right word. He really is genuine in being nice, so I just want to make him genuine.
AVC: Right now we're at this turning point where we first see the true nature of what's going on as Ray lets his thugs beat up on Elliot. But it's interesting to know that he sort of has this root of niceness that isn't fake.
CR: Yes, Sam was pushing for that, too. When the guy was at the table and he was talking to the family, that's what Sam was stressing: "Hey, look, you don't want to see all this happen. You sent the thugs after him. It was more to scare him and get him to act right versus beat him up in front of family and all that."
AVC: His motivations are still up in the air, but do you think Ray really does feel that Elliot is a kindred spirit, especially given the loss of his wife?
CR: Absolutely he does. Yeah, like you said, especially with the loss and especially with him talking to his wife. They use that in different ways, but it's definitely like, "Oh, man, I can tell somebody this." That's not something he just goes around saying: "I talked to my dead wife this morning." So he's excited to know Elliot. And he hopes they can be cool.
AVC: Ray also wants Elliot to help him with his website. He feels this connection, yes, but how much of their relationship is Ray trying to get something from Elliot?
CR: Oh, that is urgent. I mean, he's a nice guy and all, but he's more concerned about his business than that. I would say 70/30.
AVC: I know you guys shoot out of order. How did that affect your performance?
CR: Shooting the show is intense. Then my character had these monologues. You know, it was pages. Shooting out of order, I think that's always tricky. But I was so involved in just being Ray that I don't know that it, um—You know, I'm editing as I go because I can't say everything I want to say. So yeah. It was tricky but we got through it. How's that for an answer? We shot out of order, but everything fell right where it should have for my journey through this process.
AVC: You mentioned that you collaborated with Christian Slater before. You also share so many scenes with Rami Malek, but your characters' relationship is almost one-sided a lot of the time. What has it been like working with him?
CR: Rami is intense. He sets the mood. He is Elliot on that set. And Christian's Mr. Robot. It's a serious affair going on over there. So that's what it's like. I'm learning from both of them. They're raising my game. We have some good moments, some fun moments, but it's serious business on the set of Mr. Robot.
AVC: You've done a lot of comedies, a lot of sitcoms, like The Office. What has it been like and how easy was it to make the transition to this very serious drama?
CR: It has been quite the journey. I don't want to say difficult. I've been preparing for this. Comedy prepared me for drama. There are a couple techniques you can think of. One of my acting teachers said that comedy is like ping-pong and drama is tennis. You take things a bit slower, so you do get to breathe more and take some more time. You're not landing a joke, but you are delivering. All that has to go away so you can just be the character. I was a little nervous going in. But the thing about Sam is he doesn't mess around. If he says something is amazing, he means it. And if he doesn't say it's amazing, he means it. So you're going to get to where he thinks it's amazing.
AVC: There are a bunch of theories going around about what's really going on. One of the early theories came up right after the premiere, that Elliot, right now, is in some sort of mental institution and/or prison, and all these people that he's interacting with that we don't already know are part of that as well. Have you engaged with any of those theories and what do you think about that one?
CR: It's awesome. To join this and to see fans and the theories come out. I'm just looking at Twitter like, "Ooooooo." No, I don't engage, but it's great. There's so many avenues to get your entertainment on, you've got so many people invested in this. I love it. I'm glad it's not 20-some episodes. Pretty soon, we will all know.
AVC: Did you have any theories once you started reading and started taking on the scripts? Did you start generating any of your own?
CR: I did not create any theories. I just want to interview Sam. Like, "Dude, what is your upbringing?" Just to start from page zero. "Talk to me, Sam. What's going on in that head?"
AVC: You obviously have great scene partners in Rami and Christian. You also have a scene partner in Maxine the dog. What has it been like working with that bloodhound?
CR: She was beautiful, and she took a liking to me. It was cool. Her handlers were awesome. And we just hung out. I just stroked her.
AVC: Are we supposed to take the fact that Maxine's health doesn't seem to be in great shape as any sort of foreshadowing?
CR: [Slowly] I don't think so. Maybe, maybe not? Who knows?
AVC: Morris From America is a lovely movie. How are you using that performance as a jumping-off point and an opportunity these more serious roles?
CR: Morris has been tremendous. It all happened organically, even with Chad Hartigan, who directed Morris. I had worked with David Gordon Green before, so in some kind of way [Chad] and David discussed me. I have an amazing team, so they'll do the whole using it as a jump-off and do whatever they need to do. I'm focused on the work. And now I've done Morris and Mr. Robot, my appetite is whet to go deeper. It's fun and it's challenging, and it stretches me. I'm not saying I'm done with comedy by any stretch of the imagination. I'm saying, yeah, let's see how deep the rabbit hole goes.
AVC: One more question about Ray: He's involved in the underworld of the internet. Did you do any research or preparation? Did you read up on these people and what their endgame is, these black markets?
CR: Sam told me all about it and what went on. I read some articles. It's too dark for Craig. But Ray? Ray can handle it.