Good god there is some amazing drag on display in the "Grand Finale" of RuPaul's Drag Race season 8. Sure, it's nice to find out who wins the competition, but these live finales have become an amazing showcase for the art of drag, and a big part of the appeal is seeing what the queens wear on this momentous occasion. This is drag's Oscar Night, and past Drag Race contestants show up in their best drag while the current season's queens reveal how they've elevated their drag since filming ended. The result is a rich, diverse tableau of drag looks, all building to the greatest drag moment of the night when Violet Chachki takes the stage to pass her crown to America's Next Drag Superstar.
Violet Chachki was always on point with her fashion game, but her final look tonight is so stunning that it makes the entire theater erupt in applause. The dress is incredibly dramatic, impeccably crafted, and cinched so hard that it hurts to look at her waistline, and her hair and makeup give her the appearance of a gorgeous living statue. She looks fucking amazing, so amazing that she steals some of the thunder from the crowned queen. Past champions get a lot of love in this episode, but I have no problem with the final five minutes of the season featuring a mini runway show from all of America's Drag Superstars when they look this good. (I love that Raja uses this opportunity to school season 8's queens on how to pull off a Madonna runway look.)
Appearance clearly plays a huge part in RuPaul's Drag Race, and all three of this season's final queens show that they can put together bold, distinctive drag looks. Like last season's finale, this majority of this episode is devoted to the top 3, giving them original songs to lip sync to before they have a chat with Ru and watch video messages from family members and/or celebrities rooting for them. The finalists have different looks for the opening number, the lip sync, and the coronation (coRUnation?), but Bob is the only one that shows the range of her personality in her ensembles.
Kim and Naomi have the fashion down, but there's not a compelling character under the surface, leaving them in Bob's shadow as she steals the spotlight with her performance skills. This is especially clear in the lip sync, but it applies to the general fashion as well. Bob starts by showing a more elegant, sophisticated look that fights against the "ratchet drag" label, but she leans into the ratchet for her lip sync outfit, showing two very different sides of her personality. That lip sync performance is far and away the best of the night, and not just because Bob performs the hell out of it. She has the best song because she provided the most material to build a song on over the course of the season, and proved that she has the talent to handle material that is at a higher level of difficulty than what Kim and Naomi can do.
G/O Media may get a commission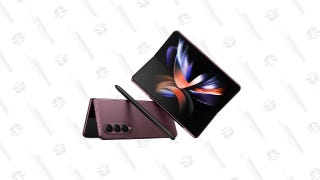 Save Up to $300
Galaxy Z Fold4
Bob's song is called "I Don't Like To Show Off," but she just can't help it. She's a natural performer that comes to life on stage, and having a massive live audience is fuel for her fire. She starts off in the audience interacting with the crowd, immediately establishing that she's extremely comfortable in this environment, and her energy only intensifies as she joins her backup dancers on stage. She doesn't miss a beat of the choreography or the song, and her performance has a steady build that is missing from her competitors' lip syncs. Kim's number is built around her limitations as a dancer, and while it's a fun bit, it's a considerable step down from Bob's ambition and power. Naomi is more capable with movement, but she still lack's Bob's confidence. You can sense both Kim and Naomi's nerves, but Bob thrives on the attention and becomes more commanding in this situation.
If the lip sync is the final challenge, Bob wins it by a long shot, and when you add that win to her already long list of accomplishments on the series, she's the obvious choice to be this season's champion. Season 8 of RuPaul's Drag Race has been all about celebrating the legacy of this series and the queen that created it, so it should come as no surprise that America's Next Drag Superstar is one that shares many similarities with Mama Ru. Bob The Drag Queen is multitalented, funny, imaginative, political, and smart, and she uses drag to educate as well as entertain. She's basically RuPaul's dream queen, and the inevitability of her win doesn't diminish its impact in the slightest.
Kim Chi drops the ball tonight, and she doesn't realize how invested Ru is in her situation with her mother. Ru wants Kim to tell her mother that she's a drag queen and Kim has absolutely no intention of ever making that happen, and that lack of courage diminishes her place in the competition. Kim can never be the queen Ru wants her to be as long as she's keeping this part of herself away from her mother, and her refusal to challenge her mother's rigid beliefs loses her the crown. Naomi's relationship with her mother and siblings is put front and center, and Ru has a lot of respect for her being so open with her family about her art. That respect isn't enough to win the competition, but Naomi has successfully undergone the metamorphosis that Ru loves to see in her queens, which is a big accomplishment for this season's youngest contestant.
Cynthia Lee Fontaine is named this season's Miss Congeniality, and she deserves it for being extremely sweet to her competitors during her time on the show. Watching Untucked made it especially clear how much the other queens appreciated Cynthia's kindness, and they repaid it by being Cynthia's support system while she underwent treatment for stage 1 liver cancer. Acid Betty, who was one of the big bitches of this season, turns out to have a big heart, and she's been a great friend to Cynthia during her struggle. It felt like Cynthia left the series prematurely, so it's nice to see her get some extra attention in the finale, even if it's under less than ideal circumstances.
After an uneven season 7, Drag Race did phenomenal work getting back on track this year. This is largely because it had a stronger group of queens with compelling stories and personal styles, and the finale highlights the wide variety of drag represented by this season's contestants. Comedy queens, fashion queens, art queens, cheap queens, pageant queens, nerd queens, and celebrity impersonators are all represented in this group, and having that range made season 8 especially intriguing. The drag world is only getting bigger as Drag Race inspires more people to embrace the art form, and I'm eager to see how this season's contestants influence future queens.
Stray observations
RuPaul's second look of the night looks like a shredded disco ball. I would love to see these gown in person (I know they were on display at Drag Con).
Where are the Ornacia dancers? They should really be a Drag Race grand finale standard.
Bob definitely has the best celebrity video message when Carol Channing sends her best wishes, although Kim getting praise from Margaret Cho is pretty cool, too. Naomi Campbell would have been the perfect person to record a video message for Naomi Smalls, but instead the show got Lena Headey because she also plays a "fierce queen." It's totally random, but it does have the hilarious message to "Cersei That Walk," which is tragic when you think about Cersei's walk of atonement.
The nerd in me loves that Dax's look is based on Storm, Queen of Asgard, but her sour disposition ruins it for me.
Thorgy plays her violin tonight! I'd love to see a World Of Wonder YouTube series where Thorgy gets a drag band together and plays covers of songs. Also: she looks likes the Play-Doh version of John Travolta's character in Battlefield: Earth.
Derrick's moved on from aping Britney Spears to aping Courtney Act. It's a good look for her!
Bob puts the "taint" in "entertaintment". That should be on Bob's business cards.
"Make America gay again!"
"Bob used to cry on my birthday 'cause it wasn't about him."
"I love that song. It's got a good beat and you can't dance to it!"
"When was the last time you fell down?"
"I'm not trying to catch anything so I'm going to say none of them." Daaaaaamn, Kim Chi. That is shady.
"The family that drags together, slays together."