Good ol', reliable ol', boring ol' CBS. The network is so dominant at this point that there are nights when its ratings outrank the other four major broadcast networks combined. It's got TV's biggest comedy—The Big Bang Theory—a series that occasionally pulled 18-49 numbers in the 6.0 range earlier this year, something that's just not supposed to happen anymore, a series that somewhat singlehandedly seems to have slowed, then reversed the great American Idol train. (Seriously, look at the two's numbers relative to each other from when Big Bang moves to Thursdays, then look at how they ripple outward to the earlier Idol broadcast very gradually.) It's got TV's most watched show in NCIS, a juggernaut that still routinely dominates Tuesdays, though people don't really talk about it anymore (nor talk about how its seasonal average is boosted by being one of the few shows that still repeats well). And it's got a host of shows that used to routinely top the ratings charts but now have settled into simply pulling really, really good numbers, like Survivor and C.S.I.
The most common joke about CBS is that it's TV for old people. Though the network's supreme potentate Les Moonves would like to dispel that notion—since CBS is about to win the 18-49 demo crown from Fox, breaking an eight-year streak by that other network—the network does have the oldest average viewer of any of the five networks (though ABC will occasionally flirt with overtaking it when Dancing With The Stars is really cooking), and it has a lot of programming where the 18-49 numbers are small when you compare them relative to the overall numbers. They're just large compared to the rest of TV as a whole. If you look at something like New Girl, its 18-49 number (and its 18-34 number) is a fairly massive percentage of its overall total. Then look at something like NCIS, where its 18-49 number is often strong enough to win Tuesday nights (unless The Voice wins), but it's a much smaller percentage of the total number. It's why CBS shows dominate the overall viewership top 10, but some of those shows aren't in the 18-49 top 10.
Is the "only old people watch CBS" joke unfair? Sure. Plenty of young people watch the network, indeed more than any other network. But CBS' guiding philosophy still seems to be that if you attract the largest number of viewers—most of whom will be older, because that's who watches the most TV—then you'll get a significant number of young folks, too. It's a sound business strategy, and it's likely going to allow CBS to be the last traditional TV network left after everybody else has gone cable or Internet streaming platform, but it's never going to make CBS as exciting to major media platforms and pop culture websites, and it won't stop Moonves from waking up in the middle of the night, a single tear dotting his cheek as he contemplates the mean things you guys say about him in comments.
CBS would like to change the perception people hold of it—though it's unlikely it ever will, since the network seems to be the last bastion of people who watch TV when it airs, on their TV sets, and that number is going to keep skewing older and older. To that end, it's gotten involved in some of the things the kids like nowadays. It's picked up some single-camera comedies. It's tentatively dipping its toe into more heavily serialized dramas again, after a disastrous run of attempts in the late 2000s sent it scuttling away for a few years. (Remember Smith? Or Harper's Island?) Will any of this work? It's hard for a network to change its image, but CBS at least seems to be trying to do so gradually. If all of these shows fail—and it's picked up eight, more than CBS has in recent memory—it still has a huge number of hits to fall back on, and it's so dominant at this point that it's hard to imagine even the failure of all of its new shows knocking it back down to earth. And let's just be reasonable here. They're not all going to fail.
Let's look at this night by night.
Mondays
8 p.m.: How I Met Your Mother
8:30 p.m.: WE ARE MEN
9 p.m.: 2 Broke Girls
9:30 p.m.: MOM
10 p.m.: HOSTAGES (fall )/INTELLIGENCE (midseason)
G/O Media may get a commission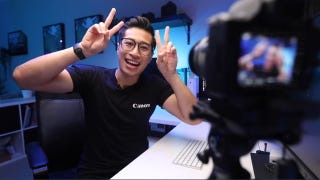 Up to 33% off
Canon Camera National Promotion
Webcam kits, lenses, & more
Since many of us adopted working from home, we've become accustomed to the crappy video quality output of our laptops' built-in webcams. Present yourself professionally with the help of a professional quality camera. Dress to impress now means set dressing and picture definition. Canon has made it easy to take your EOS camera and convert it to a webcam with the help of a variety of kits.
How I Met Your Mother has turned into the most important asset the network has on this night, somewhat surprisingly. In the second half of its second season, 2 Broke Girls has seen its audience erode at a gradual but steady rate that only slowed (and sometimes halted) when Mother was followed by Big Bang Theory repeats. (It would be nice to believe everybody just realized all at once that 2 Broke Girls was kind of a shitty show, but such things rarely happen, alas.) If there's a night it's most important CBS get "right" this fall, it's this one. Thus, the slotting of a single-camera comedy between HIMYM and 2 Broke Girls is an interesting maneuver. The show, about a bunch of single guys living in an apartment complex, sounds pretty much like a more guy-centric (rather than romance-centric) hangout show, only Tony Shalhoub is there to reflect the CBS demographic. (Sorry, Les. I couldn't resist.) If there's a show on CBS that could lean into a young-skewing single-camera comedy successfully, it's probably HIMYM, so slotting this show here suggests some degree of confidence in its abilities. Then again, Partners was there last fall, and we all know how that turned out.
The 9:30 p.m. slot is interesting, because I would have bet anything on Mom being here, but I also would have bet anything on former slot occupant Mike And Molly heading off for Thursdays (particularly since FX picked up rebroadcast rights), but it's heading for midseason instead. Mike And Molly was never a major player, but it was fairly consistent. It's likely the first show off the bench when one of these comedies inevitably fails. Mom, meanwhile, seems likely to win some critical praise just for having Anna Faris in it (since she's typically so game and seems to have superhuman skills of elevating lesser material thanks to her go-for-broke performance style), and one has to assume CBS will be eying it as a potential 2 Broke Girls replacement should We Are Men flop and CBS need to move everything back a half-hour. (This would never happen, but it sounded good in our heads.)
The 10 p.m. hour, where Hawaii Five-0 has been struggling, is turned over to Hostages, an intriguing experiment in a Following-style show, where the story—about a hostage situation, duh—is told over a limited number of episodes. With Toni Collette and Dylan McDermott, the show should boost some star power, though one assumes McDermott won't strut around naked as often as he did on American Horror Story. (Hey, after stretching broadcast's limits on what it can show violence-wise, maybe CBS will decide it's time to tackle sex.) At midseason, there's a show about Josh Holloway having a chip in his brain, and we will remind you Person Of Interest sounded stupid at one time, too. But, no. It's probably going to be stupid.
Tuesdays
8 p.m.: NCIS
9 p.m.: NCIS: Los Angeles
10 p.m.: Person Of Interest
NCIS is TV's biggest show, and NCIS: Los Angeles is no slouch itself (CBS kept calling it "TV's second-biggest drama" during its upfront, which is almost certainly technically true but still sounds suspect). Moving Person Of Interest, which saw terrific growth in its Thursday timeslot in the second half of its first season and the bulk of its second season, seems like a risky move, but (as CBS said at the upfront), it is TV's third biggest drama. There's potential for this night to be monstrously huge, even if S.H.I.E.L.D. takes a chunk out of NCIS. That show's so big it has chunks to give away. Person Of Interest fans are concerned about it leaving its comfy timeslot (and, in retrospect, it does seem as if moving Elementary here and putting POI on Thursdays at 10 might have been a better call), but CBS has long needed to shore up this timeslot, and if POI can hold on to even two-thirds of its audience, that mission will have been accomplished.
Wednesdays
8 p.m.: Survivor
9 p.m.: Criminal Minds
10 p.m.: CSI: Crime Scene Investigation
CBS got where it is via keeping things remarkably stable. It doesn't move shows around unless it absolutely has to. The ratings of these shows are getting to a point where CBS will have to deal with them sooner, rather than later, but it can put that decision off until May of 2014 or even 2015.
Thursdays
8 p.m.: The Big Bang Theory
8:30 p.m.: THE MILLERS
9 p.m.: THE CRAZY ONES
9:30 p.m.: Two And A Half Men
10 p.m.: Elementary
Though CBS expanding its comedy lineup to a two-hour one has seemed likely for a while now, the fact that it did so in fairly haphazard fashion is surprising. The Big Bang Theory is big, but there's potential for it to become even bigger at 9, meaning CBS must really believe in Robin Williams' drawing power to have him anchoring the night in the most watched timeslot. Greg Garcia's The Millers seems like a smart enough fit post-Big Bang, and having the still heavily-watched Two And A Half Men at the end of the night to help form the hammock for the new shows is smart. But throwing a single-camera comedy into the mix of this—and without the sort of logical lead-in support HIMYM could theoretically offer to We Are Men—seems like a weird move. Lots of networks have tried to blend single camera and multi-camera shows in blocs over the years, and all have failed miserably. Now, all four major networks are going to try again, with only ABC going with two established shows. Maybe Robin Williams will prove such a big draw that CBS can make this work for a while, but the show will need to be there for it to work for a full season, and creator David E. Kelley hasn't had a substantial hit in… a while. It's a risky move, and having Elementary, which slumped in the ratings in the spring, there to close out the night seems risky, too. CBS rarely makes moves like this unless it's absolutely confident, but there's a certain desperation to this that's very un-CBS.
Fridays
8 p.m.: Undercover Boss
9 p.m.: Hawaii Five-0
10 p.m.: Blue Bloods
The move of Hawaii Five-0 here has surprised some, but the show's problems in the Mondays at 10 timeslot had become too big to ignore. The series should do well enough here to run for another two or three seasons, which is a respectable run for the show but probably disappointing for CBS, which had high hopes for it when it launched. Undercover Boss earns the vote of confidence to move into the fall, instead of being a utility player, while Blue Bloods continues to hold down the fort.
Saturdays
8 p.m.: Repeats
9 p.m.: Repeats
10 p.m.: 48 Hours: Mystery
Do we have any 48 Hours: Mystery fans in the house?
Sundays
7 p.m.: 60 Minutes
8 p.m.: The Amazing Race
9 p.m.: The Good Wife
10 p.m.: The Mentalist
Standing pat here seems risky, considering how thoroughly all three of the later shows eroded this season, but CBS is plagued by sports overruns and doesn't have a lot of other options. Where Fox can easily mix and match animated comedies, CBS just doesn't have that option with 60 Minutes leading off the night. It might eventually come up with a solution for this night, but the shows here all draw acceptable enough numbers, even in the face of overruns, to stay here at least a little while longer. This is, more likely than not, a May 2014 problem for the network, unless all of the new shows tank (which, again, they won't).
CBS' midseason shows are clearly just positioned to slot into any holes that open up after one of the new shows fail and, as such, aren't really worth commenting on. What is interesting is CBS' new willingness to characterize this summer's Under The Dome as a miniseries, when it was feinting at the series being an ongoing one as recently as a month ago. The networks seem much more interested in the idea of limited series than ever before, and that's probably a smart move.
All in all, this is what you'd expect from CBS: stable and a little boring, but probably positioned to dominate American television for another season. CBS will collapse, because network television will collapse, but it seems increasingly unlikely one of its competitors will do it in.
Tomorrow: The CW still exists. And is now the Sci-Fi Channel!