Block & Tackle is John Teti's column about pro football.
"Virtual storytelling—it's all the rage right now," Good Morning America anchor Robin Roberts posited, somewhat diffidently, during an interview with Apple CEO Tim Cook this week. "Virtual reality, where do you see that? Where do you follow that? And where does Apple?"

Cook answered by drawing a distinction between virtual reality, which seeks to be immersive, and augmented reality, which projects computer-generated elements into a view of real-world space. In terms of commercial potential, AR is "the larger of the two, probably by far," Cook said, as download numbers for the AR sensation Pokémon Go danced in his head.

NFL broadcasters would likely agree with Cook's assessment. They have been pioneers in the field of augmented reality since the 1998 season, when the yellow first-down line debuted on ESPN and CBS. The televisual augmentation of the field has only expanded since then, with networks experimenting more and more with graphics that don't just take up the 2-D plane of the TV screen but, rather, seem to be integrated into the field. For instance, networks now electronically adorn the field with line-of-scrimmage lines and, on occasion, field-goal-range lines. But those are mere variations on the original.
G/O Media may get a commission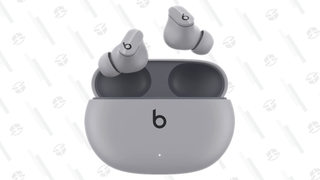 Over the past half-decade, the animated down-and-distance arrow has become another AR staple—in fact, it's now the most prominent on-field visual design the networks employ. NBC, seen above, fashions its arrow as a feather from the NBC peacock in a shrewd and cute touch of branding.

Fox's take on the concept isn't bad, either. The network uses transparency to make the arrow look like it's painted onto the field—this also ensures that the graphic doesn't "pop" too much under different lighting conditions.

CBS' arrow (redesigned—poorly—for this season) benefits from no such attention to detail, and the result is a garish blight that seems to hover distractingly above the playing field. You're supposed to augment reality, not bludgeon it.

Another fashionable trick is to create AR graphics that track camera movement, so they appear to be monstrosities that the demigods in the production truck have willed into being. The results are a reliable violation of good taste. For instance, last week I implored NBC to stop using the dead-peacock parade floats that it virtually trots out on the field during breaks in the action.

Then there was this example from ESPN last year, when they got a little too swoopy and their precious graphic hightailed it off the bottom of the screen. I savored this mishap, this thwarting of ESPN hubris, because I believe that our football reality can be augmented too much. Transforming the on-screen product into a glorified game of Madden subtly alienates the audience from players by making the athletes seem less human and more like avatars in a meathead version of Tron.

But perhaps that is the logical conclusion to the AR-in-sports trend: The players will disappear altogether. Each club will field a squadron of robots, and television magicians will virtually "wrap" the bots with high-def images of our favorite players. Watching at home, you'll see Green Bay Packers quarterback Aaron Rodgers complete a pass to receiver Randall Cobb, but they'll be mere fleshy images, dynamically superimposed over the steel-and-silicon bodies of RODGERS-BOT 5000 and COBB-3PO. Maybe the AR avatars will even be customizable by the home viewer, so if you wish, you could have your team appear on screen as 11 manifestations of pleasingly hirsute journeyman quarterback Charlie Whitehurst! Not that I would ever fantasize about such a thing.
The elimination of the human element will indulge the league's techno-fetishism and solve its brain-injury PR problem at once. And other nuisances will be eliminated as well. Because robots do not possess a social consciousness, there will be no bothersome national anthem protests. Nor will automatons threaten the proper order of things by wearing unacceptably fashionable cleats during a game. With the Integrity Of The Game hard-coded into every player, commissioner Roger Goodell will finally be able to sit back and enjoy the regimented, humanity-free league he has always envisioned—at least until he, too, is replaced by an augmentation and the Pokémon-ization of the game is complete.
Cincinnati Bengals vs. Pittsburgh Steelers — Sunday, 1 p.m. Eastern, CBS
The most enticing matchup of the week kicks off in the early slot on Sunday as Cincinnati travels to Pittsburgh. Well, to be precise, Cincinnati will stay where it is. But the city's football players will visit the Steelers in a rematch of January's Wild Card face-off, a contest that got so ugly that CBS announcer Jim Nantz characterized the on-field violence as a "disgrace." (He had never imagined that his gig as an NFL commentator would force him to witness men being mean to each other.)

Nantz's disdain wasn't misplaced—it was an exceptionally "chippy" game, "chippy" being the preferred euphemism for games in which players are chipping off pieces of each other's brains. And the league is prepared for further mayhem this weekend. Head of officiating Dean Blandino told ESPN that the officials will be exhibiting a "heightened awareness" for the game, presumably by doing mushrooms in the locker room before kickoff.
Given the emotion of their last encounter, you might expect that the Steelers and Bengals would be talking plenty of trash in advance of their reunion. Yet in reality, the prelude has been polite. That's partly because the Bengals' primary instigator in the Wild Card game, linebacker Vontaze Burfict, won't be in attendance for the encore—he's serving a suspension for being such an inveterate cheap-shot artist that even the NFL couldn't ignore it anymore.
Mostly, though, the pre-game cordiality is rooted in the peculiar mores of pro football culture, which hold that it may be undesirable to hurt your opponents on the field, but it's unacceptable to hurt their feelings off the field. You're supposed to show assiduous respect to your opponent, at least until you find him at the bottom of a loose-ball scrum, at which point you must gouge his testicles to weaken his grip on the precious pigskin.
Conflict-hungry fans had to endure a week of careful word-mincing from both teams. Asked whether the Bengals had become the Steelers' most heated rivals, Pittsburgh quarterback Ben Roethlisberger reached into his bag of bland and emerged with this:
Whether it's the Browns, the Bengals or the Ravens, to us they are all big division rivals.
Really, Ben—the Browns? Meanwhile, Bengals head coach Marvin Lewis deflected questions about lingering bad blood by observing that tautologies are, after all, tautologies:
"Last year is last year, and (Bengals players) are very aware of last year," Bengals coach Marvin Lewis said. "This football team is this football team, and we've got new challenges ahead of us, and this is the one that comes up this week."
The message discipline has been exhausting. So Block & Tackle salutes Pittsburgh running back DeAngelo Williams, the one player who spoke to the truth in the room:
"Everybody knows the professional hatred we have for the Cincinnati Bengals and the Bengals have with us," Williams said. "Everybody's heard the Twitter fight and things of that nature that we've had in the offseason. Guess what? This Sunday, that comes to a head, and the cameras will be watching. It will be our will versus their will, and we will see who breaks first."
"Professional hatred"! It's like garden-variety contempt, except you get a paycheck for it. The Block & Tackle prediction: Pittsburgh 24, Cincinnati 17.
"Senator, you are on television, please pretend to enjoy the game"
Kansas City Chiefs vs. Houston Texans — Sunday, 1 p.m., CBS

As I mentioned briefly in the column opener, the NFL disciplined a player this week for his excessively fashion-forward feet: Houston Texans running back DeAndre Hopkins was fined $6,000 for wearing a pair of Yeezy 350 cleats. Hopkins got the Yeezys as a gift from Adidas, just as you or I might likewise receive limited-edition sneakers in the mail as a friendly surprise.
The Yeezy kicks were designed by Kanye West, as you might have guessed, and Kanye's eye-catching yet sophisticated textile choice is what landed Hopkins in trouble. According to ESPN's Sarah Barshop, the variegated cream-and-black pattern on the Yeezy 350 model runs afoul of the NFL's uniform policy, which states that cleats must feature a "solid base color" unless the design has been pre-approved by the league. In essence, the NFL rulebook is a boring Project Runway challenge.

But there are unwritten exceptions to the rule, at least in the case of podiatric patriotism. New York Giants wide receivers Odell Beckham Jr. and Victor Cruz both paid tribute to the victims of 9/11 with custom-designed cleats on Sunday, as did the Titans' Avery Williamson. Reports have since emerged that the players will not be fined for their gesture. That non-punishment marks a rare instance of footwear leniency. The league is so strict about shoe violations that it even fined Pittsburgh cornerback William Gay last season after he wore purple cleats to raise awareness of domestic violence.

The task of suppressing players' First Amendment footwear rights has become such a nightmare for league executives that for the 2016 season, they programmed a release valve into the schedule. In Week 13, players will be permitted to don cleats that advertise a pre-approved cause of their choice, and somehow America will have to find a way to contend with all the free expression that will be barely visible on their television screens. DeAndre Hopkins might still be out of luck—it's unlikely that "looking badass" will make the NFL's list of approved causes, although it should. The Block & Tackle prediction: Kansas City 31, Houston 21.
HEY, DOES ANYBODY WANT THIS LEFTOVER CHEESEBURGER?
No, nobody wants it.

Jim Caldwell knows how to celebrate a big win
Awkwardly.

NFL Announcer Cliche Glossary: The tour guide moment
Every national football announcer has to do a couple of sponsor reads per game, in which they rattle off a few snippets of promo copy to salute the mega-corporations who make TV sports possible. Producers attempt to spruce up these segments by providing B-roll of local scenery or tourist attractions as a backdrop for the parade of logos. Some cities have standard hotspots that crop up again and again in the sponsor reads. Watch a Seahawks home game, for instance, and you are practically guaranteed to see footage of guys tossing fish at Pike Place Market while the baritone in the booth tells you about the redesigned Volkswagen Passat.
My favorite feature of this odd little sequence is the way announcers always wrap it up by turning into amateur tour guides for five seconds. "Downtown Indianapolis lit up at night," they might say to narrate some blimp footage. It's just a bit of patter that eases the transition between sponsor-pimping and game action, and like all things patter-related, NBC's Al Michaels is the master. He seemed to summon a real sense of civic pride as he informed Sunday Night Football viewers this week that Phoenix's Musical Instrument Museum has more than 16,000 instruments on display.

Later, Michaels did a passable impersonation of an architecture scholar as he told us about Frank Lloyd Wright's winter home, Taliesin West. In the Google reviews for Taliesin West, internet user Ryan Readio writes, "I would not recommend wasting money on this tour. … Your time would be equally well spent by just driving slowly past the exterior of the building." So it sounds like Al Michaels gave us the complete Taliesin West experience, free of charge.

It might seem that Michaels is just reading bullet points off a piece of paper—because he is—but there's still an art to it. On this week's Thursday Night Football, for instance, CBS' Jim Nantz bungled one of his tour guide moments by barreling into it too quickly at the end of his ad copy, such that it was hard to tell when the pitch for Wendy's chicken sandwiches ended and the bubble-hockey factory tour began. His hasty approach left Nantz with nothing to say as the B-roll lingered on screen a couple seconds too long, making for an awkward transition back to the game. Take a breath next time, Jim. Those plastic hockey men aren't going anywhere.

If Tampa Bay Buccaneers defensive tackle Clinton McDonald were a Girls character, which Girls character would he be?
Marnie.

Quick-Hit Picks
Here are Block & Tackle's "never wrong" final score predictions for the rest of the Week 2 slate. The predictions must not be doubted. They are truth. They are the only truth.
New York Jets vs. Buffalo Bills (last night, 8:25 p.m., CBS/NFL Network): New York 17, Buffalo 12.
San Francisco 49ers vs. Carolina Panthers (Sunday, 1 p.m., Fox): Carolina 28, San Francisco 13. If current trends hold, this might be the last sporting event played in the state of North Carolina.
Dallas Cowboys vs. Washington (Sunday, 1 p.m., Fox): Washington 16, Dallas 14.
New Orleans Saints vs. New York Giants (Sunday, 1 p.m., Fox): New York 20, New Orleans 19.
Miami Dolphins vs. New England Patriots (Sunday, 1 p.m., CBS): New England 24, Miami 2.718281828459. With stars galore—Suh! Tannehill! Others, presumably!—interest in the 2016 Miami Dolphins continues to compound.
Tennessee Titans vs. Detroit Lions (Sunday, 1 p.m., CBS): Detroit 5, Tennessee 2.

Baltimore Ravens vs. Cleveland Browns (Sunday, 1 p.m., CBS): Cleveland 12, Baltimore 9. More like the Cleveland Clowns, right? Then again, clowns are extra-terrifying right now. So I like these clowns' chances against the Baltimore Ravens—or should I say the Baltimore Cravens? No, I suppose I should not. Anyway, Crowns by 3.
Seattle Seahawks vs. Los Angeles Rams (Sunday, 4:05 p.m., Fox): Seattle 23, Los Angeles 7.
Tampa Bay Buccaneers vs. Arizona Cardinals (Sunday, 4:05 p.m., Fox): Arizona 26, Tampa Bay 24. Nike's augmented-reality uniforms make Tampa Bay players' body odor visible to the naked eye.

Jacksonville Jaguars vs. San Diego Chargers (Sunday, 4:25 p.m., CBS): Jacksonville 28, San Diego 22. Since the beginning of the 2010 season, the Chargers are 7-6 against teams named after cats and 5-5 against teams named after birds.
Atlanta Falcons vs. Oakland Raiders (Sunday, 4:25 p.m., CBS): Oakland 27, Atlanta 21.
Indianapolis Colts vs. Denver Broncos (Sunday, 4:25 p.m., CBS): Denver 31, Indianapolis 23.
Green Bay Packers vs. Minnesota Vikings (Sunday, 8:30 p.m., NBC): Green Bay 21, Minnesota 17. Yup, Green Bay Packers punter Jake Schum is still punting shirtless. Check back next week.

Philadelphia Eagles vs. Chicago Bears (Monday, 8:30 p.m., ESPN): Chicago Flesh 22, Philadelphia Spirit 21.

Register Of Truth
Block & Tackle prediction record for 2016 season: 16-0
Untruthful games last week: 5
Untruthful games overall in 2016: 5
Block & Tackle Week 2 Picks: Pocket Edition
Block & Tackle emoji system key

Block & Tackle emoji system FAQ