Here's what's up in the world of TV for Sunday, June 9. All times are Eastern.
TOP PICK
Game Of Thrones (HBO, 9 p.m.): Because it hasn't had its fill of toying with your emotions, torturing them in increasingly horrifying ways that could be completely ignored last week because HOLY SHIT, DID THAT JUST HAPPEN?, Game Of Thrones sticks its final knife in your gut by going on hiatus after tonight. Sure, it'll be back next spring, but c'mon, show—you've done enough to us already. Go in the corner, stretch yourself out on the rack, and think about what you did, while Todd VanDerWerff and David Sims write lovingly of how much they'll miss you come next Sunday.
---
REGULAR COVERAGE
The Killing (AMC, 9 p.m.): So The Killing really took all of those Twin Peaks parallels to heart last year, delivering a second season that completely collapsed on itself and alienated even its most ardent defenders. But Phil Dyess-Nugent loved what he saw from the show last week, and the only compensation he'll accept from not being able to see a full season of a possessed Kyle MacLachlan is a full-on Killing comeback.
Falling Skies (TNT, 9 p.m.): It's been a rough week for Les Chappell: That Revolution finale, The Borgias cancellation. Hey Noah Wyle: Can you do a guy a favor and score a righteous, American Revolution-echoing, anti-extraterrestrial victory for mankind tonight?
Mad Men (AMC, 10 p.m.): Todd VanDerWerff's in Texas tonight—or maybe he's dead? Or he's Sharon Tate—and we've been so bowled over by Brandon Nowalk's winning attitude, sharp wardrobe, and ever-present second cup of coffee that we thought we'd give the kid a shot. Fingers crossed he doesn't turn out to be a G-man, a Commie, time-traveling Bobby Draper—or some insane combination of the three.
G/O Media may get a commission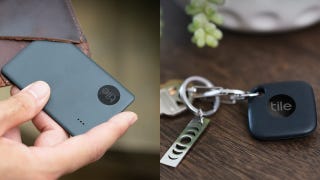 Up to 35% off
Tile Item Trackers
Veep (HBO, 10:10 p.m.): Selina is ambushed by "gotcha" questions during a big interview—though in Robert David Sullivan's book, it's not "gotcha" journalism without the Gotcha Dancers.
The Borgias (Showtime, 10 p.m.): Your chances to catch sexy pope action are dwindling—as are Les Chappell's personal reserves of whiskey, because he's taking this cancellation stuff seriously hard.
Family Tree (HBO, 10:30 p.m.): Ed Begley Jr. represents for the Christopher Guest regulars back in the colonies, as the show reaches its hands across the water (water) and hints at a future trip for Tom across the sky (sky). Erik Adams' thoughts on tonight's episode will be published as soon as he gets "Uncle Albert/Admiral Halsey" out of his head. (Fair warning: This could take a while.)
The Venture Bros. (Adult Swim, midnight): The Ventures don't have the greatest track record when it comes to Latin American excursions—if everyone makes it out of this week's episode with both kidneys intact, Zack Handlen will count it as a win.
---
TV CLUB CLASSIC
Farscape (11 a.m.): This Sunday morning, why not try something different and attend a sacred Luxan ceremony with Alasdair Wilkins. No pressure to participate or anything—just come with an open mind and pretend like you'll take a long, hard look at their pamphlets when you get home.
Saturday Night Live (Classic) (1 p.m.): The full-on Bee backlash (no, we didn't stutter) begins in an episode that's largely devoid of the Not Ready For Prime Time Players—though Phil Dyess-Nugent appreciates the appearance by those two, weird-looking Muppets that appear on the cover of Simon And Garfunkel's Greatest Hits.
The Simpsons (Classic) (3 p.m.): Nearly 20 years after the debut of "Lisa's Rival," Kyle Ryan still refers to Borgias star Jeremy Irons as "Jerermys Iron." Both because that's a classic gag and because, like Lisa, he's terrible at anagram games.
---
WHAT ELSE IS ON?
Jimmy Kimmel Live: Game Night (ABC, 7 p.m.): Kimmel's primetime invasion flew under our radar at the start of the NBA Finals, but this second edition of the pre-game chatfest should be worthier of a tune-in, if only because there are now so many jokes to be made about Miami dropping game one.
The 67th Annual Tony Awards (CBS, 8 p.m.): The Year Neil Patrick  Harris Hosts Everything begins in earnest with his standing gig as the emcee for Broadway's biggest night/the only time TV acknowledges the legitimate thee-ay-ter now that Smash has been canceled.
Insane Coaster Wars (Travel, 8:30 p.m.): And lo, summer did dawn upon the lands blighted by mighty winds and harrowing tropical tempests, and the people did know it was summer for the insane coasters rekindled the wars that raged between them, providing momentary relief to their riders when they weren't gnashing metal to metal, loop to loop to prove which coaster was the most insane.
Last Call Food Brawl (Destination America, 10 p.m.): Finally, a cooking competition that dispenses with concessions to presentation and innovation and simply asks "Which of these foods goes down best when you're three sheets to the wind and sprawled out on a couch trying to get goddamn Netflix to load an episode of Venture Bros. already?"
The Fast And The Furious: Tokyo Drift (ION, 7:30 p.m.): The resurgence of the Fast And Furious franchise puts this tangentially related cash grab in a curious position: It could've spelled the end of the franchise, and now it's literally the end of the franchise due to developments in subsequent installments. Which makes about as much sense as anything that happens in a Fast And Furious movie, so that's fitting.
The Candidate (Sundance, 8 p.m.): Sure, an early June Sunday of a non-election year is a strange time to run this campaign-trail satire—but who are we to argue with Candidate star and Sundance founder Robert Redford. (Not Robert Redford, that's for sure.)
MLB Baseball: Cardinals at Red (ESPN, 8 p.m.): The Redbirds and the Red Legs meet in a matchup of National League Central powerhouses that's sure to tear apart the first seventh of the visible spectrum.
---
IN CASE YOU MISSED IT
Sam And Cat: After finding itself down one iCarly and one Victorious, Nickelodeon splits the difference by synthesizing a new show out of the sidekicks from its recently departed hits. But don't think that move is going to fool Marah Eakin into tolerating your further employment of Ariana Grande, network.