Here's what's up in the world of TV for Thursday, October 4. All times are Eastern.
TOP PICK
30 Rock (NBC, 8 p.m.): Big ratings for The Voice and Revolution—and relative optimism about the prospects of Go On and The New Normal, at least when compared to Animal Practice and Guys With Kids—upgraded NBC to the 1-900-OKFACE of broadcast networks in recent weeks. So what are the final 13 episodes of 30 Rock to do without their prime satirical source? Pretend like The Peacock's schedule is still a total nightmare, and pin it all on Jack. Pilot Viruet can't wait to see how bad the most recent seasons of MILF Island and America's Kidz Got Singing are.
---
REGULAR COVERAGE
Last Resort (ABC, 8 p.m.): Well, that didn't take long: Tonight, Andre Braugher and his island-commandeering crew face down a fleet of warships. Scott Von Doviak's first order of business is to ensure the safety of the tiki bar.
G/O Media may get a commission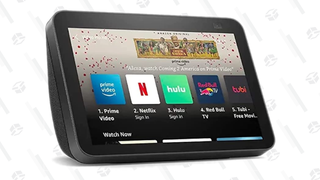 The Big Bang Theory (CBS, 8 p.m.): Fortune may be smiling upon those who had episode two in this season's "When will Leonard and Penny break up?" pool. Oliver Sava, who picked a midseason episode, will try not to let that disappointment influence his review.
The X Factor (Fox, 8 p.m.): Boot Camp begins, and Carrie Raisler is whipped into shape with a combination of vocal warm-ups, verbal abuse from Simon, and a sprinkling of hobby-store glitter that Britney is convinced is magical fairy dust.
Up All Night (NBC, 8:30 p.m.): Reagan and Chris face down every formerly cool couple's nightmare—the question "Are we boring?"—despite their boringness being one of the bedrocks of Up All Night's humor. This retooling is really doing a number on Margaret Eby's head.
Person Of Interest (CBS, 9 p.m.): The digital game of Where's Waldo? involving Finch's disappearance continues. Phil Dyess-Nugent thought he found him, but it was just a decoy Michael Emerson wearing different glasses and the wrong kind of striped shirt.
Glee (Fox, 9 p.m.): What are the chances that this episode hinging on long-distance relationships features Finn and Blaine directing a duet of The Replacements' "Answering Machine" at Rachel and Kurt? Slim to none? Brandon Nowalk tries to breathe some life into a letter.
Project Runway (Lifetime, 9 p.m.): Zoe Saldana appears as a guest judge—though not to find a new Starfleet look for Star Trek Into Darkness, sadly. Too bad, because John Teti has some radical new ideas for placement of communicators.
The Office (NBC, 9 p.m.): After Armageddon, when all that's left is cockroaches and reruns of The Office, the survivors will be able to date the episodes by Dwight's evolving nerd-culture tastes. Erik Adams' ancestors will see the Game Of Thrones-inspired storyline in "Andy's Ancestry" and manage to pinpoint the episode's origin to some point after the Fall of the Must-See Empire.
Parks And Recreation (NBC, 9:30 p.m.): Lucy Lawless saunters into Ron Swanson's life, and Ron forgets all about the Tammys, the stock-photo breakfast lady, Tom's ex-wife, and Andy's community college instructor. Steve Heisler has Ron's Tiger Woods outfit all laid out for him.
Scandal (ABC, 10 p.m.): The world of Scandal is rocked when, get this, "an act of infidelity gets a public figure in trouble." Ryan McGee will give you a few minutes to sweep up the pieces of the wine glass you just dropped after reading that plot synopsis.
Elementary (CBS, 10 p.m.): If the title of "While You Were Sleeping" is any indication, Elementary's Sherlock Holmes differs from past depictions in his fascination with the filmography of director Jon Turteltaub. Myles McNutt predicts the solution to the case of the week is hidden somewhere within the first National Treasure.
Childrens Hospital (Cartoon Network, midnight): Sy is the target of an assassination attempt tied to his time in the espionage game—which, to David Sims, counts as one of the least ludicrous Childrens Hospital plots this season.
NTSF: SD: SUV:: (Cartoon Network, 12:15 a.m.): If Rob Huebel crosses the Childrens Hospital/NTSF divide to play Piper's ninja ex-husband, is that character played by the same fake actor as Dr. Owen Maestro? Kevin McFarland would really appreciate the clarification.
---
TV CLUB CLASSIC
Star Trek: Deep Space Nine (11 a.m.): Zack Handlen's old Star Trek: The Next Generation nemesis, Lwaxana Troi, takes a trip to DS9. And he thought last week would be the low point of season three.
---
WHAT ELSE IS ON?
Forecast: Disaster (National Geographic Channel, 9 p.m.): Rapid TV metabolism, part one: This NatGeo series on natural disasters premières tonight, before airing its season finale tomorrow night.
Nor'eastermen (History, 9 p.m.): Rapid TV metabolism, part two: The first season of this "Dangerous Catch in the North Atlantic" docuseries, meanwhile, debuts and concludes its first season in the space of a single night. Now that it no longer has Netflix as a dumping ground for its shows, A+E Networks needs to crank this shit out.
Jersey Shore (MTV, 10 p.m.): GTLSOTMC: "Gym, tan, laundry, shuffle off this mortal coil" with Snooki and the gang as the première of Jersey Shore's final season brings us all one day closer to forgetting what a "DJ Pauly D" is.
Star Trek VI: The Undiscovered Country (Syfy, 6:30 p.m.): The full crew of the original Enterprise makes its final cinematic voyage, bringing an end to the Cold War in space as the Klingons make peace with the Federation.
Valkyrie (The Movie Channel, 8 p.m.): In the battle of the century, Tom Cruise takes on Adolf Hitler—give or take a few layers of Cruise reinforcements and SS protection around Hitler. Still: All-American movie star takes on History's Greatest Monster. It's the type of setup that'll bring a star-spangled tear to your eye.
College Football: Southern California at Utah (ESPN, 9 p.m.): USC is the highest-ranked one-loss squad in both the AP and coaches' polls, but defeat at the hands of the 2-2 Utes would change that—and even both teams' position within the Pac 12 standings.
---
IN CASE YOU MISSED IT
South Park: The show's swift production schedule enables it to parody Here Comes Honey Boo Boo in the second episode of its latest season. Marcus Gilmer came, conquered, and done what needed to be done.