Since last week we covered Mississippi Fred McDowell, we might as well stick with the same nickname this week and showcase the nimble-fingered, sweetly likeable Mississippi John Hurt.


Hurt wasn't really exclusively a bluesman, drawing his main inspiration instead from the 19th-century roots music that came before the blues and country music evolved, and also played in a three-fingered style that was unlike other Delta musicians of his era. A lot of his uniqueness was a factor of geography—his hometown of Avalon, Mississippi was relatively isolated, and Hurt wasn't exposed to the influence of other musicians until long after he'd taught himself how to play at age nine, simply stating that "I taught myself to play the guitar the way I thought the guitar should sound."

Hurt's career followed an arc that should be pretty familiar by now to anyone who's been reading this feature: He recorded 20 songs in 1928 which became historical obscurities when the Great Depression knocked out the recording industry, and Hurt went back to live quietly on his farm in Avalon. Later, those early recordings became prized collector's items during the 1960s. His rediscovery was by no means inevitable, however, because nobody knew where he came from—eventually, a guy named Tom Hoskins realized that there was a clue embedded in the lyric "Avalon's my hometown, always on my mind" and after being unable to find it on a current map, finally found it in an atlas from 1878. (Did I say "relatively" isolated?) Here's a photo of his house in Avalon as it now appears:


For a short time, Hurt was enormously successful, even appearing on the Johnny Carson show, and was arguably the most prominent blues singer of the 1960s revival. By that time, though, he was 70, and only enjoyed three years in the limelight before his death.


G/O Media may get a commission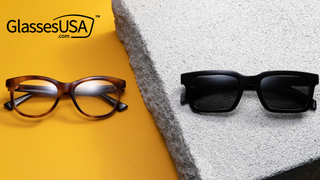 60% off frames
GlassesUSA.com Back to School Sales
There's not all that much video of Hurt online that I've been able to find. Most of it is from an episode of Pete Seeger's early-1960s show Rainbow Quest. Here, he plays "Spike Driver Blues" (one of two to appear on Harry Smith's deeply influential Anthology Of American Folk Music), after some gentle arm-twisting by Seeger:




I don't think it's a slur against him to suggest that Hurt's popularity wasn't only due to his talent, which was obviously considerable, but also his charmingly low-key personality—friendly, grandfatherly and somewhat shy, Hurt was liked by everyone who met him, and was a marked contrast to other musicians who were volatile, chronic alcoholics, and even convicted murderers. His guitarwork had the same gentle breeziness, though of course the subject matter wasn't all sweetness and light: His most popular song, "Frankie" (the other of his Anthology Of American Folk Music tunes), was about a jealous lover who killed her philandering boyfriend, and he also covered the definitive murder balled, "Stack O Lee." (You can download both of them at the Internet Archive.)

Here he covers Lead Belly's "Goodnight Irene," and tells the story of how he got his first guitar:




For most of his life, Mississippi John didn't leave the borders of his home state, so it's not surprising to learn that the nickname was bestowed upon him by his record label, Okeh, to boost sales. One advantage for future historians, of course, is that it's far less likely that anyone will confuse Mississippi John Hurt with the guy who had his chest ripped open by a killer parasite fetus in Alien; such things were uncommon in pre-WWII Mississippi.

Here's the final Rainbow Quest clip, "You Got To Walk That Lonesome Valley":




The only other performance footage I've run across is this version of "Candy Man Blues" at the 1966 Newport Folk Festival, which cuts abruptly into Bob Dylan playing the organ, and then to a disapproving old woman. It's like an outtake from Monty Python's Flying Circus, except the organist isn't nude.




(Photos of Hurt taken from the Mississippi John Hurt Blues Foundation's website.)

Previously:

#14: Mississippi Fred McDowell

#13: Mance Lipscomb

#12: John Lee Hooker

#11: Big Mama Thornton

#10: Lead Belly

#9: Lightnin' Hopkins

#8: Son House

#7: Furry Lewis

#6: Bessie Smith (and Bo Diddley)

#5: Sonny Terry & Brownie McGhee

#4: Howlin' Wolf

#3: Bukka White

#2: Skip James

#1: Sister Rosetta