Last week, Fox released its first look at Donal Logue as Gotham's Harvey Bullock, the character of his roguish, rumpled detective and his aversion to playing by the rules firmly established through his taste for leather and his absolute refusal to look at the camera. Now the series has offered up cast photos from several of the other major players who aren't Batman, in the TV series that isn't about Batman. Let's take the time to meet them, since we literally have years to kill until Batman finally gets here.
First up is Sean Pertwee as Alfred Pennyworth, often depicted in both comics and movies as a quick-witted, if physically feeble old man (except for the brief period where he dressed up as The Eagle that we won't talk about). But much as Gotham's Bruce Wayne is but a boy here, its Alfred is still a virile man—a "tough-as-nails ex-Marine" whose watch fob is surely a garrote wire, and whose overcoat is probably stuffed with grenades. It's unclear as yet how this butler buttles while always holding a machine gun behind his back.
Robin Lord Taylor's young Oswald Cobblepot is not yet The Penguin, but already you can see that he has a taste for bow ties—of the villain's most important characteristics, easily the eighth or ninth. To his credit, this photo also emphasizes Taylor's natural birdlike countenance, what with his slightly beaked nose, that nest of hair, and the herring he's clearly sucking on.

G/O Media may get a commission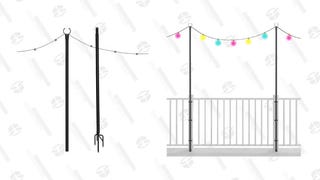 Up To 49% Off
Holiday Styling String Light Poles
Here's newcomer Camren Bicondova as an even younger Selina Kyle, the girl who will be a Catwoman soon. In the meantime, she's just a tough, streetwise, teenage orphan who steals to live and to shop at Hot Topic. However, note the nods to her future in her crouched stance, the choker collar, and those buildings creating "ears" behind her. Note also that she's wearing fingerless leather gloves, like all cool cats. Like Judd Nelson in The Breakfast Club. 

Finally, here's Ben McKenzie wearing a tie. "We won't see Jim Gordon don his mustache until the series finale," the producers will probably say.