Challenging rock 'n' roll's stranglehold on the music nostalgia market, hip-hop is finally getting its due. Just in time for the release of Straight Outta Compton—the N.W.A biopic he co-produced with Dr. Dre as well as Eazy-E's widow Tomica Woods-Wright—Ice Cube will be reuniting with his former N.W.A. cohorts MC Ren and DJ Yella for the "BET Experience at L.A. Live, Presented by Coca-Cola" at the Staples Center later this month. Cube hasn't performed with Yella since 1989, or Ren since 2000.
With the kind of humility you'd expect from a kid playing the biggest small club in his town, Ice Cube says that he's "really grateful that BET is still around and doing events of this magnitude, but for it to be in my hometown, L.A., and for me to perform at the Staples Center, it's a real cool notch on my belt." As for what tunes the guys will perform at the show, Cube remains sly. "I want to keep that a secret and just bring back memories, keep it rockin'. You know, old school hip-hop at its finest."
In the same Rolling Stone interview where he discusses the reunion, the now family-film go-to guy addresses his upward movement in the entertainment industry, the possibility of making new music for the Straight Outta Compton soundtrack, and whether "Fuck Tha Police" means more in today's political landscape than it did back in 1989. Here's what he had to say about the latter:
You know, actually, it don't. That song is still in the same place before it was made. It's our legacy here in America with the police department and any kind of authority figures that have to deal with us on a day-to-day basis. There's usually abuse and violence connected to that interaction, so when "Fuck Tha Police" was made in 1989, it was 400 years in the making. And it's still just as relevant as it was before it was made.
Ice Cube remains quiet as to whether or not Dr. Dre will make an appearance at the event. "You never know," he says. "I hope he blesses us with his presence. But if not, I've been rockin' for a long time without anybody. So whoever shows up, I'm still gonna rock. Whoever don't show up, we still gonna rock."
The "BET Experience at L.A. Live, Presented by Coca-Cola" will take place at L.A.'s Staples Center from June 25th to June 28th.
G/O Media may get a commission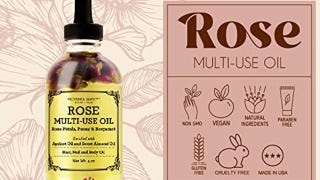 Provence Beauty Rose Multi-Use Oil