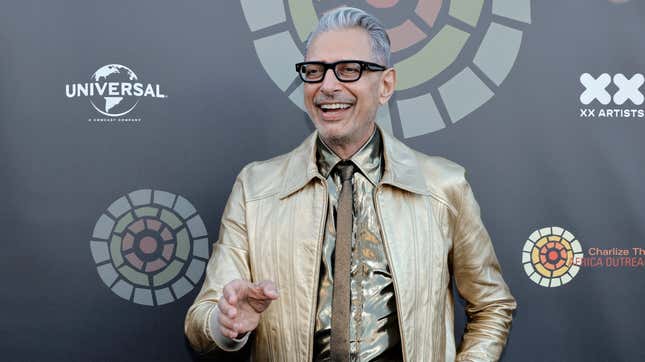 Silly little guy Jeff Goldblum has shared a few personal details in relation to his work on the forthcoming adaptation of Wicked, which remains a tight-lipped production.
"Andor" star Adria Arjona on Bix Caleen's Journey
"I was just on the set of Wicked. I'm not supposed to talk about that. But it's been out and about," Goldblum tells Jimmy Kimmel.
Goldblum joined the project as the Wizard himself, alongside cast members Cynthia Erivo, Ariana Grande, Michelle Yeoh, Jonathan Bailey, and SNL's Bowen Yang. In preparation for the film, Goldblum says he sat down and watched the original Victor Fleming movie from 1939 with his kids.
"We showed them The Wizard of Oz, one of my favorite movies. It was too scary for them," Goldblum shares.
The Wizard Of Oz was probably too frightening for the new Wiz at one point as well. Taking on the role required Goldblum to come face-to-face with his deeply-embedded fear of witches once more. The actor has long-feared witches due to a childhood nightmare.
"I'll tell ya. I shouldn't talk about it, but I was shooting one day and I found myself tearing up in fear, a childhood fear came back to me," Goldblum says.
Despite any phobia-fueled trepidations, Goldblum praises Erivo and Grande's work on the feature.
"You should see our witches—Cynthia Erivo and Ariana Grande—very good," he brags.
For the movie musical, we can expect to see Goldblum show off his singing skills. Don't worry, starring opposite the likes of esteemed vocalists Erivo and Grande does not make him nervous at all—he's Jeff Goldblum!
"Cynthia is so fantastic, and Ariana. I just spent a lot of time singing with them. I wasn't shy," he shares in an interview with Evening Standard, published yesterday. "I've already [sung with them] for fun, we were at a party, I played and they were singing. They love music and we identified different songs [we could play]. If that could go further, it would be a dream come true."
The jazz buff is currently promoting his new EP with the Mildred Snitzer Orchestra, Plays Well With Others. The first part of Jon M. Chu's Wicked is set to arrive in theaters on November 27, 2024.