Top Pick
Kyle Kinane: I Liked His Old Stuff Better (Comedy Central, 11:59 p.m., Friday): The A.V. Club gave Kinane's last standup special, Whiskey Icarus, a big, fat 'A,' so we're all excited to disagree with the title of his new one, premiering right before midnight on Friday. Our own Vikram Murthi will let us know if our confidence is founded, and points to Kinane's tenure as the voice of Comedy Central as proof of his performing chops. Seriously, no one could be as excited about new episodes of Brickleberry as Kinane always made it sound.
Also Noted
Constantine (NBC, 8 p.m., Friday): John is faced with a race against the clock when all of Brooklyn suddenly falls asleep—possibly while watching Constantine. Brandon Nowalk thinks that's a pretty funny burn, although he remains steadfast in saying that this supernatural show has been better of late.
Glee (Fox, 9 p.m., Friday): Jane Lynch's Sue hypnotizes Sam to get him to seduce Rachel? Wait, is this Constantine? Brandon Nowalk's on hand, continuing to tap his feet at the songs—and his pencil in frustration. From last week's review: "It's just formless, a bunch of blobs of different shapes and speeds and tones crammed together…" Enjoy!
G/O Media may get a commission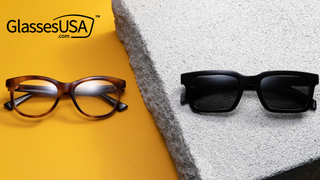 60% off frames
GlassesUSA.com Back to School Sales
12 Monkeys (Syfy, 9 p.m., Friday): Cole ends up in a mental institution while searching for the fabled Army Of The 12 Monkeys and finds someone who is not Brad Pitt in this adaptation of the Terry Gilliam sci-fi film about a coming extinction-level super-plague. Emily L. Stephens follows along to see how things are shaping up in the second episode—but at the first sign of the sniffles, she's out of there.
Banshee (Cinemax, 10 p.m., Friday): Speaking of last week's episode, Les Chappell said, "It's a testament to the energy and spectacle delivered by Banshee that an episode like "Snakes And Whatnot" can have a botched kidnapping /knife-fight, a shootout between rival drug dealers, and a brawl at a Native American reservation bar, and still classify as a quieter installment of the series." Well, here's hoping things pick up this week, when an FBI agent (who may, shockingly, not be on the up-and-up) arrests Lucas and threatens to reveal his big secret.
Comedy Bang! Bang! (IFC, 11 p.m., Friday): Reggie's caught in the middle when rapper Schoolboy Q and singer Aaron Neville visit the show. David Kallison thinks they should all stop the fussin' and the fightin' and just make weird, beautiful music together.
Saturday Night Live (NBC, 11:30 p.m., Saturday): Hold onto your—cowboy hats, we suppose—when SNL turns over the show to both the musical and comedy stylings of country singer Blake Shelton! Dennis Perkins is absolutely certain this is a good idea. Like, 90, 85 per cent certain.
Elsewhere in TV Club
In this week's AVQ&A, the gang teams up to list what works they think would actually benefit from a sequel or remake—with lots of juicy TV suggestions. Then Molly Eichel gets you all hyped up and flag-happy with her TV Review of the over-the-top Revolutionary fun of History's new miniseries Sons Of Liberty. Then check out Marah Eakin's 11 Questions with Nate Corddry, who's been interesting and funny in things from 30 Rock to Studio 60 (no mean feat, that).
What else is on?
Iliza Shlesinger: Freezing Hot (Netflix, Friday): The new standup special from comedian Shlesinger, who describes her comedy style as "honest and aggressive." Kyle Fowle likes the sound of that—but we'll have to wait for his review to see if that translates to hilarity.
UFC On Fox 14 (Fox, 8 p.m., Friday): There have been some disturbing portents about this fight night. Could be trouble:
Get More: Comedy Central,Funny Videos,Funny TV Shows
King Of The Nerds (TBS, 9 p.m., Friday): Once and future nerds Robert Carradine and Curtis Armstrong return for the third season premiere of their reality show that seeks to keep the nerd brand alive.
American Masters—Ricky Jay: Deceptive Practice (PBS, 9 p.m., Friday): Magician, character actor, and raconteur Jay recounts his fascinating life and career as a sleight-of-hand man and magic historian in the season premiere of American Masters.
Black Sails (Starz, 9 p.m., Saturday): Toby Stephens is back, sailing the high seas on this Starz pirate series that's not Crossbones and that no one seemed to notice. Still, the second season premiere is tonight, so here's to that pirate work-ethic!
Grimm (NBC, 9 p.m., Friday): Nick gathers the whole team to save Monroe, who's apparently being forced to play horsey by those nasty Wesenrein (if the promo pictures are any indication). Also, Juliette's a Hexenbiest now, which has gotta take some getting used to.
Helix (Syfy, 10 p.m., Friday): In his pre-air review of the second season of this often-bananas Syfy sci-fi series, Alex McCown called Helix "the stoned college sophomore of TV sci-fi." Which may mean that this episode, where the CDC team explores a mysterious island and encounters a sinister cult, probably consists of Billy Campbell asking everyone if they're sure the color blue is the same for them as it is for him.
With This Ring (Lifetime, 8 p.m., Saturday): In this Lifetime original, a trio of women (Jill Scott, Eve, Regina Hall) make a pact to marry some lucky guys within a year of their friend's wedding. Pact-based relationships are always a good idea—in Lifetime land!
Love By The Book (Hallmark, 9 p.m., Saturday): A bookstore owner obsessed with fairytales pursues love in a plan that can only work out well—in Hallmark land!
The Musketeers (BBC America, 9 p.m., Saturday): King Louis and d'Artagnan's attempt at a boys' night out goes awry when their commoner disguise is so good, they get kidnapped and sold into slavery.
Wanda Sykes Presents Herlarious (Own, 10 p.m., Saturday): The season premiere of Sykes' standup/sketch comedy series sees her welcoming Brooke Shields, for some reason.
Transporter: The Series (TNT, 10 p.m., Saturday): Frank is framed for the disappearance of an abusive millionaire's wife, presumably by transporting her somewhere.
In case you missed it
Top Chef: If there's anyone who can make even the reality show-averse read a review, it's Libby Hill:
Obviously things change as you get older. Following the directions isn't enough anymore, you also have to execute your tasks with basic competence and something akin to flair. In a perfect world, every task is accomplished correctly, yes, but also with the insight and creativity that only you can bring to it.
Damn, Libby.