So far, reverse psychology has been an effective marketing tool for Lemony Snicket, the dour kid-lit alter ego of writer Daniel Handler. Snicket, the author/narrator/bit player in the bestselling Series Of Unfortunate Events novels, periodically told readers in promotional materials, merchandising copy, and each of the books themselves that the material he was relating was grim and depressing, and they'd be better off abandoning it. Handler as Snicket sighed and complained his way through a disapproving commentary track on the Series Of Unfortunate Events movie adaptation. And the movie itself starts with an animated sequence involving a happy dancing elf, then apologizes to audiences for not going on to show that movie, and suggests that seating is still available in the next theater over, and they should just leave.
So in keeping with the "stop reading this, you'll hate it" theme, a press release stamped "draft not for release" announcing Snicket's new series just went out "accidentally," with a scolding preface from the author/character:
I can appreciate Little, Brown's position in wanting to promote my work, but I've looked over the attached documents and none of this information can be released… These books are questionable and contain questions. I, for one, question why anyone would be interested in reading them. I would appreciate it if you didn't contact me again. I'll be in my office until 4.
Buried under the denials (which continued with a follow-up email from Little, Brown apologizing for the leak and for Snicket's inability to understand that the "blind CC" function in email wouldn't actually blind people to his work) are the details of the new four-book series:
ALL THE WRONG QUESTIONS is Lemony Snicket's first authorized autobiographical account of his childhood and will be told in four volumes featuring illustrations throughout by critically acclaimed artist Seth. "Who Could That Be at This Hour?", the first volume in the series, launches nationwide in e-book, audio, and print formats on October 23, 2012, with an announced first printing of one million copies.
Drawing on events that took place during a period of his youth spent in a fading town, far from anyone he knew or trusted, Snicket chronicles his experiences as an apprentice in an organization nobody knows about. While there, he began to ask a series of questions—wrong questions that should not have been on his mind. "Who Could That Be at This Hour?" is Snicket's account of the first wrong question.
G/O Media may get a commission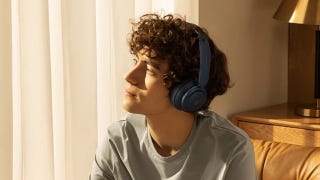 30% off
Soundcore Headphones and Earbuds
While this is exciting news for Snicket fans, most people won't be able to hear their cheering over the sound of all the irony dripping off these press releases and landing with a leaden series of melodramatic plops. Though the odd thing about all the seeming irony in Snicket's work is that it's actually authentic: Handler said in a 2005 A.V. Club interview that all the "ignore this, it's terrible" messages on his books started out as "an honest assessment of their marketability" from a relatively new author who'd never written for children, didn't want to, and didn't understand why they'd go for a macabre gothic series full of word humor. Now that the series has sold 60 million copies in 39 languages, he could presumably switch over to a "buy this now like everyone else has" message, but they say "If it ain't broke, don't fix it." Presumably that goes for breaking character as well.