[Warning: This article includes descriptions of sexual misconduct that may be disturbing to some readers.]
In December 2017, Cesar Sanchez-Guzman filed a lawsuit against Bryan Singer, alleging that the X-Men: Apocalypse director raped him during a yacht party in 2003. Sanchez-Guzman, who was only 17 at the time of the alleged sexual assault, said in his complaint that Singer later threatened him, telling the young actor that "if he ever reported the incident... [Singer] could hire people who are capable of ruining someone's reputation." This was just three years after Michael Egan filed a similar suit, accusing Singer of "drugging, manipulating, and forcibly sodomizing" him. Egan's suit also contended that there was "a group of adult males similarly positioned in the entertainment industry that maintained and exploited boys in a sordid sex ring." For his part, Singer has denied both men's claims.
But Sanchez-Guzman's allegations did prompt the director to ask USC to remove his name from its film school—a token gesture, since USC film students had already started a petition to scrub Singer's name from their school. As Ira Madison III wrote for The Daily Beast last year, along with Harvey Weinstein, Singer has been one of Hollywood's open secrets, having reportedly displayed predatory behavior for decades. But even in the face of growing support for #MeToo and Time's Up, the Usual Suspects director told TMZ he was pretty confident that he and Kevin Spacey—who admitted to sexually assaulting Anthony Rapp when the Star Trek: Discovery actor was only 14—would be able to get back to work. And guess fucking what? Singer was half right.
According to The Hollywood Reporter, Millennium has tapped Singer to direct its bastard-sword-and-sandals epic, Red Sonja. Avi Lerner and Joe Gatta are producing along with Mark Canton and Courtney Solomon of Cinelou. None of these people has been under a rock for the last, oh, 15 years, so they were all also aware of the fact that Singer was fired from Queen biopic Bohemian Rhapsody for being an unprofessional tool. Stars Rami Malek and Tom Hollander complained about Singer, who repeatedly failed to show up to set, leaving cinematographer Thomas Newton Sigel to pick up the slack. It seems that, despite wanting to "start a franchise and capture the audience that turned out for Warner Bros.' Wonder Woman," Millennium isn't even considering notable action directors like Patty Jenkins, Lexi Alexander, or Karyn Kusama—or Game Of Thrones' Michelle Maclaren, who needs to direct a feature already—for a movie about a badass female fighter who's been written by comics luminaries like Gail Simone and Amy Chu. We know what you're thinking, these women all have something else in common: they've never been accused (repeatedly) of (multiple) sexual assault(s).
The fact that Singer was dropped by his agency last year isn't preventing him from negotiating a big payday—Millennium's willing to pay "top dollar" for Singer's services, sporadic though they may be.
G/O Media may get a commission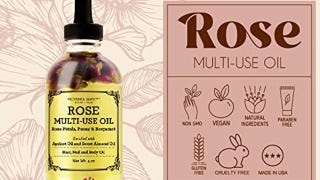 Provence Beauty Rose Multi-Use Oil