A Simple Favor is a film that revels in light, feminine things: mommy blogs, designer clothes, '60s French yé-yé pop, post-playdate gin martinis with a twist—and, of course, murder. It's no secret that the audience for true-crime stories, and murder mysteries in general, is largely female, and the new film from Paul Feig—a director often lauded for his (apparently shocking) preference for working with women—satirizes this all-American obsession with an edge as sharp as the chef's knife PR maven and self-proclaimed "bad mom" Emily (Blake Lively) uses to cut slices of lemon peel for her afternoon cocktails.

The film is told from the perspective of Emily's "best friend" of only a few weeks, Stephanie (Anna Kendrick), a prudish, tightly wound single mom whose extreme type-A tendencies and chirpy how-to vlogs have made her a pariah at her son's school. Aloof, foul-mouthed Emily doesn't get along with the PTA pack either—played here by the catty Greek chorus of Andrew Rannells, Aparna Nancherla, and Kelly McCormack—and so she invites Stephanie over to her sleek, ultra-modern home for a drink. At first it seems we're in for an odd-couple comedy about these two very different women learning to understand each other. Emily finds sadistic amusement in poking at Stephanie's many insecurities—and enjoys the free babysitting she gamely provides for Emily's son, Nicky (Ian Ho). And Stephanie? She's just grateful that someone over the age of 7 wants to spend time with her, obvious ulterior motives or no.
Then Emily disappears, which worries Stephanie and seemingly no one else. Then a rental car Emily paid for in cash the day she disappeared is found in a lake hundreds of miles from their posh Connecticut suburb. Then a body with Emily's DNA is fished out of that same lake. Ever helpful, Stephanie offers to relieve Emily's hunky novelist husband, Sean (Crazy Rich Asians' Henry Golding), of his cooking and parenting duties in his time of grief. Soon, she and her son, Miles (Joshua Satine), have moved in with Sean and Nicky, and Stephanie has the man, the house, and the walk-in closet that she's been dreaming of. And to think, all it took was the mysterious death of her only friend to get them.
G/O Media may get a commission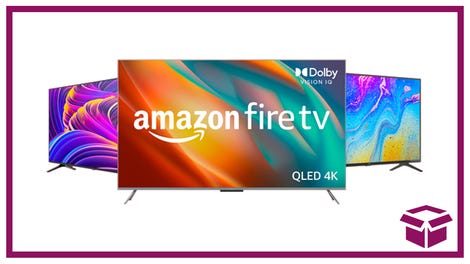 Ooh. stunning.
New Amazon Fire TVs
That's where the story takes a twisted and violent turn straight out of a Gillian Flynn novel—albeit one filtered through Stephanie's ever-perky worldview. A Simple Favor gets quite convoluted as the twists, suspicions, secrets, and cases of mistaken identity start to pile up, and some of the puzzle pieces don't completely fit into their respective places. But Kendrick is perfectly cast in the role of a seemingly guileless amateur gumshoe harboring some secrets of her own, as is Lively as an impossibly chic, incurably cynical con artist for whom lying is as easy as breathing. (Or is it?) They're both buoyed by the witty, literate script by American Horror Story: Coven writer Jessica Sharzer, who peppers her adaptation of Darcey Bell's novel with witticisms like Stephanie's chiding aphorism, "Secrets are like margarine: easy to spread, bad for the heart."
Although the upper-middle-class suburban milieu is generic to the point of cliché, it's refreshing the way Sharzer's script indulges in giggly, titillating fun without dumbing itself down. Stephanie is a mommy blogger with a master's degree in literature who can quote The Canterbury Tales at length, and the film trusts that its audience is as familiar with Les Diaboliques as it is Dateline. The costume design in the film is similarly sophisticated, if a bit blunt in its telegraphing of our leads' personalities: Lively looks incredible in tailored menswear, and Kendrick's cutesy florals and pom-pom sweaters add a visual layer to her aw-shucks characterization of Stephanie.
Feig's work with improv comedians like Melissa McCarthy and Kate McKinnon often suffers from a lack of editing that can make even funny scenes feel interminable. Hopefully the director does more tightly scripted material like this in the future, because his touch on this film is very light, and the tighter editing makes all the difference in terms of pacing. If your tastes in crime fiction lean more toward whiskey-soaked detectives, A Simple Favor might be bubbly enough to give you a headache despite the darkness of its themes. But that's okay. More prosecco for the rest of us.