One of the funniest sketches in recent Saturday Night Live history would've driven the show's creator Lorne Michaels to distraction 40 years ago. In December 2015, in a Ryan Gosliing-hosted SNL, Kate McKinnon, Cecily Strong, and Gosling played three rural yahoos who'd been abducted by aliens. During their debriefing by a pair of Pentagon staffers played by Aidy Bryant and Bobby Moynihan, McKinnon's slouching, chain-smoking barfly talks about how these creatures from outer space pulled her into a secret room to watch her pee, as part of an operation that "seemed super off-the-books." Scarcely a minute into the sketch, Bryant has trouble keeping a straight face. Soon, everyone else on stage is also struggling to keep it together, especially once McKinnon starts griping about tiny spacemen taking turns smacking her "knockers."
This was far from the first time an SNL cast has broken character in the middle of scene. But when Michaels launched the series back in 1975, it would've been taboo. He considered it lazy and un-hip to get laughs from the audience so cheaply. In Doug Hill and Jeff Weingrad's 1986 book Saturday Night: A Backstage History Of Saturday Night Live, they described how Michaels took a laissez-faire attitude toward his initial SNL cast and writing staff's subject matter, but not to their approach:
Saturday Night would do sketches, not skits; kids do skits, he said, and so did Carol Burnett. Lorne made it clear that Burnett's style encompassed everything Saturday Night should avoid. It lacked subtlety and nuance; it was too broad, too bourgeois, and too smug—especially when the performers broke out laughing in mid-sketch, doubling up at the hilarity of themselves. There will be more integrity and respect for the writing here, he said. From then on many an idea would be derisively dismissed on the 17th floor with the words, "That's Carol Burnett."
Perhaps the most famous example of what Michaels was talking about occurred in a March 1969 episode of The Carol Burnett Show, which featured a skit with Tim Conway playing a rookie dentist who accidentally shoots his hands full of novocaine while operating on a patient played by Harvey Korman. As Conway flops his limbs around limply at Korman, the latter's practically in tears laughing. Before long, Conway's ditching the script and milking the moment, pushing to see how long he can keep his partner—and the studio audience—in hysterics.
Yet here's what the Saturday Night Live crew misunderstood about Burnett and her team back then: 1) When a premise and a performance connected unexpectedly, they could adjust on the spot and generate something more "live" than the early Saturday Night ever could; and 2) Just as SNL upended comedy in the mid-'70s, so The Carol Burnett Show brought a spryness back to the art form that had been missing for much of the '60s.
During a run that lasted 11 years and 279 episodes on CBS—from September 1967 to March 1978—The Carol Burnett Show represented one of the last, best TV outlets for the generation of entertainers who'd sharpened their skills in nightclubs and on radio in the years after World War II, before going on to dominate movies and television for the better part of three decades. Burnett herself has like the kid sister to that crowd. Born in 1933, she broke through in cabarets and on TV in the latter half of the '50s, championed all the while by showbiz vets like Garry Moore and Lucille Ball. She wasn't as cutting-edge as some of the stand-up comedians who were emerging at the same time, like Lenny Bruce, Mort Sahl, Woody Allen, and Joan Rivers. She was more of a throwback to the vintage vaudeville performers who did jokes and pratfalls, in between a little of the ol' song and dance.
G/O Media may get a commission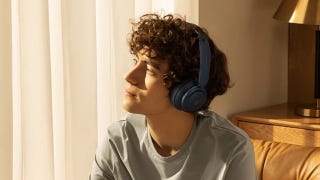 30% off
Soundcore Headphones and Earbuds
The sixth-ever episode of The Carol Burnett Show aired on October 2, 1967, with two guest stars and a special musical act. The big "get" for Burnett that night was Ball, who at the time was nearing the end of her second long-running sitcom, The Lucy Show (which in 1968 would be replaced with another respectable success, Here's Lucy). In the early '50s heyday of I Love Lucy, Ball was TV's undisputed champion of slapstick spontaneity. She and her then-husband Desi Arnaz pioneered shooting sitcoms on film, but always in front of an audience, to allow the star to follow the momentum of the laughter.
By October 1967, Ball was 56 years old, and her energy and timing were slowing. She's in three segments of the sixth Carol Burnett Show. In one, she somewhat clumsily steals the host's schtick of flirting with the show's hunky announcer Lyle Waggoner. In another, she does a dull western "saloon gal" musical number with Burnett. And in the funniest of the bunch, the two stars play working women who meet for lunch at an Argentine restaurant that turns out to be run by Nazis in hiding. Korman's performance as an angrily officious maitre'd drives the latter. His loudness and snappishness—coupled with Burnett's rubber-faced, jelly-limbed reactions—seem to put a spark back in Ball.
What's more immediately noticeable about the "Cafe Argentine" sketch though is what Burnett and Ball are wearing: minidresses with go-go boots. The Carol Burnett Show aired during the thick of a cultural revolution, marked by social unrest and artistic experimentation. But that really only found its way into the series via the fashions, designed by Bob Mackie. For the most part, The Carol Burnett Show was where the TV audience could find a heavily barricaded oasis of old movie parodies, shameless mugging, and frequent guest appearances by Steve Lawrence and Eydie Gormé.
The show's ambivalence toward what was happening outside the studio is evident in another musical number in the sixth episode, with Burnett and regular cast-member Vicki Lawrence (only 18 years old at the time) sporting Mackie op-art micro-minis and dancing around to Peter, Paul And Mary's song "I Dig Rock And Roll Music." The tune doesn't rock, and while its lyrics cite multiple contemporary bands, they're fairly ambiguous about whether the pop music of the '60s is a delight or incomprehensible. And yet "Carol & Sis" (as they were billed, due to Lawrence's uncanny resemblance to Burnett) look lively and sincere.
The question of how The Carol Burnett Show fit into an increasingly unfettered popular culture isn't answered either by the musical guest, Gloria Loring. The future Days Of Our Lives star and mother of Robin Thicke—who also co-wrote the Diff'rent Strokes and The Facts Of Life themes with her husband Alan Thicke—sings two songs back-to-back, in a style that alternates between a muted monotone and brassy belting, but always with the singer remaining strangely immobile. Nothing about the segment, from the choice of material to Loring's stage presence, is "cool." Even though Loring was only 21, she wasn't discovered by Burnett's people at some pot-filled Sunset Strip nightclub. She was found on The Merv Griffin Show, which in the '60s and '70s was one of a handful of television programs that existed in a closed circuit with other talk shows, variety shows, and game shows, sharing the same pool of performers who hadn't been relevant since 1963.
Nevertheless, Burnett, Korman, Lawrence, and Waggoner were refreshing in their own way when The Carol Burnett Show launched. Outside of the hipper coffeehouses and clubs—where improv troupes and socially conscious stand-ups were thriving—mainstream American comedy in the first half of the '60s was exemplified by the lumbering 1963 movie It's A Mad, Mad, Mad, Mad World. Hollywood then liked everything to be big: the sets, the personalities, the running-times, and the gestures.
Burnett and her troupe were undeniably broad, but also loose, and limber. They could play different characters, react to spur-of-the-moment cues, and work magic just while standing in front of a curtain. They worked in the tradition of Sid Caesar and Your Show Of Shows, balancing silliness and savvy. Burnett herself was uncommonly gifted, but also a little gawky, and "real." She was like an Al Hirschfeld drawing come to life—all severe angles and elegant curlicues—and when she was fielding questions from the audience or affectionately tugging on her ear while saying goodnight, Burnett often seemed more like everyone's favorite neighborhood bridge partner than one of the most famous women in the country.
She was also a lot earthier than many of her peers, especially early in the run of the series. In the opening to the sixth episode, she practically salivates all over Waggoner while helping him tie his tie—after lustily blurting out, "You're not dressed? I'll be right there!" when hearing him complain that he's not ready to come on stage. In a later sketch where Burnett plays an exhausted housewife married to a Superman-like hero, she gets a look of panic in her eyes and starts anxiously shaking her head when he asks her if she's ready to go to bed.
Even outside of the (tasteful) frankness about sex, Burnett never seemed out of her element playing an everywoman. The segment in the sixth episode that gets the most laughs from the crowd—but which is almost incomprehensible to anyone born after 1970—is a mash-up of commercial spoofs, with the star playing a housewife overwhelmed by exaggerated illustrations of cleaning power and convenience. Burnett's jokes about TV were credible because she actually seemed like the kind of person who'd knock off work, go home, and switch on the tube. Lucille Ball—even though she was one of the most successful television producers of all time—did not.
That's why the episode six guest star who most embodies what The Carol Burnett Show could be wasn't Ball, but Tim Conway. Although he's best known for his work with Burnett, Conway didn't actually become an official member of the cast until 1975. Most of his time with the show was spent as special invitee—beginning with his debut in episode six, where he's introduced by Burnett as "a doll" and "a marvelous comedian who you know from McHale's Navy."
In what would be a prescient use of his talents, Conway's first appearance sees him playing an anchor for a news program that only delivers the freshest information, right off the wires. When the ticker goes down—followed by every other piece of technology in the building save for the TV cameras—the anchor has to ad-lib and stall. Though the bit is scripted, Conway performs it the way he would so many Carol Burnett Show sketches over the years: with the instincts of a comic who can always find a laugh hidden between the lines.
The dilemma for institutions like The Carol Burnett Show and Saturday Night Live isn't necessarily how to produce timeless comedy, or even comedy that speaks to up-to-the-minute tastes and cultural concerns. That's more the job of sitcoms and stand-up comics. Sketches performed live—or live-to-tape—should have an immediacy, akin to extemporaneous speaking or jazz. They shouldn't feel over-rehearsed or locked-down.
The sixth Carol Burnett Show episode doesn't have any scenes between Conway and Korman, which is a shame, because the two of them together understood how to be open to the moment. But there is telling sketch with Conway as a harried business traveler caught in a running feud between Ball as a representative of "Gertz" rental cars and Burnett as an agent of "Mavis." Like the commercial parody, this skit relies a lot on viewers' knowledge of the ad copy war of words between Hertz and Avis, circa 1967. But more than that, it relies on Conway, who gamely allows himself to be shoved and tugged between two comedy legends: one from the past and one from the present. As always, he stays flexible, ready to go whichever way will be the most entertaining.
Next time… on A Very Special Episode: The Hitchhiker's Guide To The Galaxy, "Episode 5"