Three years after breaking into the popular consciousness (if not the Billboard charts) with "Good As Hell"—a song that you've probably heard, even if you don't recognize its title—Lizzo's time has come. Freshly signed to Atlantic Records, Lizzo specializes in R&B/pop empowerment anthems in the Beyoncé mold, with a knack for coming up with lyrics that double as self-love mantras: Witness "No, I'm not a snack at all, baby, I'm the whole damn meal," from Cuz I Love You's lead single, "Juice." Since the release of that preemptive song of the summer in January, Lizzo's been on a goodwill tour of sorts, making her debuts on both late night and daytime TV and starting buzz on social media with her Coachella set, which she nicknamed #ASSCHELLA. Add to that Lizzo's active and seemingly unfiltered Twitter feed, where she interacts directly with fans and shows off her Olympic-level twerking skills. Here's a typical post:
At risk of stating the obvious, Lizzo is a plus-sized black woman, a group of people that rarely gets to see themselves depicted in popular media, let alone as joyful, sexual beings. "Joyful" and "sexual" are two key aspects of Lizzo's public persona, and she's well-aware of the importance of seeing bodies like hers celebrated. As she told Allure in March: "I want people to feel that closeness, because if you can love me as much as you do without knowing me, and without me being this archetype of modern beauty in media, then you can love yourself." The simple act of Lizzo taking up space, claiming her worth, and refusing to be denied is a radical statement, making songs like "Juice"—a playful, triumphant, '80s-inspired bop that hits the frontal lobe like a rainbow prism of positivity—political as well as infectious.
So perhaps the most striking thing about Cuz I Love You is its vulnerability. It takes a while to get there: As well as "Juice," there's also "Like A Girl," a hip-hop throwback that's wall-to-wall affirmations—"If you feel like a girl, then you're real like a girl / Do your thing, run the whole damn world," she sings—as well as "Soulmate," a Coachella-ready number with a shouted chorus of "I'm my own soulmate." Whether by design or simply as a side effect of Lizzo's transition to a major label, the production on both of these songs is buffed to a calculated Top 40 sheen that dominates the track. So while the sentiment is encouraging, it's clear why they were held back in favor of the more authentic uplift of singles "Juice" and "Tempo," the club-ready banger featuring Missy Elliott that we profiled in A-Sides last month.
G/O Media may get a commission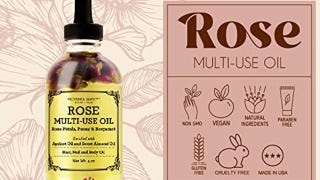 Provence Beauty Rose Multi-Use Oil
As the album progresses, Lizzo begins to let down her guard, revealing the complexity and trepidation that come with loving somebody else as well as yourself. She's an incredibly versatile singer with a powerful voice, and establishes that early with the opening title track, a brassy belter with a Motown flavor and lovesick lyrics sprinkled with just a little bit of humor as an annoyed Lizzo notes she's "gotta get my hair pressed again" after making a grand romantic gesture standing in the rain. That's followed by the aforementioned trio of confidence-boosters before Cuz I Love You strips down and settles in to "Jerome," a candid kiss-off to a no-good man that plays like Erykah Badu's "Tyrone" by way of Amy Winehouse.
That's not the only time Lizzo conjures up either of those vocal greats on Cuz I Love You, either: '90s R&B and neo-soul are woven throughout the album, along with Prince-inspired '80s guitar riffs. Lizzo goes even further into the past by adding a generous helping of filthy '70s funk blast to "Cry Baby," allowing this otherwise polished album to really dip its hips all the way down to the floor. Piano is used to lesser effect on "Better In Color" and "Heaven Help Me," both songs whose slick production pairs uncomfortably with their organic vocals; along with "Exactly How I Feel," which manages to be one of the less memorable songs on the album despite Lizzo belting "I don't give a fuck!" at the top of her lungs, all three tracks come the closest to filler Cuz I Love You has to offer. (Gucci Mane, you've been outshone.)
Except for, of course, "Juice," the track where Lizzo rides the line between her down-to-earth personality and aspirations towards pop stardom most effectively is on album closer "Lingerie." That song straddles tongue-in-cheek production and credible emotion quite effectively, featuring lusty spoken-word vocals over ironic Midnite Vultures synths and guitar. "I lounge around in my lingerie / I want to be ready for you just in case," Lizzo coos, letting us all in by greeting her lover at the door in see-through panties. Although, as she confidently notes throughout Cuz I Love You, she's also got a pretty face and an ass that won't quit, Lizzo's best asset is her personality, and she's at her best when she lets it shine bright—no major-label gloss required.