In an effort to both serve our readers and help support The A.V. Club, we are going to post daily links to deals and interesting items that we find over on Amazon. If you use these links to click through and buy something—not just the thing you clicked—on Amazon, we will see a portion of that income. You don't have to do that if you don't want to, but if you do, know that we appreciate it.
According to the listing, this item "features static, flashing, and chase light modes and four sound FX." It also "lights up blue and green" while the "lights rotate like the onscreen sonic!"
G/O Media may get a commission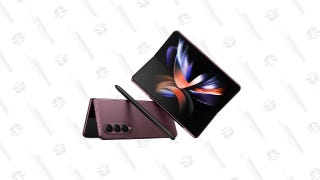 Save Up to $300
Galaxy Z Fold4
Throw this on your back and project a miniature ghost on the wall. It's perfect for adults, kids, and adults who want to be kids.
If you take a packet of soy sauce with your lunch, it would be simultaneously more affordable and more adorable if you instead went bulk, all while packing these little soy sauce animals.
Summer might be over, but that doesn't mean you still can't spend time at Moonrise Kingdom's dreamy camp.
Billed as a party game of "wine, wit, and wordplay," this game promises "zin-onyms" and "vocab-ernet."
Yep, they still make Beanie Babies.
This game, for ages 8 and older, asks players to place historical events in chronological order.
Halloween is only six weeks away.
Accio housekey!