Permanent Records is an ongoing closer look at the records that matter most.
Aggressive music evolves at a staggering pace. As such, many groundbreaking albums in this realm require a sense of the sonic milieu from which they arose to understand why they're so important. But Neurosis' Through Silver In Blood remains one of the most unsettling and venomous records in existence, two decades past its release.
As with You Fail Me for Converge, Through Silver In Blood provided Neurosis with a sustainable template for what it would become. Neurosis began as a crust-punk band, putting out the blistering Pain Of Mind in 1987. But Scott Kelly, Steve Von Till, Dave Edwardson, and Jason Roeder also had a fascination with the technical prowess and unpredictability of prog bands like King Crimson, which they explore on Word As Law (1990) and Souls At Zero (1992)—records that filter mercuric arrangements through the fight-or-flight attack of crust. Enemy Of The Sun (1993) finds the group utilizing the despair-inducing trudge of Godflesh, Swans, and Black Sabbath. With Through Silver In Blood, the first album the band recorded with synth arsonist Noah Landis in its ranks, Neurosis strikes the perfect balance between droning sludge, harsh noise, unexpected changes, and the juxtaposition of quiet and loud.
From beginning to end, the LP pinches an ancient nerve and doesn't release pressure. Percussive industrial moans open the 12-minute title track. Guitarist-vocalist Von Till joins Roeder in animalistic tom pounding, which induces a murderous trance. Kelly and Edwardson douse these sounds with intimidating notes. Roeder, who deserves the same reverence as Bill Ward and John Bonham, molds his tribal drub into a circular groove that causes further reversion to the lizard brain. Landis' synth stays melodically linked to the opening section as Kelly, Von Till, and Edwardson introduce venomous chugs into this murk. Neurosis has an unmatched aptitude for arrangements that multiply the viciousness of each element. When Kelly and Von Till's screams enter the arena, they devour hope—an effect that's intensified by Edwardson's subterranean yawps.
One thing missing from many Neurosis-worshipping bands is how the quintet uses angular changes that disrupt without feeling contrived. Five and a half minutes into "Through Silver In Blood," Roeder traverses into a disorienting groove, its unsettling nature emphasized by Von Till and Kelly's syncopated chugging and a whirlpool of electronic sounds. Just as this cacophony starts to seem familiar, Neurosis cuts a beat off the end of a measure and transitions into a cruel monolith of a riff. This segment gives way to torturous escarpments with valleys populated by Edwardson's serpentine bass and Kelly's repetitive shouting of "Don't crawl, seek his burn of war / When the fallout comes, he is fire," an incantation that Von Till and Edwardson also roar. When it seems like the abuse of "Through Silver In Blood" is finally over, Von Till, Kelly, and Roeder enact a horrific tom rite that Landis covers with poisonous streams of noise.
Samples on metal albums have long been cliché, but with second track "Rehumanize," Neurosis makes this trope menacing by mashing together a series of slowed-down samples to mimic the way cultural pollution—specifically spiritual avowals—eat away at the subconscious mind. And then "Eye" escapes into the world. Compared to the rest of Through Silver In Blood, the track slithers at a relatively fast rate before Roeder decapitates it, leaving "Eye" to writhe in half time. Ethereal noise and haunting guitar notes emerge from the ruins of this song to begin "Purify." With his distortion-smothered bass, Edwardson guides Neurosis into punishing swells. The transitions between delicate and heavy throughout "Purify," as well as the rest of the record, are more about harsh juxtaposition than predictable narrative arcs. For Neurosis, light and dark exist as sides of the same coin, but they're constantly at odds. Kelly and Von Till soon play a riff that wails like a wounded deer, which Roeder punctuates with car-compactor percussion before he pushes Neurosis into a frenzy that dons the band's hardcore roots like war paint.
In 2015, Neurosis embarked upon its longest U.S. tour in years to commemorate three decades as a band. The 30th-anniversary tour usually entails a group parading around as a husk of its former self: sloppy musicianship, forced banter, and a half-hearted stage presence. When Neurosis played "Locust Star" at an August show in Minneapolis, however, the song was laced with even more of the aggression and despair that's captured on Through Silver In Blood—and played with the same tightness of the recording.
The video for "Locust Star" depicts a beleaguered man wandering through harsh wilderness while enduring a flood of symbolic visions. Religious, natural, and mystical imagery flashes, invoking a forest fire of subconscious connections. During live shows in support of Through Silver In Blood during the '90s, Neurosis used similar visuals—projected on a screen behind the band—to intensify its plunge into the most primitive regions of the brain. Symbols are the root of language, marking our initial progression from the world of animals; so it follows that Neurosis would utilize this ancient form of communication to induce a feral state of semiconsciousness in its audience and members alike.
"Strength Of Fates" initially takes a different path than the rest of Through Silver In Blood, reveling in fragile melancholy rather than aggression. Von Till croons like a man who's endured some unspeakable tragedy as depressive piano and guitar notes flit through an electronic atmosphere. After seven minutes of quiet despair, Neurosis dives into a pit of primeval mud. Similar to "Rehumanize," seventh cut "Become The Ocean" uses tar-soaked samples to create a lead blanket of anxiety, working as a portentous bridge for the final portion of Through Silver In Blood.
G/O Media may get a commission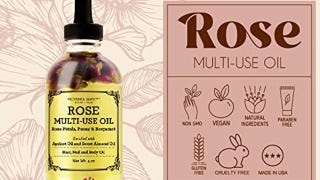 Provence Beauty Rose Multi-Use Oil
"Aeon" begins as a dirge and alludes to the morose instrumentation Neurosis further explores on Times Of Grace (1999), A Sun That Never Sets (2001), and The Eye Of Every Storm (2004). Again using juxtaposition to make the transition from delicate to monolithic as jarring as possible, the band crafts an oddly timed torrent that regresses into violent churning. In the wake of this negativity, Edwardson's bass hovers like a vulture awaiting carrion, and clean guitar notes inch across the aural canvas. Powered by the grinding cogs of Roeder's drumming, Neurosis releases a noisy chemical spill that develops into majestic waves. The LP closes with the ominous "Enclosure In Flame," which moves like noxious clouds in a diseased sky before culminating in acidic sludge.
Through Silver In Blood has played an undeniable role in defining post-metal, and its influence reverberates in the sounds of countless bands. But this album inflicts levels of disorientation, fear, and hopelessness that few records have attained in the past 20 years, giving Through Silver In Blood a shelf life that has yet to glimpse an expiration date.