‪Punk, hardcore, metal, noise: Music shouldn't always be easy on the ears. Each month, Loud unearths some of the loudest, crudest, weirdest, and/or heaviest sounds writhing beneath the surface. The world's not getting any quieter. Neither should we.
Stream of the month: Weatherbox, Follow The Rattle Of The Afghan Guitar
Weatherbox is one of those bands. You know the type: solid songs, dependable releases, unassuming presence. But it suffers (if you can call it suffering) from never following trends or giving a shit about what's supposed to be cool. The group's new EP, Follow The Rattle Of The Afghan Guitar, is another example of that understated Weatherboxian goodness. Crumpling post-hardcore into classic yet angular songwriting, Follow The Rattle's six songs lurch and soar like the mutant offspring of Cursive and The Dismemberment Plan. The EP came out October 4, but here's a full stream courtesy of the band and Youth Conspiracy Records.
Song debut: Skeletonwitch, "Erased And Forgotten"
In advance of the October 11 release of Forever Abomination, the new full-length from Ohio's feral Skeletonwitch, Prostethic Records has kindly allowed us to exclusively stream one of the disc's most wrenching, bleakly melodic tracks, "Erased And Forgotten." Look for a full review of the album in next month's Loud; until then, stand in the path of this fucker a few times.
G/O Media may get a commission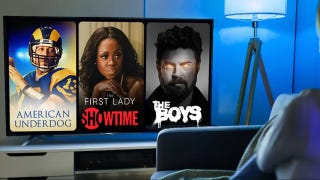 UNDER $1
99¢ Prime Video Channels
Skeletonwitch - Erased And Forgotten by TheAVClub
Song debut: Beneath Oblivion, "From Man To Dust"
The gods of rock (or rather, their publicists) have granted us not one, but two exclusive song debuts this month—the other being "From Man To Dust," the title track from Beneath Oblivion's new album. The sprawling, conceptual song-cycle comes out November 8 via The Mylene Sheath, and it's killer; denser than the earth's crust, the whole thing oozes coagulated sludge, abject horror, and the sweat of a hundred post-apocalyptic marauders. And, like Skeletonwitch, Beneath Oblivion hails from Ohio. Battleground state, indeed.
BENEATH OBLIVION - From Man To Dust by The Mylene Sheath
Mike Portnoy may be out of the picture, but Dream Theater has soldiered on—and the band's first album since Portnoy's departure, the new and excellent A Dramatic Turn Of Events, is proof. The band has edited its proggy grandiloquence just a bit since 2009's sweeping, intricate Black Clouds & Silver Linings, but that's a good thing; massive only when it needs to be, Dramatic Turn packs enough sumptuous atmosphere and virtuosic alchemy to keep its vast ambition aloft.
Speaking of prog: "The Devil's Orchard," one of the standout tracks on Opeth's new Heritage, sounds a lot like Yes' "Heart Of The Sunrise." Not that there's anything wrong with that; that said, those hoping for Opeth's back-to-basics death-metal album will be severely bummed. Ethereal, folky, and ornate, it's the sound Opeth has been evolving toward for a while—but here, the group has settled into a deep trance that's wholly absorbing. It doesn't always work—would-be rockers like "Slither" feel forced—but Heritage has enough great and even brave moments to make it well worthwhile.
Few bands of Amebix's stature have had such a weird career arc. After releasing one of the most influential albums in the history of heavy music, 1985's Arise!, the experimental crust outfit softened for 1987's Monolith—then disappeared. Frontman Rob Miller went on to forge swords for a living. Then in 2008, the band officially reunited—and now the band's third album Sonic Mass has materialized. And it's fucking incredible. Comparisons to Amebix's close contemporary, Killing Joke, are hard to avoid, but Sonic Mass is the album Killing Joke should be making in 2011: stark, primal, mythically resonant, and eroded to the point of utter timelessness.
Saviours sped up the stoner attack on their 2009 album, the aptly titled Accelerated Living. But things are back to a dinosaur's pace on the new Death's Procession. The grooves are, well, groovy—but at this point, the group's sludgy '70s style is sounding slightly less than inspired. Death's Procession isn't a bad album; it's just eating the dust of those with a little more adventurousness.
There's something that never quite clicked about The Atlas Moth's debut, A Glorified Piece Of Blue Sky—but the group has finally hit its stride with its sophomore full-length, An Ache For The Distance. Awash in harmonized guitar, entwined vocals, and a backdrop of blurry ambience, the disc sharpens yet blends the band's previously disconnected elements. That said, there's still something vaguely unsatisfying about the album—there's almost too much of a compromise between atmosphere and heaviness, with neither being given enough room to flourish. If nothing else, Ache might be the launch pad for a masterpiece yet to come.
Doom, by definition, ain't pretty. But there's something perversely graceful about Rwake's Rest. The latest from the Arkansas outfit is yet another hymnal paean to the imminent end of the world. But its immersive, corrosive undertow feels like a desperate last grasp at the tattered, desecrated remnants of human beauty, one final spasm of ferocity and defiance before civilization gives up its ghost. As methods of extinctions go, maybe suffocation by sludge isn't so bad.
Falloch, on the other hand, isn't ugly-pretty—it's just plain gorgeous. The Scottish group's new full-length, Where Distant Spirits Remain, is exactly the type of album that drives metal purists up the wall: Melodic, aggressively nonaggressive, and ventilated with Celtic folk and symphonic spaciousness, the disc is about as whitewashed as so-called post-black-metal can get. But on its own terms, it's simply stunning. Of course, it doesn't help that the band's name rhymes with Agalloch. But whatever. Distant Spirits absolutely rules—enough to snag this month's unofficial Loud-album-of-the-month award.
[pagebreak]
Okay, time for some full-on ugly. Brutal Truth is back with End Time, its latest salvo of venom-fueled belligerence. It's almost unfair how impeccably crafted yet disturbed this disc is; picking up right where 2009's Evolution Through Revolution left off, End Time rattles its cage with the kind of progressive grindcore animalism it helped set the bar for. Taking Brutal Truth for granted is easy at this point in the band's 20-year career. But as End Time demonstrates, it's also a mistake. And a lethal one, at that.
Defeatist is way younger than Brutal Truth. It's also way hungrier. The New York outfit just released its second album Tyranny Of Decay, and it doesn't bother with luxuries like progressiveness or nuance. Instead, the disc focuses on sheer, unrelenting power: Maniacally focused and concise, it's a ravenous exercise in metal extremism that isn't afraid to bleed all over the place.
Defeatist - Funeral Loathing by TheAVClub
Those who used to (or still do) live in Florida—myself included—may attest to the fact that the whole god-awful state may as well be one giant, sweltering cemetery. I get the feeling that Gainesville's Hot Graves may agree. Ironically enough, the group's new album, Knights In White Phosphorus, bears little resemblance to Southern punk or metal, leaning instead toward the Alps-frosted spew of Hellhammer and the primordial, Satanic stench of Venom. Sometimes sunshine will drive you to that.
Is Pluto a planet or a plutoid? Is Årabrot metal or noise? Such conundrums are beyond the ken of you and I. Like some blackened Jesus Lizard, the Norwegian group's fifth, Steve Albini-produced album, Solar Anus, lives up to its name: Searing and visceral, the disc is a filthy masterwork of guttural primitivism that spills innards, mops up the floor with them, and then chugs the bucket.
Iron Lamb may be from Sweden, but don't think for a second that the band is another generic purveyor of Nordic black metal. Although it features former members of the Stockholm death-metal outfit Repugnant, Iron Lamb churns up a vicious and sinister rock 'n' roll muck on its debut full-length, The Original Sin. Like a darker, meaner Turbonegro with all footprints of kitsch erased, the album extols the misanthropic virtues of suicide, homicide, deicide, and just about every other kind of -cide imaginable.
It's been three years since Germany's street-punk stalwart SS-Kaliert has released an album. In the meantime, the band hasn't progressed an inch. And thankfully so; its new full-length, Subzero, deepens and darkens the group's incendiary, shout-along style without sacrificing an ounce of bile. The thick, full production on the album is amazing; never has SS-Kaliert sounded more ready—as the band itself threatens on Subzero's title track—"to fuck up your dreams."
Can America Survive? That's the question posed by the title of the debut album from Missouri's pissed and miserable Dark Ages. The answer, as you might have guessed, is probably, um, no. Throughout the disc's 10 terse tracks, everything from Void to Flipper to Everything Falls Apart-era Hüsker Dü is blended until chunky, agitated, and turned volatile enough for a homegrown Molotov cocktail.
Grit, roughhewn hooks, and grindstone-honed bittersweetness: Such are the makings of great pop-punk. Coincidentally, such are the makings of Nothington. The gruff, Leatherface-ish band has unleashed its latest full-length, Borrowed Time, and it's another no-nonsense barrage of chewy distortion and mud-caked, exhaustedly triumphant tunes from frontman Jay Northington. Punk trends come and go, but this kind of shit is eternal.
Bridge And Tunnel made waves with its incredible 2008 debut, East/West—and that promise has been both exceeded and squandered on the new Rebuilding Year. More smooth, noodly, and meandering than the band can comfortably pull off, the album still sports a profusion of solid tunes and jittery, melodic, post-hardcore anthems. But the band's co-ed front line can't always maintain intensity over the course of a five-minute song—and Rebuilding has more than one of them. Still, the band gets points for stretching itself; here's hoping, though, that its next full-length dials things back and roughs things up.
RETRO LOUD: Cirith Ungol, Frost And Fire
Being a guy with more than one portrait of Michael Moorcock's albino antihero Elric of Melniboné inked upon his person, I'm not exactly objective when it comes to Cirith Ungol's Frost And Fire. The cover of the underdog metal group's 1980 debut reproduces Michael Whalen's Stormbringer, a painting of Elric named for the character's demonic, soul-drinking sword. The image perfectly sums up what Cirith Ungol is all about. (Well, that and the fact that the band's name is a Tolkien reference.) The album's galloping clunkiness (and I say that with love) recalls Judas Priest's Sad Wings Of Destiny and the mighty Blue Öyster Cult, the latter also known for its obsession with Elric. Reviewed poorly when released, Frost And Fire has since become a cult classic, and rightly so; its unapologetic, irony-free fantasy and crude yet fluid riffage is nothing short of epic.