You may feel your streaming queues are already bursting with options, what with full seasons of highly-anticipated revivals dropping mid-week and a Sunday programming schedule so packed, you have to set aside part of Monday just to keep up. But now that Game Of Thrones has ended (not to mention dozens of network shows have gone on hiatus), you'll need to get your fix of glorious beasts and interfamily drama from somewhere. Enter our newest streaming guide, which leads the pack in recommendations for animal and nature series. These globe-trotting shows will fill you with wonder, as well as fill any voids in your viewing schedule.

---
Dynasties, 2018 (BBC America on demand; Amazon Prime and Vudu rental/purchase)
As fraught and dramatic as an episode of Game Of Thrones, Dynasties also centers on multiple "clans"struggling for survival in the face of a life-ending threat (too bad climate change poses a greater danger on a fantasy series than in real life). This 2018 nature docuseries, which originally aired on BBC America, is narrated by perennial wildlife presenter David Attenborough, and follows several endangered or vulnerable species, from emperor penguins to tigers and lions and African wild dogs, oh my. Attenborough's voice could make a grocery list sound like a three-part tragedy, but much of the tension of Dynasties unfolds wordlessly, or with the screeches and howls of these animals on the brink. Credit's also due composers Benji Merrison and Will Slater, whose score will have you on the edge of your seat, the better to watch these noble creatures furthering their own survival.
---
Animal Cribs, 2017— (Animal Planet, AnimalPlanet.com)
If you miss the zeal with which Xzibit used to pimp people's rides, then you'll want to check out Animal Cribs, a kind of "animal habitat renovation" show. Design Star season-four winner Antonio Ballatore combines an HGTV design show ethos with a Dog Whisperer-like mentality, whether he and his team are constructing a playground for pygmy goats or building a lair for a pair of bearded dragons. In between all the plastering and weatherproofing, the Cribs team consult with their furry clients, i.e., nuzzle a family of chinchillas who require a whole network of tunnels. The end results are usually in line with the celebrity pads documented on MTV's Cribs than your best woodworking efforts, but it wouldn't be a renovation show if you didn't experience a twinge of envy.
G/O Media may get a commission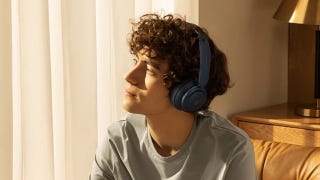 30% off
Soundcore Headphones and Earbuds
---
Our Planet, 2018 (Netflix)
The legacy of Alistair Fothergill's seminal Planet Earth series is evident in his 2018 docuseries Our Planet, from its jaw-dropping cinematography to the inclusion of David Attenborough as its presenter. But don't be thrown by the "soothing" clip above—Our Planet is intended to inspire concern and awe in equal measure. Where climate change was one of many storylines woven throughout Planet Earth II, it's the main focus of Our Planet, which devotes much of its time to underscoring just how great the danger is, no matter how many tradeways open as a result of disappearing Artic sea ice. Sobering statistics are paired with stunning shots of ecological devastation, including the vast reduction in animal habitats, like the vanishing coral life in the coastal seas episode. Our Planet outlines just what we stand to lose, but first, it takes great care to highlight and revel in the beauty we should all be working to preserve. It's not quite as relaxing a watch as your Meer

---
Too Cute (Animal Planet, AnimalPlanet.com, Discovery Family)
Everything you need to know about this 2011-2014 series is right there in the title—each installment ventures into the most adorable (and accessible) corners of the animal kingdom, i.e., cat condos and people's living rooms. Too Cute offers the lowest-intensity watch on this list: a Persian kitty quadruples the cuteness by giving birth to a litter of four in one episode, while in another, a fierce little Yorkshire Terrier proves she's a natural sentry. Technically, there are threads to follow, but they're almost beside the point when there's so much tiny mewling and puppy yawning. Too Cute is a great way to take the edge off between fantasy and sci-fi drama binge watches—or a single episode of Our Planet—and, as one of our editors attests, ideal viewing for anyone on bedrest.
---
Dogs, 2018 (Netflix)
This dogumentary series from Glen Zipper isn't all fluff; there's tons of grin-inspiring footage of puppies, but Dogs spends more time exploring just how deeply we've integrated our canine familiars into our lives. Training has gone past simple obedience commands to caretaking responsibilities—the first episode of the season follows the early stages of the relationship between a young girl with epilepsy and her service dog. Dogs are also undeniably great companions, like scene-stealer Ice, a Labrador Retriever who's getting on in years, but still braves the cold Lake Como waters on a boat with his Italian fisherman bud. But while doggo parents will be ever more grateful for their pups after watching, Dogs hardly wallows in sentimentality; it considers the effects of the ever-popular search for a shaggy best friend, including taking a closer look at the dog adoption system in New York, as well as the Costa Rican "land of strays," the Territorio de Zaguates.
---
Dr. Oakley, Yukon Vet, 2014— (National Geographic; Hulu)
If you've ever wondered about horse acupuncture or just wanted to see a baby muskox up close, you should make an appointment to see Dr. Oakley, Yukon Vet. Dr. Michelle Oakley bravely looks after livestock, wildlife, and even house pets at her animal clinic in Haines Junction, capable of keeping her cool around wolverines and hurt owlets alike. Oakley grew up idolizing Jane Goodall, eventually leaving her native Indiana to study zoology in Michigan before heading up to Canada. There's a significant human element to the show, as Dr. Oakley travels hundreds of miles each week to be with her family, but it's her interactions with her patients that'll keep you watching, wondering if it's not too late to go to veterinary school—or, in the case of delivering calves, grateful that you're watching from the safety of your home.