As WikiLeaks continues to dump hacked emails from Hillary Clinton campaign chair John Podesta, the Clinton camp—after weeks of refusing to dignify them—is now readying a response that will frame them as a criminal conspiracy akin to Watergate, placing the blame on a possible collusion between Donald Trump's advisers, Russian intelligence, and WikiLeaks' Julian Assange. For Clinton, it's an attempt to stave off any potential political damage from what they have revealed—and might reveal still—by characterizing their publication as morally repugnant, hoping that this rhetoric is enough to sway her detractors. But there's a far simpler solution: Clinton could just have Pamela Anderson kill Assange with a sandwich.
That was the theory that rapidly spread across Twitter and Reddit yesterday, anyway, thanks to a confluence of events that began when the Baywatch star dropped by the Ecuadorian Embassy in London. Anderson told the local press that she was visiting Assange—who's hiding there to avoid extradition to Sweden on rape charges—because she's a supporter, and she's concerned about his health and family. To that end, the longtime animal rights activist brought Assange a "nice vegan lunch and some vegan snacks." Disappointing, perhaps—Anderson joked, "He said I tortured him with bringing him vegan food." But probably only deadly if she'd also regaled him with the story of when she'd first decided to stop eating meat.
But then, for the first time in the history of veganism, something interesting happened. Not long after Anderson's visit, WikiLeaks sent out three cryptic tweets, each affixed with a mysterious 64-character code:

G/O Media may get a commission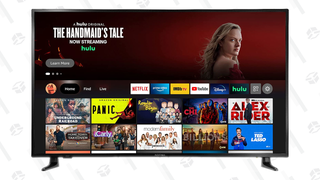 38% Off
Insignia 50" 4K UHD Smart TV
From the photos of Pamela Anderson delivering a Pret A Manger sandwich to the Embassy, and now this string of random numbers and letters, WikiLeaks devotees were able to draw an obvious conclusion: These codes were a "dead man's switch" triggered by Assange's dying, and the most likely explanation was that Pamela Anderson had poisoned him.
It's all right there, if only you'd open your eyes to see it. And after the theory was floated by noted rape philosopher and scrotal-sociologist Roosh V, it wasn't long before it became a full-blown conspiracy about Anderson assassinating Assange at the Clintons' behest. Unfortunately for them, their covert black-op of having one of the most recognizable actresses in the world deliver a poison sub in front of dozens of cameras and Anderson's own social media account was swiftly exposed.

Pamela Anderson brought "healthy" food for Julian Assange on Sunday. If he's dead, I'd have that food tested. https://t.co/UO53SJm1FD

— Roosh (@rooshv) October 17, 2016
No doubt sensing that the walls were closing in, the Clintons extended their tentacles to longtime puppet Vivienne Westwood, forcing the fashion designer to explain to the Daily Mail that Anderson had visited Assange only to "discuss a new trust she wants to set up"—no doubt another subliminal message, planted by Clinton psy-ops agents to foster "trust" in her. Later, the Clinton apparatus continued to feed us disinformation through the myriad media arms it controls—in particular Gizmodo, which was recently acquired by Univision, and whose chairman, Haim Saban, has worked closely with its campaign. Gizmodo published an article explaining that the 64-character codes in those alarming tweets are standard "pre-commitment" sequences used to confirm a document has not been tampered with. Yes. Nothing to see here. Go back to sleep.

The shadowy Clinton/Saban cabal then instructed some hack peon at The A.V. Club—a part of the Univision-backed Onion Inc.—to write another inane article mocking the theory about Pamela Anderson killing Julian Assange with vegan food, rather than digging earnestly into #PodestaEmails10. Together, these members of the mainstream media ensured the continued rigging of the upcoming presidential election, which, short of conscripting a Baywatch star into murder, is the only way that Clinton could ever hope to defeat a dangerously megalomaniacal narcissist whose sexual assault accusations are just a part of a sustained, primal, teeth-baring frottage against the world.
Anyway, while Assange hasn't actually been murdered (Or has he?!), WikiLeaks did say today that its internet connection was "intentionally" cut off, later blaming it on Ecuador. While the Ecuadorian Embassy won't confirm or deny that, WikiLeaks says it has since put into place "appropriate contingency plans" to deal with the outage. Presumably this involves not accepting sandwiches from anyone, no matter how famous. You can't trust anyone anymore.