"Who doesn't want to go to a concert to hear their favorite songs, regardless of who's singing or who's playing it? Listening to music you love to hear is fun, period."—Rome Ramirez, on replacing Bradley Nowell as the new singer of Sublime

"So sing just like him, fuckers/It won't offend him/Just me/Because he's dead."—Pearl Jam, "4/20/02," written for Layne Staley
According to The Book Of Rock Lists by Dave Marsh and Kevin Stein (1981 ed.), the No. 1 most spectacular death in rock history ended the life of singer Johnny Ace, whose biggest hit, "Pledging My Love," surged to the top of the Billboard rhythm and blues chart about two months after his untimely demise on Christmas day 1954. The Book Of Rock Lists gave Ace's death "most spectacular" distinction based on a piece of mistaken information, repeating the legend that the shadowy balladeer killed himself during a game of Russian roulette played backstage at the City Auditorium in Houston between holiday shows with Big Mama Thornton. An eyewitness account from Thornton's bassist Curtis Tillman contradicts this story. Tillman claimed that Ace had been drinking heavily and goofing around when he picked up the pistol. "It's okay! Gun's not loaded, see?'" Tillman recalled Ace saying as he pointed it at his head and, with a smile, pulled the trigger.
Does taking Russian roulette out of the equation make Ace's death any less "spectacular"? It certainly rejiggers the list: Guitarist Terry Kath of MOR jazz-rock band Chicago (as well as the city of Chicago) died under similar circumstances in 1978, holding a gun he thought was unloaded to his head and mistakenly offing himself in front of his wife and one of his stage crew members. Kath's death was good for only No. 5 on Marsh and Stein's list. An updated version of The Book Of Rock Lists would probably be topped by "Dimebag" Darrell Abbott, the former Pantera guitarist who was gunned down onstage by a crazed fan during a performance with his band Damageplan on Dec. 8, 2004 at the Alrosa Villa in Columbus, Ohio. It was later reported that the shooter believed that Pantera was reading his mind, which suggests that the famously affable Abbott was perhaps too good at connecting with fans.
Much farther down on the most spectacular rock deaths list is Layne Staley of Alice In Chains. It might be the least spectacular rock death of all time, in the sense that it surprised absolutely no one, including Staley himself. Alice In Chains drummer Sean Kinney told Greg Prato in the book Grunge Is Dead: The Oral History Of Seattle Rock Music that Staley had long resigned himself to an early grave: "Layne told me straight up, 'I'm never coming back. I'm not going to quit doing drugs. I'm going to die like this—this is it.'" For years, Kinney had tried reaching out to Staley three times a week, either by phone or, when he was in town, yelling at the window of his nondescript Seattle condo. But Staley wouldn't see or talk to his bandmate. At the time of his death in 2002, neither Kinney nor AIC guitarist Jerry Cantrell had spoken to Staley for more than two years.
As recounted by Rick Anderson of Seattle Weekly, Staley's body was found sitting upright on the couch, his remains illuminated by a flickering television in an otherwise darkened room. He'd been dead for two weeks; the tip-off that something was amiss came not from concerned family members or friends but from Staley's accountants, who noticed that he hadn't spent any money in several days. The day of his death was estimated to be April 5, exactly eight years after Cobain's suicide. Staley's method of killing himself was slower and more painful, but ultimately no less effective. A stiff cocktail of drugs composed of cocaine, codeine, and morphine was rattling around his ravaged, 86-pound frame. A syringe loaded with a fresh supply of heroin sat in his hand; a used needle lay at his feet. Two crack pipes were waiting on his coffee table, and several more used needles were uncovered when his body was moved. Staley wasn't the sort to hedge his bets when it came to calling his own drug-related death.
G/O Media may get a commission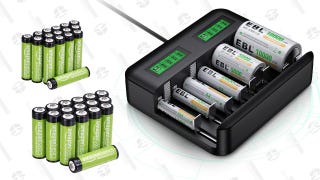 To anyone with a passing knowledge of Staley's life and music, his downfall played out like the worst kind of ending—distasteful, depressing, and all too predictable. If it had been a novel, a good editor would have cut out all the monotonous material about Staley holing up for years in his apartment, so sick that he made his busy corps of dealers bring drugs to his front door, and finished the story closer to 1996, the year he unofficially limped away from the world and Alice In Chains, then one of the biggest hard-rock bands in the land.
Those that knew Staley personally seem to agree that he more or less died in spirit when his long-time girlfriend, Demri Parrott, succumbed to bacterial endocarditis stemming from her own drug use in October 1996. Staley and Parrott were no longer together when she died; because she lacked Staley's rock-star bank account, Parrott was reduced to living out a conventional junkie death, finally prostituting herself in order to score drug money. But the loss still crushed him. That same year, Alice In Chains played its final shows with Staley, performing on MTV Unplugged in April—the band's first concert in three years—and several dates with the newly reunited Kiss, ending with a gig in Kansas City on July 3, 1996.
Two years later, Alice In Chains briefly reunited to record the songs "Get Born Again" and "Died" for a boxed set. But as far as the public was concerned, Staley lived out the rest of his doomed existence as the ghost of grunge's skeezy past. Rumors began circulating that he had lost an arm to gangrene. On the rare occasions that he ventured out of his home, where he gorged on videogames whenever he wasn't gorging on drugs, Staley cut a hard figure: Abscesses covered his arms, and he'd lost most of his teeth. "He looked like an 80-year-old version of himself," Seattle music journalist Jeff Gilbert told Prato. "His skin was grey, dark circles under his eyes. He had already lost a finger or two from his veins collapsing and not getting enough circulation to his hands … I remember seeing him from a distance, and I thought, 'That's the oldest punk rocker I've ever seen.'"
Flash back about 15 years, and Staley is a dramatically different, happier, and more spandex-friendly person. Cantrell recalled to Charles R. Cross of Rolling Stone how he met his lead singer: It's a Seattle party, and Staley is standing in the middle of it all, his hair dyed a bright glam-rock pink and teased with a hair clip atop his tiny frame. At his side are two beautiful women, looking at him adoringly. It's 1987, and Staley knows how to walk the walk of the day, strutting onstage in baby blue satin suits and exuding big-cock charisma. Pearl Jam guitarist Mike McCready remembered this version of Staley being "funny and lucid, and without a doubt he was not reluctant to be a star."
By the time Staley actually was a star, he traded in the poufy-haired bravado of glam for the vein-popping gutter grime of Alice In Chains. The band's 1990 debut, Facelift, went platinum thanks in large part to the popular single "Man In The Box," which succinctly laid out the themes of future Alice In Chains records in the very first line—Staley was a man trapped, buried in his own shit, and while he was self-aware enough to acknowledge it, he was powerless to lift himself out.
This idea was explored to an almost nauseating degree on 1992's Dirt, an unrelentingly grim collection of songs about how people should never, ever shoot heroin. Part of what makes Dirt an impressive artistic achievement is that much of the album was written or co-written by Cantrell, who performed a sort of "method" songwriting by infusing a junkie's hopelessness and guttural desperation even into songs that didn't directly address addiction. The single "Down In A Hole" is a pained expression of romantic loss that became a metaphor for chemical longing in Staley's hands. "Rooster" is a spooky character study about Cantrell's father fighting off demons from the Vietnam War, but it also applied to Staley's own drawn-out, unwinnable conflict. Throughout, Cantrell's off-kilter, shotgun-blast-to-the-intestines guitar work acts as a queasy counterpoint to Staley's dead-man-walking howling. This marriage of sound and fury unites Dirt as a justifiably unpleasant concept record of immense (and immensely sickening) power. From the start of Dirt, you're trapped in Staley's skin, and for the next 50 minutes there will be no escape. The album-opening "Them Bones" welcomes you with the screams of a man being burned alive, and it just gets more brutal from there. 
The most disturbing song on Dirt is "Junkhead," co-written by Staley and Cantrell. Over a torturously slow metal-blues riff, Staley denounces "the hypocrite norm, running their boring drills," and commits himself to consuming whatever drugs are available to him. "Money, status, nothing to me," Staley sings, though that's not completely true—it's the money and status that "allow" him to live this way. In the soaring chorus, Staley harmonizes with Cantrell on lines that spell out the catch-22 that defined his final years: "What's my drug of choice? Well, what have you got? I don't go broke, and I do it a lot." Even as his habit kept Alice In Chains off the road and out of the studio, Staley still had more than enough money to ensure that he'd always have a steady supply of the substances he craved. He was down in a hole so deep he couldn't hope to hit bottom. Less sympathetic listeners might dismiss "Junkhead" as the empty lamentation of a rock-star addict, but Staley wasn't looking for pity. He was reporting on his own ongoing dissolution, giving the play-by-play on his soul being ripped away from him. As an act of first-person journalism from the depths of hell, Dirt has few equals in rock history.
The specificity of Dirt is what makes the album so moving, and it's the most obvious attribute separating Alice In Chains from the legion of bands that emerged to take its place after Staley slipped into permanent heroin hibernation. Along with Pearl Jam, Alice In Chains was a primary grunge-era influence on the post-grunge bands that ruled modern-rock radio from the late '90s onward. Dirt, in particular, became an important touchstone. "When [Dirt] came out, the thing did not leave my CD player," Godsmack singer Sully Erna told Cross in Rolling Stone. "I've never heard someone's voice hit the tape like that. He's the reason I started singing."
Dirt plugs you into the day-to-day slog of one addict's life; even if you don't connect with the record, you still can't help but feel a dull ache in your bones and the sting of rancid sickness in your nostrils. You don't get the same singular experience listening to Godsmack (which took its name from a Dirt track), Staind, or Creed, who adopted the superficialities of Alice In Chains' sonic and thematic signposts and reconfigured them into interchangeably angsty and thuddingly poppy plop-metal. To quote a Staind album title, the legacy of Dirt is colored by 14 shades of gray. Nevertheless, Alice In Chains has lived on like few bands of its time, and even in death Staley is still among the most vital singers you're likely to hear on the local modern-rock station.
Staley sound-alikes became so common in the years after his public retreat and death that it was perhaps inevitable that one of them ended up replacing him in his own band. In 2009, Alice In Chains released Black Gives Way To Blue, its first album of original material in 14 years. In the Staley slot was William DuVall, who sang in Cantrell's post-AIC band and sat in with Alice when the band first reunited in 2006 for a benefit concert. Alice In Chains 2.0 became a band with two lead singers, with Cantrell frequently dueting with DuVall or taking lead vocals on his own. This actually isn't much of a departure from the sound of Alice In Chains 1.0, which was steeped in the undead Southern-rock harmonies of Staley and Cantrell. The difference on Black Gives Way To Blue was, as the title suggested, a shift in perspective. "I think there's always been a little bit of death trip element [and a] survivor element," DuVall told Rolling Stone. "I think maybe the percentage has been a bit inverted [on the new album]. Where some of the records might have been more Scarface, this one is more Shawshank Redemption."
Given the loss of Staley and lag time between records, Black Gives Way To Blue had no right being any good. But it's a surprisingly decent addition to the Alice In Chains canon. It's not AC/DC roaring back to life with Brian Johnson on Back In Black, but it's not the embarrassment it seemed destined to be either. Though DuVall obviously apes Staley whenever his voice meshes with Cantrell on one of those ominous, crypt-keeper choruses, at least Black Gives Way To Blue doesn't ignore the track-mark-covered elephant in the room. Staley's horse-addicted ghost is still Cantrell's muse, only this time Staley is actually dead. But this version of AIC is an appreciably different band; many things can be said of Layne Staley, but "Morgan Freeman-esque" is not one of them.
Still, it's the brand name that puts butts in the seats, and Alice In Chains has drawing power; Black Gives Way To Blue sold 126,000 copies its first week, good for a Billboard debut at No. 5.
[pagebreak]
The lesson of Black Gives Way To Blue, at least as it applies to the SoCal pot-rock band Sublime, is that there really is life after death in '90s rock, provided you can retain enough of your old sound to convince people to move forward with you. But while the surviving members of Alice In Chains made sure to present their band as a newly evolved entity, Sublime's Bud Gaugh and Eric Wilson are trying to pick up where they were forced to leave off in 1996, when their lead singer, Bradley Nowell, died of a heroin overdose at age 28. Now touring as Sublime With Rome, Gaugh and Wilson are playing their old songs with Rome Ramirez, a singer born the same year that Sublime played its first show. Ramirez grew up on Sublime records, and based on this clip of Sublime With Rome performing the hit "Wrong Way" in 2010 on Jimmy Kimmel Live!, he was hired for his ability to make Nowell's demise seem like a mere inconvenience that temporarily kept the band off the road.
The story of Sublime is one of the strangest and most tragic tales in all of '90s rock. Formed in 1988, Sublime made its name by playing surf towns up and down the California coast, honing a feel-good blend of punk, hip-hop, and ska informed by Nowell's multicultural upbringing in Long Beach. Nowell was musically precocious as a child, able pick out a tune on his guitar after only hearing it once. He didn't have a great voice, but he sang like he did, using the power of his personality to give his vocals the sunny brassiness that made Sublime songs so irresistible on the radio once 1996's Sublime brought the band's music to the masses.
Search for Bradley Nowell videos on YouTube and you'll find a smattering of interview clips recorded a year or so before he died. Here he is backstage on the Warped Tour looking like one of the many shirtless, deeply tanned, and blond bros lurking in the audience. He's wearing gold Elvis sunglasses and talking about partying with the other bands on tour and hanging with champion skateboarder Remy Stratton. He reminds me of my friends from high school, who returned home from the first year of college in the summer of 1997 blasting nothing but the Sublime record. I didn't own the album because I didn't have to; if you spent time in a dorm in 1996 and '97, all you heard was Sublime, Odelay, and Dave Matthews Band. The memories alone give me a contact high.
There was more to Nowell than living life like the world was one big smoke-filled Chevy van. He was also a serious heroin addict, a habit inspired in part by wanting to mimic his heroes. "He thought it was very rock 'n' roll, you know," Nowell's widow Troy Dendekker said. "Perry Farrell and Kurt Cobain and all those guys did drugs, and Brad wanted to see what it was like." By the time Sublime was in the studio recording its self-titled third record, Nowell was in such rough shape that producer Paul Leary—no stranger to substance abuse as a founding member of Butthole Surfers—sent him home before the record was completed. "There were times where someone had to go into the bathroom to see if Brad was still alive," Leary told Rolling Stone.
When Nowell finally pushed his luck with heroin too far in a San Francisco hotel room on May 25, 1996, his band wasn't yet famous enough to warrant much media attention for the tragedy. (Rolling Stone later noted that the heroin-related death of touring Smashing Pumpkins keyboardist Jonathan Melvoin that July garnered more coverage than Nowell's death.) Ten weeks after Nowell's funeral, Sublime's label, Geffen, went forward with plans to release the band's new record, though the original title, Killin' It, was understandably ditched.
Befitting a band that preferred to work spontaneously and under the influence of strong substances, Sublime is a spotty, erratic record, with more dead ends and half-formed ideas than successes. But those successes, which include singles like "What I Got" and "Santeria" frontloaded in the first half of the record, made Sublime a leftfield and shockingly prescient smash, predicting and capitalizing on musical trends that were just taking hold when Nowell died.
Sublime proved to be an ideal band for a generation that approached rock music with an irreverent, hip-hop-inspired sensibility. Nowell's music was divorced from the deadly serious alternative music that had been the norm for the early part of the '90s; Sublime pointed the way to a new kind of mainstream rock that had the aggression and energy of punk and none of the underground pretension or anti-corporate ideology. Equally important for Sublime's success was the element of man's-man machismo, which was spelled out on the album cover depicting a hulking and shirtless Nowell standing with his back to the camera and exposing his large Sublime tattoo. Tough-guy posturing linked hip-hop with hard rock, and it would come to define the rap-rock hybrid that dominated mainstream rock radio in the late '90s. Soon, even bands directly inspired by early-'90s bands would conveniently set aside the feminist idealism those groups were known for in favor of an unapologetically assertive masculinity that was both reactionary to recent rock history and restorative of the old status quo.
Nowell might have ended up being another heroin casualty of the era, but he didn't sound like a guy that needed a spike in the arm in order to get out of the bed in the morning. Sublime was a band for working-class people who could reconcile the casual bleakness of the lyrics of a song like "Wrong Way"—a cheery ditty about an underage hooker—with the dance-happy music. For Nowell, being dealt a shitty hand was a fact of life, but so was the pleasure of smoking killer bud, and acknowledging the former didn't necessarily negate the latter.
"Fuck it, fight it, it's all the same," Nowell sang on "What I Got," and it was a message that resonated with millions of people that had no idea that they were bobbing their heads to a happy-go-lucky dead guy. In April 1997, Sublime entered the Billboard Top 20. After a year in stores, it was selling 50,000 copies a week, eventually going on to sell 6 million. Gaugh and Wilson tried as best as they could to capitalize on Sublime's unexpected and poorly timed success, signing a deal to release a series of archival records collecting early songs, outtakes, and remixes, starting with 1997's Second Hand Smoke. They also were on hand that year to accept an MTV Video Music Award for best alternative video, an appearance punctuated by drunken shoutouts to Happy Gilmore and Lynyrd Skynyrd and an awkwardly slurred tribute to Nowell.
Other than that, there was no promotional concert tour for Sublime, or any new music to follow it up. Gaugh and Wilson said they had no plans to revive Sublime until they met Ramirez in 2008 and, as they later told Billboard, had "instantaneous" chemistry with the 20-year-old Fremont, Calif. native. Ramirez had been playing Sublime songs for much of his life when he hooked up with Gaugh and Wilson, learning them shortly after picking up the guitar at age 11. If he felt any misgivings about essentially pretending to be Bradley Nowell so his old bandmates could tour again under a lucrative moniker, he didn't show it when he made his debut as Sublime's new lead singer in February 2009 at a surprise show in Nevada. An appearance at Cypress Hill's Smokeout Festival followed in October, and the band's first tour commenced in April 2010.
As for fans that object to another man heading up Sublime, Ramirez seems content to play the "haters gonna hate" card. "There will always be haters," he said in an interview with budZtv in 2010. "But when there's 20,000 people out there, just loving everything, and just dancing around with smiles, nothing can stop that."
The most vocal haters of the new Sublime were from Bradley Nowell's family, which issued a statement in 2009 chastising Gaugh and Wilson for carrying on the band name without their original singer and friend. "It was Brad's expressed intention that no one use the name Sublime in any group that did not include him," the family said, "and Brad even registered the trademark 'Sublime' under his own name." A subsequent lawsuit forced Gaugh and Wilson to tour as "Sublime With Rome," but in the end they won out over Nowell's family where it mattered, finally having the ability to play for the millions of people who bought Sublime records in the years after Nowell's death.
Most people who love Sublime today are fans of a band that Nowell hasn't been a living member of for 15 years. He's always been dead as far as most people are concerned. But just as Layne Staley is present any time someone plays an Alice In Chains song—even an Alice In Chains song that he's not actually singing on—Nowell is the living dead, his spirit regenerated both by music he played a conscious part in creating and those who emulate what he left behind. In a very real way, both men remain the most important members of their respective bands. The show goes on, but Layne Staley and Bradley Nowell are still in the spotlight.
---
What Happened Next? At the beginning of 1997, the biggest British rock band in the world was Oasis. By the end of the year, that title would belong to Radiohead. I'll look at the coke-fueled disaster of Oasis' misbegotten epic Be Here Now, and the unlikely triumph of Radiohead's dystopian prog-rock masterpiece OK Computer.