Hello friends, especially those living in or near Chicago, or who are willing to travel. As you may remember, we have presented a comedy festival in our fair city each of the past three years, along with our friends at The Onion and ClickHole. Well, we're doing it again, with help from our returning title sponsor truTV: Behold the fourth annual 26th Annual Comedy Festival. It will run from May 31 to June 4, 2017, at various venues around Chicago.
Patton Oswalt will film his upcoming stand-up special at the Athenaeum on June 2. Mike Judge will screen a 35mm print of his amazingly prescient Idiocracy at the Music Box. Legendary actor-director Christopher Guest (This Is Spinal Tap, Waiting For Guffman) will appear in conversation with Robert Milazzo, also at the Music Box. Plus Nathan Fielder. Aparna Nancherla. Bitch Sesh. Guys We F@#ked: The Experience. ClickHole Live. Adam Ruins Everything Live. AND MORE. See below for all the details.
Specific information on tickets and stuff can be found on the festival's site. For the first this this year, we'll be offering an all-festival pass, but they're very limited. Those are on sale now; tickets for all other shows will go on sale this Friday, March 10, at noon central. Oh, and yes, there will be after parties every damn night at the Virgin Chicago, featuring superstar special guests. Now check out this lineup!
Christopher Guest In Conversation
Wednesday, May 31 / 7:00pm @ Music Box
Legendary actor and director Christopher Guest has been a part of some of the greatest comedy in the last 30+ years. He's one-third of Spinal Tap. He's Corky St. Clair in his own Waiting For Guffman. He directed the "synchronized swimmers" sketch on SNL, as well as A Mighty Wind, Mascots, and more. Here, Guest will have a conversation with The Modern School Of Film's Robert Milazzo that will span his entire storied career, and will include clips from his work to help tell the story.
Aparna Nancherla
Wednesday, May 31 / 7:00 & 10:00pm @ The Hideout
Aparna Nancherla is an incredibly funny stand-up who's written for Late Night With Seth Meyers and appeared on Inside Amy Schumer.
G/O Media may get a commission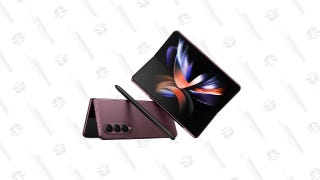 Save Up to $300
Galaxy Z Fold4
Idiocracy Screening with Writer/Director Mike Judge
Thursday, June 1 / 7:00pm @ Music Box
Mike Judge is the genius behind Beavis & Butt-head, Office Space, and King Of The Hill. His second feature film Idiocracy has proven to be incredibly prescient in these political times: 500 years in the future, the world has gotten very, very dumb. Here, Judge will screen a 35mm print of the film and then be interviewed by The A.V. Club's Sean O'Neal.
The Adventures Of Pete & Pete reunion
Thursday, June 1 / 9:30pm @ Lincoln Hall
Nickelodeon's The Adventures Of Pete & Pete has been called the greatest children's show ever, and it works just as well for adults. (Guest stars on the 1993-1996 series included Iggy Pop, Chris Elliott, LL Cool J, and Michael Stipe, among many others.) Join the cast and the show's creators for an evening of obsessive reminiscing about all things Pete moderated by The A.V. Club's Marah Eakin. There will be a cast and crew panel discussion, an audience Q&A, classic clips, and much more.
Patton Oswalt
Friday, June 2 / 7:00 & 10:00pm @ Athenaeum Theatre
Patton Oswalt probably needs no introduction at this point, right? One of the biggest and best stand-ups working today, he recently took home a Grammy for Best Comedy Album (for last year's Talking For Clapping). He's also an incredible character actor, starring as everything from Remy in Ratatouille to Bob Sweeney on Justified and a thousand roles in between. At these can't-miss shows, Oswalt will be recording a new TV special for the Chicago audiences that have welcomed him for many years.
Bitch Sesh live with Casey Wilson and Danielle Schneider
Friday, June 2 / 7:00 & 9:30pm @ Lincoln Hall
Casey Wilson and Danielle Schneider (Hotwives Of Las Vegas) love the Real Housewives on Bravo, and they're sharing that excitement with you on Bitch Sesh! Listen in to hear the ladies dish on the season's wildest moments, answer all your burning Housewives questions, drink Housewives-branded wine, and bring on some super special guests.
Jena Friedman
Friday, June 2 / 10:30pm @ The Hideout
Jena Friedman is a stand-up comedian, actor, writer, and filmmaker. She is currently a correspondent for National Geographic Explorer and has worked as a field producer at The Daily Show With Jon Stewart and has written for Late Show With David Letterman. Her critically acclaimed stand-up special, American Cunt, is now available on Seeso and Amazon.
Nathan Fielder of Nathan For You
Saturday, June 3 / 7:00pm @ Athenaeum Theatre
In this rare live appearance, Nathan For You mastermind Nathan Fielder will talk about the work that goes into one of the weirdest, most amazing comedy shows in existence. His life's work has resulted in such indelible segments as "Dumb Starbucks" and the world-fooling "Petting Zoo Hero." Expect the unexpected (as well as a sneak peek at season four).
Guys We F@#ked: The Experience
Saturday, June 3 / 7:00 & 10:00pm @ Thalia Hall
Each week, Corinne Fisher and Krystyna Hutchinson (together known as the comedy duo Sorry About Last Night) interview a gentleman they slept with on Guys We F@#ed: The Anti Slut Shaming Podcast. Some they made love to, some they had sex with a few times and some they f****d in a hotel bathroom… er, what? Corinne & Krystyna want to make the world a more sex-positive place, one candid story of intercourse at a time.
7 Minutes In Purgatory with Ian Abramson
Saturday, June 3 / 8:00pm @ Lincoln Hall
What happens when you deny stand-up comedians the benefit of laughter? Ian Abramson, host of 7 Minutes In Purgatory, finds out when he puts comics alone in while the audience watches from a different room. Last year's show at the Hideout was sold out and crazy, so this year we're moving it to a bigger room.
Amazing: A ClickHole Live Show
Saturday, June 3 / 10:30pm @ Lincoln Hall
The writers and editors of ClickHole.com, the internet leader in viral spew, will inspire you, horrify you, and make you feel every other emotion, including the sex ones, all at once during a fast-paced carousel of brief presentations highlighting life's most pressing topics.
ClickHole was launched in the early days of the internet, back in 2014. It tirelessly churns out content that the modern consumer actually wants to read, from the heartwarming story about a local Hooters that was going to have to close its doors until the skeeviest fucking guys imaginable came together to save it, to a quiz that tests to see if you are mommy's little sweetheart or daddy's marvelous lamb man. A champion of all content big and small, ClickHole will never die as long as humanity has the constant, throbbing urge to look at stuff.
Crabapples with Bobcat Goldthwait and Caitlin Gill
Saturday, June 3 / 7:00 & 10:00pm @ The Hideout
Bobcat Goldthwait is one of the most recognizable comedians in show business and was ranked as the 61st greatest comedian of all time by Comedy Central. You might recognize him from the Police Academy movies, but we prefer to think of him as the stand-up master—and writer-director of the cult classic Shakes The Clown. Bobcat is also currently in production on a new series, Bobcat Goldthwait's Messed Up Stories (working title), for truTV. He'll be joined here for two shows by Caitlin Gill; the two host a regular stand-up showcase called Crabapples.
Adam Ruins Everything Live
Sunday, June 4 / 7 & 9:30pm @ Lincoln Hall
Adam Conover is the creator and star of truTV's Adam Ruins Everything, a comedy series that dispels widespread misconceptions about everything we take for granted. Adam recurs on the hit Netflix animated series Bojack Horseman and was a regular panelist on VH1's Best Week Ever.
Rise Up: Comedy For Change
Friday, June 2-Sunday, June 4
In conjunction with the comedy festival, we're presenting Rise Up: Comedy For Change from June 2-4. With support from The Open Society Foundations, the day-and-a-half event will bring together experts, change-makers, creatives, and comedians to explore the role comedy can play in creating social and political change in an increasingly polarized world. An opening reception will be held Friday, June 2; panels, performances, and debates will be held during the day on Saturday, June 3 and the morning of Sunday, June 4.
As part of the event, Caty Borum Chattoo, director of the Center for Media & Social Impact at American University (CMSI), will facilitate workshops for several satirists and comedians from the US and Latin America to create new comedy projects through media that will later be published on a Univision or Fusion Media Group platform later in the year. CMSI's new project, The Laughter Effect, provides insights about how comedy works to create social change.

You made it this far! Now go to 26comedy.com to explore further.