Angus Scrimm, star of the Phantasm films, has died. According to Phantasm director Don Coscarelli's Facebook page, Scrimm died peacefully Saturday surrounded by his friends. He was 89.
Scrimm was born Lawrence Rory Guy on August 19, 1926 in Kansas City, Kansas, and, according to Hero Complex, decided to become an actor after seeing Gary Cooper in 1929's The Virginian. (It was a Frankenstein and Dracula double feature that infected the young man with the horror bug.) After graduating from high school early, he and his older sister made their way for Los Angeles, where Scrimm studied theater at USC under Cecil's brother William C. DeMille.
In between theater gigs, a young Scrimm took on whatever jobs he could, including working as a publicist for KTTV and writing book reviews for the Los Angeles Herald Examiner. "I was working at TV Guide, which paid about $50 a week, and looking for a way to supplement my income," the actor told PDTV in 2014. " There was an ad in the paper for a music writer. I was a great record fan, so I applied, and it turned out to be Capitol Records." During his tenure at Capitol, Scrimm penned liner notes for artists like Frank Sinatra, Nat King Cole, and even the Beatles under the byline "Rory Guy"; he won a Grammy in 1974 for "Best Album Notes, Classical" for Korngold: The Classic Erich Wolfgang Korngold. Even after the success of Phantasm, Scrimm continued to write liner notes.
Scrimm's portrayal of The Tall Man in 1979's Phantasm solidified the character as one of the silver screen's all-time scariest boogeymen. Director Don Coscarelli had previously worked with Scrimm in his 1976 film Jim, The World's Greatest, where he played an alcoholic father. The shoot was a logistical mess, according to the director, and Scrimm would sometimes sit around the set all day without shooting a single scene. "Don was terrified to tell me [about the delays]," Scrimm recalled to the L.A. Times, a sentiment that Coscarelli echoes: "I was a bit intimidated by him. [So] when I came around to making a horror film, I thought he would be good and have that kind of presence."
When the director approached Scrimm about signing on to his next film, he simply told him that he would be playing an alien this time around. "My mind raced with the dramatic possibilities," Scrimm explained in his introduction for Phantasm's laserdisc release. "An eager immigrant from the old country, meeting the struggles, the heartbreaks, but the eventual triumphs in the land of opportunity, America." Of course, Phantasm featured a very different kind of alien than he had anticipated, a "Tall Man" from another dimension with the power to resurrect the dead as his slaves. While already a substantial 6-foot-4, the actor donned suits that were several sizes too small and a pair of lifts to make him appear even taller:
The film went on to spawn four sequels, with a fifth, also featuring Scrimm, due sometime this year.

G/O Media may get a commission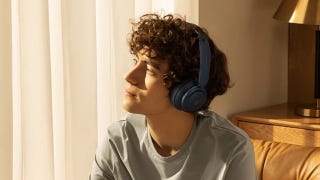 30% off
Soundcore Headphones and Earbuds
After the success of Phantasm, Scrimm became a genre favorite, appearing in cult cinema films such as Chopping Mall, Subspecies, and Mindwarp, as well as small roles on TV series like Trapper John, M.D and the American remake of Coupling. Coscarelli, too, would never miss an opportunity to cast his longtime friend, using him in his Masters Of Horror entry as well as 2012's John Dies At The End. Later in his career, Scrimm had a recurring role as Calvin McCullough on Alias, thanks in part to series creator J.J. Abrams being a tremendous fan of the Phantasm series. (The Star Wars: The Force Awakens director revealed earlier this year that the character of Captain Phasma was named after the film, and Bad Robot is currently spearheading a 4k restoration.)
Despite scaring an entire generation as The Tall Man, Scrimm was always quick to display his sense of humor on the convention scene. "The MPAA has cracked down pretty badly on the Phantasm pictures," the actor said in a fan interview filmed at the 1990 Fangoria Weekend Of Horrors. "Censorship, obviously, is necessary, and I'm all for it. I just don't like it when they cut my pictures."