It is a long-standing, decades-old tradition in hip-hop to record new, freestyled rhymes over instrumental versions of prominent rap and R&B songs. The custom has only intensified during the internet age, with such instrumentals being not only hyper-plentiful but also easily accessible and shareable. The YouTube comment sections for hip-hop instrumental videos are filled with alternate lyrics, ranging from decent to outright laughable, from amateur emcees. Artists like Lil Wayne have even included such freestyle experiments on their mixtapes, and comedians have had fun with this kind of thing, too. But the internet has recently, for reasons of its own, elevated one such instrumental above all others: 2003's "So Gone" by Monica, which heavily samples "You Are Number One," a relatively obscure 1977 track by The Whispers. The Monica track, co-written and co-produced by Missy Elliott, has become the focus of the #SoGoneChallenge. The idea is simply to record a freestyle rap over the track and post it to the internet.
What's interesting about this particular internet challenge is that it has already attracted some top-flight talent. Chicago's Chance The Rapper, for instance, posted his #SoGoneChallenge video to Twitter, earning nearly a quarter million retweets in the process. Since the original song is about infidelity and heartbreak, he used the challenge to offer some tender-hearted relationship advice: "If you got a girl, and she's sexy and she's grown / Stay your ass at home before you wind up all alone."
But that wasn't anywhere near the end of it. Comedian Kevin Hart also rose to the #SoGoneChallenge in the guise of his incompetent rapper character, Chocolate Droppa. Donning a floppy-brimmed bucket hat, Hart posted the following to Instagram. "Got the ends for days, lays for days," Hart brags. "Matter of fact, motherfucker, where's my Lay's potato chips?" This might be the first recorded instance of anyone boasting about how much pee there is in his swimming pool: "Sometimes I let my body just do what it does." Good to know, Droppa.
G/O Media may get a commission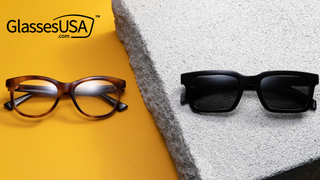 60% off frames
GlassesUSA.com Back to School Sales
Other notables who decided to get in on the challenge include the Chicago Bulls' Dwyane Wade, who says he's not a rapper but holds his own here anyway.
And, yes, Monica herself has weighed in with her own "So Gone" freestyle, so the snake is officially eating its own tail.
She's still got it.
[via Vulture]