As part of a continuing investigation into today's kids and how you just don't understand them, a new survey commissioned by Variety finds that YouTube personalities are considered more popular and influential among Americans age 13-18 than the biggest celebrities in film, TV, or music. For Americans age 13-18, film, TV, and music are the things that YouTube personalities occasionally record themselves talking about. Sometimes they use ukuleles.
Conducted by Jeetendr Sehdev, a "celebrity brand manager" who has to write all of that down on a form whenever he goes to a new dentist, the survey asked 1,500 respondents to rank 20 celebrities on characteristics typically used to strategize the management of their brands (you know the ones). Half of these celebrities were drawn from the world of YouTube, where they had the most subscribers and views out of all English-speaking personalities. The others were people like Jennifer Lawrence and Leonardo DiCaprio, who don masks made of horsehair and starched linen to prance for the city elders and the pleasure of Dionysus. It wasn't even a contest.
Five of the people deemed to be most popular and influential by American teens hailed from YouTube, topped by comedy duo Smosh, then followed closely by fellow comedy duo (and "Kids React" masterminds) The Fine Bros.; PewDiePie, a Swedish man who records himself playing video games; KSI, a British man who records himself playing video games and acting out loud pranks; and comedian Ryan Higa. All of these people were considered to be "more engaging, extraordinary, and relatable than mainstream stars," by a group of teens who are similarly given to making constant Internet documentation of themselves, in a survey conducted on the Internet.
As for those mainstream celebrities, the only one deemed as being as "influential" as YouTube personalities was late Fast & Furious star Paul Walker, suggesting that these teens are really dark.
G/O Media may get a commission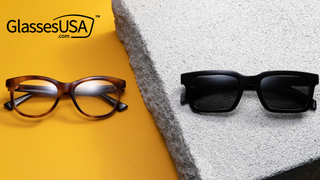 60% off frames
GlassesUSA.com Back to School Sales
While Katy Perry, Johnny Depp, and Betty White all may be equally outdated among today's teenagers, they can perhaps take comfort in knowing that teens would still have sex with them, ranking them "just about even" with the YouTube stars on sex appeal. However, these same stars were also deemed "smarter and more reliable," two qualities that are incredibly uncool.
As a takeaway from these findings, Sehdev suggests that they serve as a "warning" to YouTube celebrities to avoid being "swallowed by Hollywood," lest they risk becoming "less authentic"—a warning that, fortunately, many, many YouTube celebrities appear to have heeded by, in the rare cases they do get Hollywood deals, making only terrible things. But more importantly, Sehdev suggests Hollywood learn from this by "encouraging unvarnished individualism" from its stars, which is the sort of real, raw quality that can only grow naturally out of extensive market research conducted by celebrity brand strategists.