Everything's going so well for The Other Two. The new Comedy Central series, a smart pairing with the outgoing Broad City, is so smart and so funny about celebrity, success, family, pop culture, relationships, and the various kingdoms of Andy Cohen's reality-show empire. It's a star-making vehicle for Heléne Yorke and Drew Tarver, who share top billing and make good on the promise of past supporting and guest turns on The Good Fight, High Maintenance, Bajillion Dollar Propertie$, and Comedy Bang! Bang! (If you haven't seen or heard Tarver do CBB songsmiths Donny Garry and Martin Sheffield Lickly, you must.) Wanda Sykes, Molly Shannon, and Ken Marino are all on hand, doing exactly what you pay Wanda Sykes, Molly Shannon, and Ken Marino to do in a show like this. Every episode commences with an opening title card of stylish typography and Casio squiggles. It's as good as a freshman TV comedy gets.
Then there's the bothersome detail of dad. Creators Chris Kelly and Sarah Schneider have given The Other Two a sense of continuity that's tight but never smothering (yet another of the show's virtues), part of which are the little hints that build up about the late father of 13-year-old Chase "ChaseDreams" Dubek (Case Walker), a cherubic Justin Bieber type who's experiencing a brush with fame thanks to his viral music video, "Marry U At Recess." The full circumstances of the death are kept secret from Chase and the audience, occasionally spoken of in whispered tones by elder Dubek children Cary (Tarver) and Brooke (Yorke) and their starry-eyed mother, Pat (Shannon). The show handles this streak of melancholy without watering down the comedy or sinking to maudlin depths, but for a while, it also feels like it's falling prey to the worst of Sundance-bait tendencies, withholding backstory for an emotional punch that's never going to land. It's the one imperfection in an otherwise flawless gem formed under layers of entertainment news (The A.V. Club was pleased to hear itself referenced in the fourth episode, but this reviewer was already sold on the show before then), keenly observed family ties, and the humor of failure.
But by the time Pat's revealing the truth about daddy Dubek, The Other Two delves into details so strange and so specific that what initially appears to be a flaw turns out to be another gleaming facet. Within that impressive turn of events, there's some sharp commentary on celebrity activism and some "a stopped clock is right twice a day" material for Marino's numbskull manager character, a well-coiffed, sentient drop of flop sweat named Streeter. Crisis is averted, on multiple fronts. Just further evidence that The Other Two is TV's first can't-miss comedy of 2019.
G/O Media may get a commission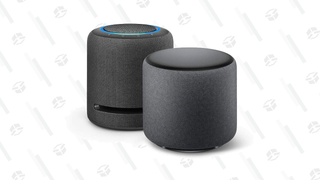 25% off - Prime Exclusive
Echo Studio + Echo Sub Bundle
The show makes a lot of strong, surprising choices like this. Walker's boy-next-door visage and prepubescent crooning aside, it's probably a mistake to associate Chase with the Biebs, because The Other Two doesn't get him anywhere close to pissing in a mop bucket or abandoning a Capuchin monkey at German customs. He's just a brighter-than-average kid who's had the attention of the world's online youth thrust upon him. Cary and Brooke are handled with similar care: As a struggling actor and former dancer, respectively, they're initially miffed by Chase's rise, but wind up acting more protective than envious. If his stardom changes anyone, it's them, as Cary, Brooke, and Pat are all subtly and gradually sucked into the dream factory machinery. The most pragmatic of the bunch, Brooke advises that they "ride the wave" of Chase's renown, and that wave keeps crashing on the shore of The Other Two in amusing, persistent ways, like the fake tan and frosted tips that Cary gets when he's cast as the bartender on Watch What Happens Live, which linger on Tarver for several episodes afterward.

With scripts built around various professional milestones for Chase, The Other Two has a first season that's uncommonly attentive to its long and short games. A movie premiere, a music-video shoot, and a big birthday blowout each give their episodes a distinct center of gravity, which keeps them all from blurring together (a more notable achievement than it sounds in this, the age of the binge) while also providing something solid for the ongoing plots to revolve around. (Something else more shows should be better at.) Chase breezing through the entertainment industry bumps up against Cary struggling with casting agents who ask him to act more straight, which feeds into the fact that he keeps making out with his purportedly straight beefcake roommate, which parallels the on-again, off-again thing lovable dummy Lance (Josh Segarra) has with Brooke, who's discovering that she's well-equipped to protect Chase from the showbiz vultures who want to dye his tongue and plug him into a fake relationship with another teen idol. Not since the glory days of Arrested Development has a sitcom so excelled at maintaining such intricate, extended threads while also using them to connect callbacks that span the entire season. And that's without saying anything of Pat's upward, "year of yes" trajectory through mother-of-the-famous pursuits like writing children's books and designing alarmingly heavy jewelry.
And at the front of it all are Yorke and Tarver, who waste no time in establishing a believable, relatable dynamic as siblings who've come to view one another as a support system, and are irritated, horrified, but ultimately relieved when Chase and Pat impose on that setup. Yorke's the more aggressive of the pair, her hard-charging portrayal of Brooke a perfect match for a character who's already seen her creative dreams go up in smoke and, at the beginning of the series, is scraping by in the most tenuous and extreme of squatting arrangements. (A wig is involved; Yorke has the confidence to pull it off even if Brooke hasn't the cunning.) She's fighting back vulnerability while the easygoing vibe Tarver inhabits as Cary is masking it; his post-ChaseDreams spiral is the longest and the funniest, because Tarver's so good at putting on a smile while making desperate stabs at validation like faking phone calls in order to brag about a role or straining to fit in with a clique of like-grubbing Instagays. One of the best, unspoken jokes of The Other Two's first season is that the more Cary and Brooke are shown being their authentically messy selves, the more vicarious adoration they receive from Chase's fans—and Yorke and Tarver are very good at authentic and messy.

Kelly and Schneider have come up with something fresh and assured, but there's also a lot that's comfortingly reminiscent of great shows that came before The Other Two. The creators have cited You're The Worst, Catastrophe, and High Maintenance as influences, and that's palpable in the skillful blend of comedy and drama. In its lead characters, setting, acerbic pop-culture zingers, and obsession with/reverence for A-listers and D-listers alike, the show owes a debt to Billy Eichner and Julie Klausner's Difficult People; it racks up a fictional financial debt to Eichner with a running gag where the Dubeks charge food and drinks to the Billy On The Street host's tab. If you've missed the quixotic cheer Marino brought to Party Down's Ronald Donald (and the cater waiter's utter lack of luck), wait until you get a load of Streeter.
And hang in there through all the stuff about the dad. The Other Two has a secret it wants to keep, but this much is obvious, even when it's playing coy: The Dubeks and everyone around them are stars, and deserving of a fanbase as fanatically devoted as ChaseDreams'.