A guide to what we're barely putting up with this week.
The return of TV Land's excellent coming-of-age-again dramedy, Younger. She's a 40-year-old pretending to be 26, the NYC publishing industry is thriving, and people say "the Burg" with a straight face—but Sutton Foster makes it all believable.
Leo's long, looooong walk in the wilderness, The Revenant. A.k.a. Leonardo DiCaprio's Wild.
G/O Media may get a commission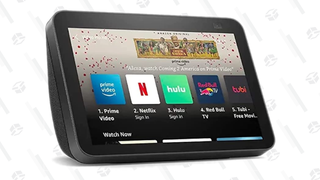 Lunchables' revolting line of food in boxes for teens, Lunchables Uploaded. Judging by the rubber-looking pizza and the "walking taco," the word "uploaded" must be teen-speak for "inedible."
The return of Spike TV's most successful gif generator, Lip Sync Battle. Do you love lip sync performances, but hate drag queens? Have we got the show for you!
Rachel Platten's exhaustingly inspirational debut album, Wildfire. Favorite music of spin instructors, tampon commercials, and anyone who loves to say "rah rah."
Kirstie Alley's inexplicable Cheers-themed Jenny Craig commercials. Shouldn't Norm and Cliff at least pretend to be on a diet if they're in a diet commercial?
Any and all news about the "secrets" of the Full House stars. Somewhere, the stars of Step By Step are angrily browsing People.com and muttering to no one in particular, "We have secrets too!"