Toro Y Moi turns to lush, introspective pop on its most personal album to date
Toro Y Moi, Boo Boo
Grade: B+

[Carpark Records]
Of the handful of musicians tagged with the derogatory "chillwave" label in the summer of '09, none has so easily escaped pigeonholing as Toro Y Moi. Chaz Bear (formerly Bundick) has long proven himself as diversely talented as he is musically restless, successfully shifting from cosmic soul (Underneath The Pine) to jangling indie rock (What For?) while producing and collaborating across hip-hop, R&B, and EDM. Even Boo Boo, Bear's first expressly pop effort and sixth solo full-length, arrives this year mere months after another, very different release from the prolific 30-year-old: a psychedelic jazz collaboration with L.A.'s Mattson 2, titled Star Stuff. But for all his restlessness and chameleonic talent, Bear still holds a fascination for the chiming and warbled '80s synths with which he led a mini-movement some eight years ago, and on Boo Boo they help bring to the fore the latent pop sensibility that's always been at work in Toro Y Moi's music. Even mining a familiar aesthetic, Bear is still unearthing new, compelling facets of his ever-evolving project.
We're nearly four minutes into Boo Boo—already well intoxicated by the groove of opener "Mirage"—when Bear turns and says, "Oh, hello, I didn't see you there," like we've just drifted in, unknowingly eavesdropping on a personal moment. Boo Boo chronicles the difficulties of a failing relationship and an identity crisis with that kind of enchanting intimacy, and even its more melancholy moments feel inviting. Electro-funk rhythms and low-key melodies drive Bear's hazy brand of progressive pop-R&B, as in lead single "Girl Like You," where he Auto-Tune-swoons like a G-rated Travis Scott. Scott is explicitly named as an influence on the album, along with Frank Ocean and Oneohtrix Point Never—all for the sense of space they employ—and their collective presence is felt throughout Boo Boo's 50 minutes.
Bear has always emphasized production, and while these 12 tracks are typically lush, they also reveal him to be a pop singer and songwriter of endearing plainspokenness, capturing the intense introspection and confusion of a breakup. Among Boo Boo's many straightforward pop conventions, he dabbles in musing instrumentals ("Pavement") and dexterous tonal shifts—dipping into dark wave with "Don't Try" (its rhythm section borrowed straight from early Cocteau Twins) and rippling out with aqueous psych-folk (and Madeline Kenney's gorgeous vocals) in the hidden track "Be."
Boo Boo's arrangements are moody, often brightening or vaporizing without warning—not unlike the weather of Chaz Bear's adopted home in the Bay Area. References to San Francisco neighborhoods and desert panoramas, along with the sounds of traffic and crowded public spaces, conjure a distinctly West Coast vibe. But while Boo Boo is a summer album, it's one colored by a "June Gloom" (or "No Sky July"), that disorienting phenomenon where low clouds and fog hang over the mornings and don't burn off until afternoon.
Purchase Boo Boo here, which helps support The A.V. Club.
---
Public Service Broadcasting makes the niche universal on its hooky third album

Public Service Broadcasting, Every Valley
Grade: B+
[Play It Again Sam]
G/O Media may get a commission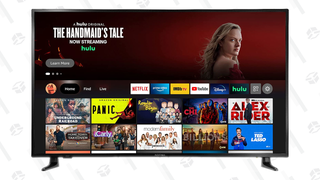 38% Off
Insignia 50" 4K UHD Smart TV
Public Service Broadcasting is fundamentally a niche proposition: a mostly instrumental group that integrates samples from old broadcasts and propaganda films to, as the band's bio notes, "teach the lessons of the past through the music of the future." On the group's third album, Public Service Broadcasting drills further down into that niche to tell the story of the decline of the coal industry in South Wales, a topic that could charitably be described as of limited interest to anyone outside of the U.K. But as the press materials for Every Valley note, the greater story is hardly limited to the coal-rich Welsh countryside: It applies to any place whose prosperity relied on one industry, and what happened when that industry went away.

While that sounds more like a long-form article from The Guardian than a rock album, Every Valley isn't an academic affair. It has plenty of grabby, immediate pleasures: Tendrils of Daft Punk lurk in the electro disco of "People Will Always Need Coal" and "Progress," featuring Camera Obscura's Tracyanne Campbell. "All Out" nods to Hum with its post-hardcore guitars and thundering percussion, which segues into the anxious rock of "Turn No More," featuring vocals from James Dean Bradfield of Manic Street Preachers. "They Gave Me A Lamp" has a Belle & Sebastian vibe. All of that is to say Every Valley has a lot of hooks for such esoteric subject matter.
And a lot of emotion. Frontman John Willgoose spent hours interviewing people about their experiences in the mines, and the stories shared in the songs via snippets of people talking (along with the usual archival audio favored by Public Service Broadcasting) radiate promise, anger, nostalgia, and wistfulness. Sure, the story happens to focus on one industry in a region of the U.K., but the phenomenon spans the globe: These are people who thought they had a stable future working for the industry that had employed their family for generations. When that collapsed, it upended their lives.
The album drags toward the end, with the slow-moving "You + Me," sung in Welsh by Lisa Jên Brown of 9Bach, clocking in at an overlong 5:45. It feels like an album closer, but the similarly understated "Mother Of The Village" follows, before "Take Me Home," sung by a Welsh men's choir, closes the album on an appropriately funereal note.
Informative and moving, Every Valley doesn't exist in the traditional space of an album—it's almost music as journalism, or a musical collage version of This American Life. If nothing else, you won't hear anything like it this year.
Purchase Every Valley here, which helps support The A.V. Club.
---
Calvin Harris finally makes a record that doesn't suck ass
Calvin Harris, Funk Wav Bounces Vol. 1
Grade: B
[Columbia Records]
After 10 years, four records, innumerable international tours, world-conquering DJ stints, countless chart-topping singles, a much-publicized romance with Taylor Swift, and four Grammy nominations, Calvin Harris has finally done the impossible: He's stopped sucking ass. It's difficult to convey how interminable the music of, say, 2009's Ready For The Weekend is; the songs themselves have a distinct ability to sound much longer than three and a half minutes, a constantly crescendoing monotone of digital trash presided over by Harris' affect-less baritone. This is not even an insult: His music has, historically, been an almost perfectly bland vessel for "having fun," completely incapable of offense as long as the listener does not for a single second stop to think about it. You have heard dozens of these songs while drunk in a place you did not enjoy being; rediscovering them in the context of an album is almost flashback-triggering, casting a queasy fluorescent pall over your otherwise staid environment.

The one positive narrative drawn over those four records is Harris' slow realization that he is boring, leading him to gradually cede vocal duties to more expressive voices, like Kelis, Rihanna, Tinashe, and Dizzee Rascal. On Funk Wav Bounces Vol. 1, he retreats the rest of the way, disappearing behind the boards in lieu of a Rolodex of superstars: Frank Ocean, Future, Pharrell (twice!), Yachty, Ariana Grande, Katy Perry, and many more, all arrayed over 10 tight tracks. (How glorious: yet another sharp, short pop album.) What's remarkable is how thoughtful all of their placements are, soaring through these sun-kissed disco fantasias more as a superteam than a supercut. Effervescent single "Slide" seems built around Ocean's effortless croon, but a brief interlude from Migos is the track's centerpiece. Perry, Pharrell, and Big Sean spiral around each other on "Feels" like supplemental instruments in the mix. Throughout, Harris reaches back musically to the spry funk of his debut, I Created Disco, but he's developed a Random Access Memories-style taste in '70s hi-fi analog instrumentation, even listing the specific gear used on each track. It's a winning bid for artistic credibility: not going for smarter, more complex, or bigger, just better, more fun. Full of island affectations, soft-rock gloss, and chintzy good-life strings, it is, at last, the sort of fun you don't have to feel bad about the next day. Karmically, Harris owes us another decade of albums this good.

Purchase Funk Wav Bounces Vol. 1 here, which helps support The A.V. Club.
---
Though bloated, A Walk With Love & Death is still a Melvins record
Melvins, A Walk With Love & Death
Grade: C
[Ipecac Recordings]
This year's double LP A Walk With Love & Death marks 30 years since the release of Melvins' Gluey Porch Treatments, a record that turned heavy music on its ear. And it's not like the band's stalwart members, Dale Crover and King Buzzo, have ever taken much of a break. In all that time, Melvins' biggest gap between records has been two years. From the depressive trudge of its early albums to the wily catchiness of Stoner Witch and the sonic impenetrability of Prick and Colossus Of Destiny, Melvins has become its own genre.

Melvins welcomed Big Business members Jared Warren and Coady Willis into its weirdo troupe with (A) Senile Animal in 2006. Propelled by the blunt force of Willis and Crover both playing drums, that record and its two following LPs, Nude With Boots and The Bride Screamed Murder, jolted new energy into the Melvins' discography. After that dual-drummer period, Melvins released the lackluster Freak Puke in 2012 under the Melvins Lite moniker, featuring Trevor Dunn on bass. The band's 2013 cover album, Everybody Loves Sausages, as well as Three Men And A Baby and Basses Loaded (both released in 2016), are great records. But like 2014's Hold It In, A Walk With Love & Death lacks verve.
Featuring Steven McDonald on bass, the first nine tracks—Death—comprise a relatively straightforward Melvins album, while the proceeding 14 songs—Love—are the score for a short film directed by Jesse Nieminen. Though interesting in concept, packaging them together like this creates a release that feels bloated as a whole. With its eerie slither and Meat Loaf harmonies, "Black Heath" gives Death a promising start. "Sober-Delic" and "Euthanasia" also sashay through that nook of rock that unquestionably belongs to this band, specifically. "What's Wrong With You" then gets lost in a hazy (and lengthy) guitar solo. Similarly, Buzzo's aimless noodling dulls the catchy weirdness that opens "Edgar The Elephant." Following tracks on Death are far from bad; however, from the swampy trudge of "Flaming Creature" and "Christ Hammer" to the unsettling weirdness of "Cactus Party," it's all been done by Melvins several times over.
Love, on the other hand, finds Melvins doing something new; unfortunately, like a lot of music written explicitly to accompany a movie, Love doesn't have the legs to stand on its own. The looming noise in most of the songs, as well as the zany cacophony of "Give It To Me," masterfully complement Nieminen's bizarre filmmaking style, but overall Love isn't arresting enough to draw listeners in without a visual component. Along with a handful of other Melvins albums, A Walk With Love & Death seems destined to be overshadowed by the band's stronger output.
Purchase A Walk With Love & Death here, which helps support The A.V. Club.